Are you looking for new or used pallet racking? Call 763-493-5015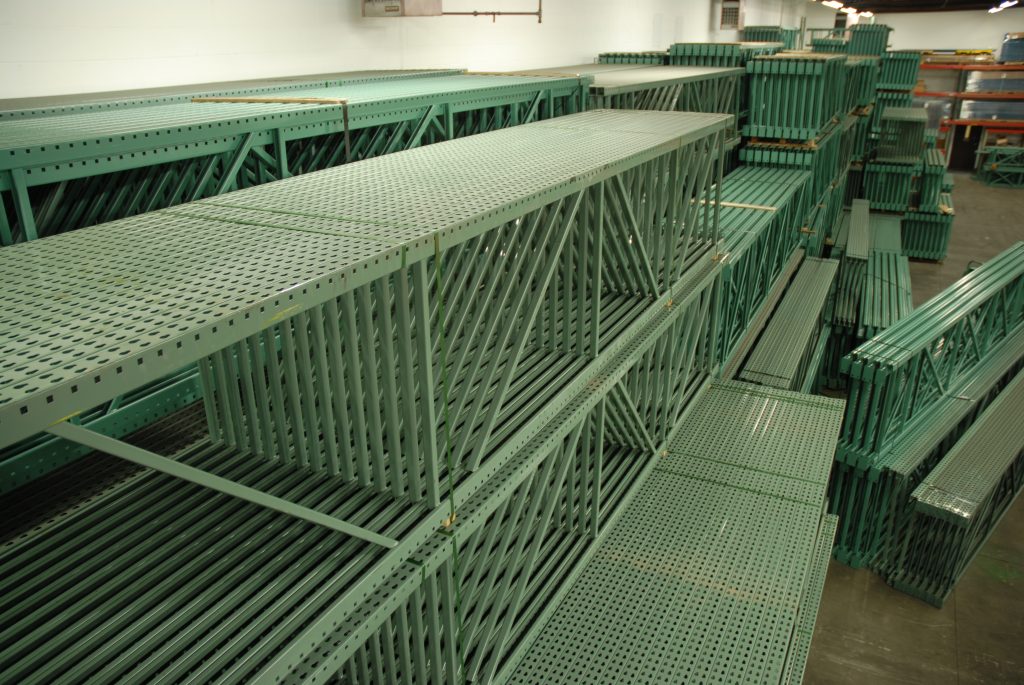 AK Material Handling Systems
8630 Monticello Lane N. Maple Grove, MN 55369
New Pallet Racking
Are you looking to equip your warehouse with some fresh new warehouse pallet storage racks? If so, you've found the right place. We're headquartered in Maple Grove, MN and have been supplying the Twin Cities and the rest of the United States with pallet racking for over 25 years. Our teardrop pallet rack inventory is second to none. As you can see in the photos above, we've made a name for ourselves in the distribution industry because of the amount of pallet racking we carry on hand. We stock thousands of frames, beams and wire decks, all of which are available for quick ship direct to your warehouse.
Our inventory consists of teardrop pallet rack products from Ridg-U-Rak, Interlake, Speedrack and SpaceRak. We also stock J&L Wire and ITC Wire Decking to complete your beam levels. In addition to teardrop pallet rack, we stock multiple warehouse safety products, including frame anchors, row spacers, column protectors, rubber column guards, pallet rack safety clips, machine guarding and more. So, make sure to give us a call for all of your needs.

Used Pallet Racking
We complement our industry-leading new pallet rack inventory with a large supply of used or pre-owned pallet rack products. Our used pallet racking inventory consists mainly of teardrop style rack, although we have a number of other styles in stock as well. All of our products are thoroughly inspected when they arrive in our warehouse so our clients can have confidence buying used products.
Looking to sell your used industrial racks? We buy, sell and offer trade-in value on used pallet racking. Feel free to stop by our Used Pallet Rack Store in Maple Grove, MN and look through our inventory for yourself. Visit our Used Pallet Racks page >>>
Pallet Rack Wire Decking
As the largest stocking distributor of J&L Wire mesh decking in the country, we offer 10,000+ pieces of pallet rack wire decking available for quick ship out of our Minnesota warehouse. For customers outside of the Midwest, we also have a number of shipping locations across the United States, including Ohio, Florida, Texas, and Arizona.
Pallet rack wire decking offers added safety to your rack system by preventing pallets from falling through the pallet rack cross beams. We offer both galvanized and painted gray wire deck options in order to serve a variety of different applications, both indoor and outdoor. The galvanized wire is great for freezer and cooler applications and tends to hold up better to corrosion and rust.
By owning our inventory, we can ship your product in 48 hours or less!
"As a commercial contractor in Minnesota I have found it very helpful to have AK as a contact for my customers. When doing commercial renovations of a warehouse, moving pallet racks etc. it's handy to have AK to help out when needed. Very professional and with the racks located in MN they can supply my customers quickly not holding up my projects." – Randy O.
---

Minnesota Pallet Rack Inventory
Pallet Rack Specialists
New Pallet Rack Frames
Pallet Rack Cross Beams
Galvanized Wire Deck Inventory
Fast & Reliable Shipping
Nation's Largest Stocking Distributor of J&L Wire Decking
In Stock Used Pallet Rack
Competitive Pricing on Used Pallet Rack
Orders ship in 48 hours or less
Our Friendly Staff