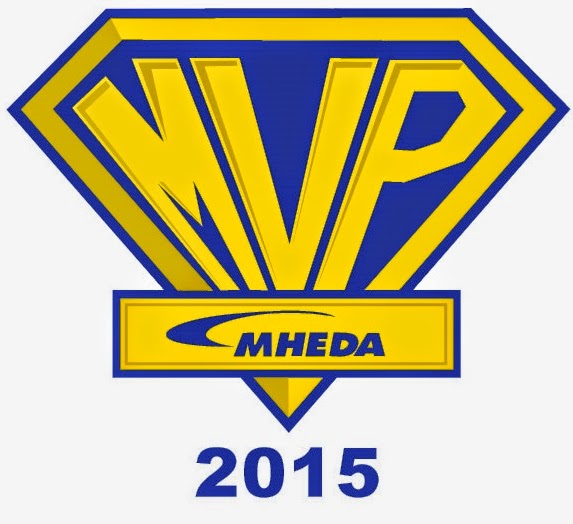 The next month we got some more exciting news, being presented with the Bakers Dozen Award by Ridg-U-Rak for being one of their top 13 distributors, having received this award in all 5 years of our partnership!
This year we have also welcomed many new faces to the team, including former warehouse specialist Matt Johnson who has become an Inventory and Purchasing Coordinator, former Marketing Intern Dave Sewich who has become a Pallet Rack Specialist, and Tessa Peterson who has brought her skills to become a Staff Accountant.
Being located in the state of hockey, in April we decided to make a friendly wager for the NHL playoff series of the MN Wild VS the Chicago Blackhawks with MHEDA being based out of Illinois. We both agreed whichever team lost, makes a donation to the opposing teams charity of choice- it was a great way to cheer on our teams for a good cause.
On May 21st we participated in Red Nose Day, wearing red noses to support and raise awareness for domestic and global poverty- a fun, and great cause!
For the fourth consecutive year, we were proud to have made "100 Best Companies to Work For 2015" list by the Minnesota Business Magazine- they even surprised us with doughnuts!
The annual Lifetime Fitness Torchlight 2015 5k came around in July, as 14 AK employees came together to grow as a team, and push themselves individually.
As August rolled around, we were pleased to accept the Wildeck Sales Excellence Award- props to our sales team!
The new team members continue, as we welcomed our new Project Coordinator Andrea Neisen in October!
We also had some halloween fun in October, with 16 employees dressing up and participating in our annual costume contest, here are the winners!
When November hit it was time for the #Movember Movement, as many team members participated by growing out their mustaches while raising money and awareness for men's health. Here are some of the products!
Come late November, Warehouse Lead Josh Jungbeuer and his wife Sarah welcomed Lilyana Faith Jungbauer into their family, as well as AK's on the 24th.
The end of the month is always exciting, with one of our favorite traditions teams of employees are randomly chosen to make a meal to share for 7 different days in December!
Finishing off the year, AK employees dressed up in ugly Christmas sweaters and had a white elephant gift exchange.
Let's Talk
Ready to get started? Or have questions about any of our products or services? Fill out the form and a representative will contact you promptly.