Professional Warehouse Layout Design
Proper and professional Warehouse Layout Designs are essential to the success of your business when moving into a new facility or distribution center. No matter the space, if your warehouse is not optimized or laid out correctly, you'll probably incur losses in productivity, experience space capacity issues, and be forced to deal with storage inadequacies. Not only will our rack systems design group help you avoid these common pitfalls, but they'll also elevate your warehouse and material handling processes to peak efficiency and production. When considering how to set up a warehouse, always lean on professional guidance to avoid overlooking a vital step in the setup process.
To talk to a warehouse layout and design expert about how we can help you achieve the best use of your storage space, give us a call at 800-722-5908 or get a fast, hassle-free quote.
Pallet Racking Layout
Before designing your pallet rack system and developing the optimal warehouse layout design, you usually need to make business decisions concerning your operation. We'll help you assess your current space and determine whether you'll need to upsize, downsize or simply make better use of the space you're in now. Warehouse space planning isn't always easy and, in fact, involves business decisions, careful analysis of current operations, and planned growth. Fortunately, our Design Group knows how to design a warehouse layout with business objectives in mind and is here to help you do it.
We'll meet with you to determine your warehouse space needs and budget before helping you find a space that will facilitate optimal productivity and efficiency. Most importantly, we'll help you reach your goals. See our pallet rack guide to learn more about pallet racking.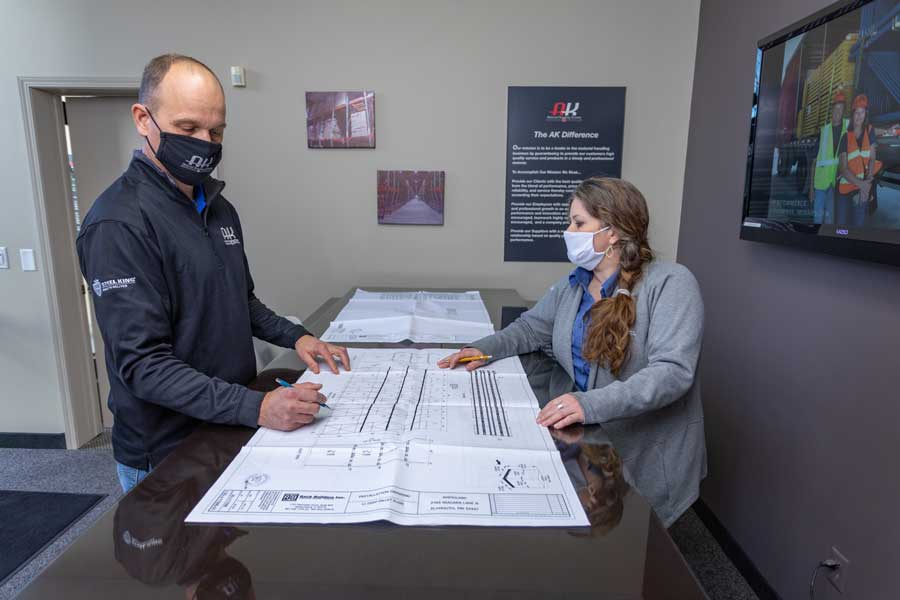 Custom Engineered Warehouse Rack Systems
Part of what sets AK Material Handling Systems apart from our competition is that we understand that every business, and therefore every warehouse, is unique. We tailor our rack systems design process to each client, ensuring that rack systems are built specifically to achieve the client's long-term goals. Whether it's a push-back or drive-in, pallet flow, or a combination of rack systems that meets your storage needs, we'll work with you through each step of the process.
From the initial stages of choosing which system will help you reach your goals to the completion of the installation process, we'll be your turnkey pallet rack system provider. Consultation, design, planning, and execution.
10 Reasons Why  Warehouse Design Specialists are Necessary
We…
Help clients determine how much warehouse space they need before they begin property searching.

We work with multiple manufacturers to provide unbiased opinions on storage rack systems and forklift options.

Provide detailed building Computer-aided design (CAD) drawings, offering multiple warehouse layouts and design options.

Offer high-density storage rack options that can reduce your square footage requirements, saving you significantly.

Stock over a million dollars of inventory in new & used pallet rack products at three different warehouses across the United States. We can rack your warehouse property in days if needed.

Offer our recommendations on your real estate options.

Offer Trade-in- We can work with you on your existing equipment

Know rack!- Cantilever, structural, pushback, pallet flow, selective, and we help you determine which style is right for your operations.
Warehouse Layout – Improve Space Utilization
Warehouse design is only part of the picture. We know that when it comes to storage and material handling, space is money. To achieve maximum space efficiency, you'll need to have your pallet rack system laid out in a way that makes the best possible use of the available floor and vertical space in your warehouse.  Our systems design experts will leverage the latest Computer Aided Design (CAD) technology to design a warehouse layout that will maximize the amount of product you can store in any given space. Warehouse layout and design work synergistically to create a warehouse system that is both scalable and able to meet the demands of your current operations.
Most importantly, we listen. Experience and technology may be important components of an effective material handling outfitter, but only when combined with professionalism and a will to meet your individual storage needs.
Let Us Help You Answer the Tough Warehouse Design Questions
Is 35,000 sq feet enough space for my operation?
Can I store my pallets five high in this 24' clear space?
I need to move in two weeks, who can help?
These building columns are on 30' centers. Will that work with my reach trucks?
Can we combine push-back & drive-in to maximize our space?
Let's Talk
Ready to get started?
Or have questions about any of our products or services?
Fill out the form and a representative will contact you promptly.