What are Warehouse Robotics and AI?
Warehouse robotics are the future of warehousing and fulfillment centers. Artificial intelligence is being implemented in more and more warehouse operations around the globe. Warehouse automation optimizes the picking and packing processes, increasing order fulfillment and profits. 
Not all warehouse robots have artificial intelligence – some simple applications don't require AI to succeed. However, AI is a game changer for many businesses, opening new doors and ways of storing and handling products.
Automated Warehouse Robots
Automated warehouse robots are great at performing repetitive tasks in a production line, like packing and palletizing. There are many kinds of warehouse robots, each customized to the application and task. 
Robot customization occurs during an extensive testing period within the unique application. Practice with the exact product and packaging system is essential to ensure smooth processes once implemented in the storage facility.
Artificial Intelligence
Pre-developed AI algorithms allow robotic workcells to perform human skills like recognition, grasping, and decision-making. 
Here are some of the tasks robots can now perform in the warehouse through advancing AI technology:
Object recognition

Pose determination

Grasp points computation

Decision making
These skills come into play for end-of-line processing, packing, and food handling. RIOS develops superior end-of-arm tools that allow robots to grasp and move delicate items like food. Their AI vision system inspects products and monitors quality control.
Our Warehouse Robotics Manufacturers
AK Material Handling Systems partners with RIOS Intelligent Machines to provide storage facilities with high-quality warehouse robotics and artificial intelligence.
About RIOS Intelligent Machines
RIOS is a lead manufacturer of warehouse robotics based out of California. They manufacture a variety of robotic workcells and are leading the charge in Robots-as-a-Service (RaaS).
RIOS robotic workcells are "bringing the manufacturing sector into the 21st century". Together, we can't wait to help your business get there too.
Find more on RIOS robotic solutions and workcells below.
Warehouse Robotics Solutions
Machine Tending
ASTRIA is RIOS' machine tending and material handling robot. Equipped with an AI-powered vision system, this workcell quickly inspects and identifies new objects. This system handles incoming and outgoing products by:
Managing a continuous flow of products

Adapting to new SKUs without additional programming

Integrating with existing line equipment  

Working with any size application

Performing product counting
Food Handling
DION handles food, even soft food items, with ease and dexterity. It is another AI-powered workcell with food-grade grippers and advanced sensors. The DION robotic workcell:
Is compatible with food grade and wash-down environments

Manages a continuous flow of goods

Integrates with baking, oven, cooling, and other food-handling racks 

Handles pan and tray loading and unloading
Quality Control
LUMOS is an AI-powered quality control machine designed to optimize product shipping and minimize quality issues. This robot inspects products on a compact platform or conveyor system before shipping.
Seamlessly integrates into any point of the production line

Adaptable to many product shapes and sizes

Processes 100 items per minute

Suitable with many applications, including food grade
Packing & Palletizing
Pack out to boxes
VULCAN is an end-of-line packaging machine specializing in packing various products into boxes and palletizing. 
Manages a continuous flow of boxes

Handles dozens of items each minute

Accommodates different box sizes

Able to lift a wide variety of products
Pack out to polybags
HERMES is a packing robot designed to pack a wide range of SKUs into polybags. AI-powered vision technology allows this machine to track objects at microseconds speed. The system's robotic arms pack at twice the speed of human operators.
Handles 40-60 items/minute

Adaptable to products of various sizes and weights

Manages a continuous flow of goods

Unloads a variety of equipment or conveyor systems
How Much Do Warehouse Robots Cost?
RIOS offers a unique system rental program. This system protects companies from expensive maintenance and repair costs. By renting a RIOS workcell, customers avoid any up front purchase with the benefit of unlimited repairs and support. 
Each application is unique, and the cost varies accordingly – an average hourly price is $25 to $30 an hour. This price can increase to $55 to $60 an hour, depending on the workcell and equipment. 
The best way to calculate the cost is in savings. RIOS robots operate up to 1.5x faster than any human operator, reducing labor costs while increasing productivity. System accuracy is within 0.1″, reducing human error and hiccups in production and packing flow. 
Finally, companies save money from increased efficiency. RIOS robotics pack and handle up to 60 items per minute, nearly doubling the output of any human operator. 
Maintenance and Upkeep
RIOS' robotics rental system saves a lot on maintenance and repairs. Renting keeps customers in close contact with the manufacturer during use. This way, if the work cell malfunctions, the company has continuous support and unlimited repairs. RIOS is always on call and ready to jump into action. 
RIOS and AK provide turnkey robotics services, including installation, acceptance testing, preventative maintenance, and ongoing support. We are only a call away if you ever have questions about your system or need maintenance support. 
This unique rental approach is much more economical and environmentally and keeps robots from the junkyard in case of malfunction.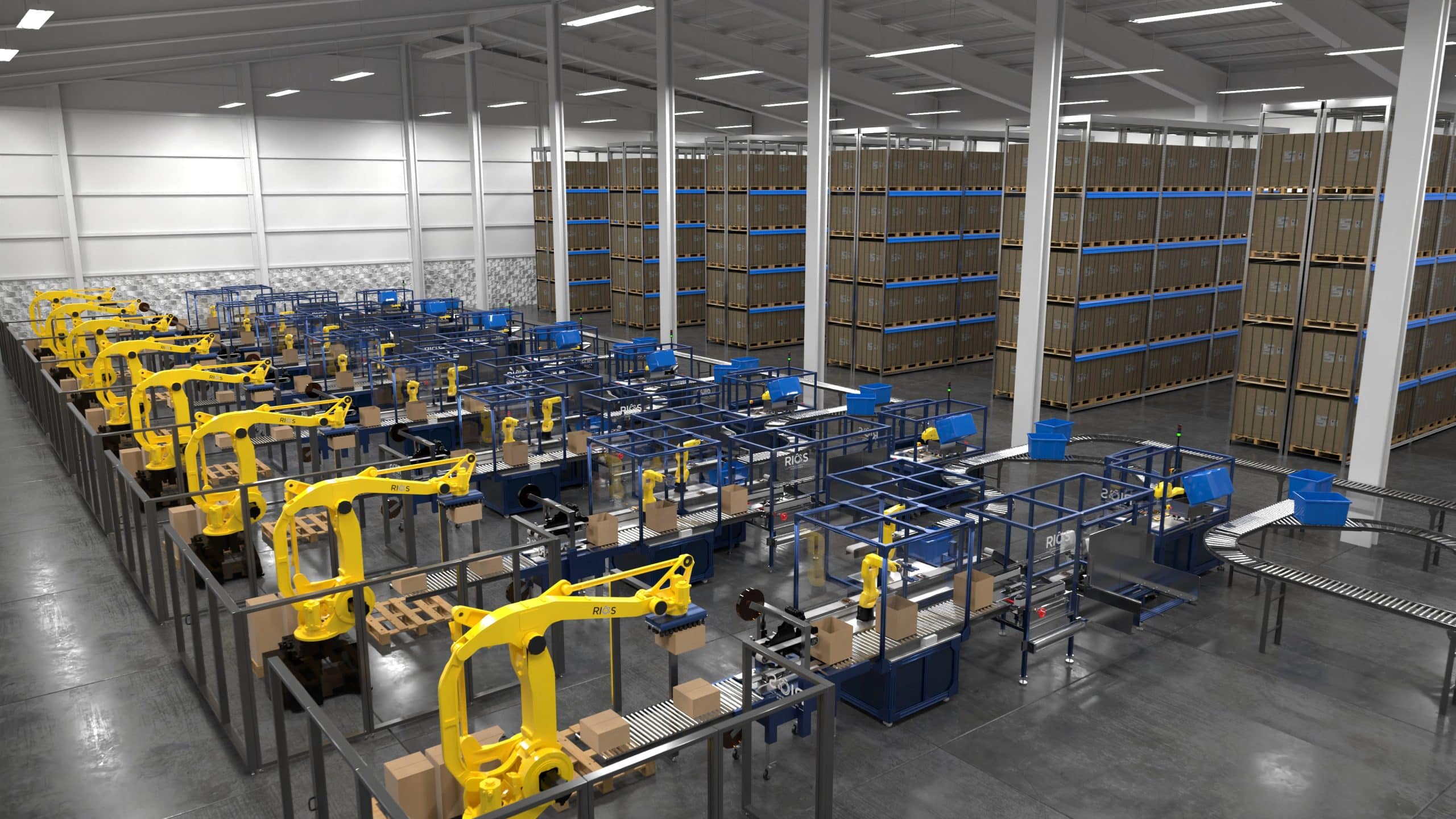 Robotics Warehouse Consultation
To discuss robotics solutions for your warehouse, call AK at 800-722-5908. Reach out to schedule a warehouse visit and consultation to see if robotics may be a good fit for your application.
Let's Talk
Ready to get started? Or have questions about any of our products or services? Fill out the form and a representative will contact you promptly.