What is Pharmaceutical Warehousing?
Pharmaceutical warehousing is the systematic storage of medicine and related goods. The pharmaceutical industry handles active ingredients and volatile substances that require controlled storage environments to remain safe and viable.
GMP rules like Good Distribution Practice (GDP) and Good Warehousing Practice (GWP) play pivotal roles in pharmaceutical product quality. A high-quality pharmaceutical product is pure, correctly identified, effective, and safe to use. Pharmaceutical warehousing operates under these standards to provide secure storage for pharmaceutical products like medication, prescription drugs, and other pharmaceuticals.
Products / Industries Requiring Pharmaceutical Storage and Distribution
There are billions of different drugs and pharmaceutical materials, each requiring unique storage and handling conditions. Some storage conditions vary between drugs: light, temperature, sanitation, and handling practices. 
Here are some of the most common products and materials found in a pharmaceutical storage and distribution center:
Production materials like filters and lubricants

Buffers and chemicals

Starting materials and chemicals for manufacturing

Packaging products like bottles, caps, pack film, boxes, vials, and seals

Printed material like labels, inserts, pre-printed tubes, medicine instructions

Finished prescription drugs and medicine
What Are The Benefits of Pharmaceutical Warehousing?
If appropriately executed, pharmaceutical storage facilities optimize drug storage and protect medicines from contamination. The main benefits of pharmaceutical warehousing are in the customization capabilities. 
Pharmaceutical storage offers a variety of customer-focused services – here are some of the ways pharmaceutical warehousing can work for you:
Temperature control options like

cold storage

Sanitation capabilities with

negative pressure cleanrooms

Easy picking with

automated carousel systems

Light-controlled options

Damage prevention measures
Meeting FDA Safety Regulations And Pharmaceutical Warehouse Guidelines
The Food and Drug Administration (FDA) regulates pharmaceutical storage and handling. The current Good Manufacturing Practices (CGMP) are the FDA's safety regulations for warehousing. All pharmaceutical warehouses must adhere to the CGMP. 
GDP and GWP are both particular parts of the CGWP. GDP refers specifically to product transport and distribution, while GWP refers to specific practices within a company warehouse. These legal regulations exist on the recognition that product quality can be significantly altered during manufacturing and packaging. 
Current Pharmaceutical Warehouse Guidelines:
The CGMP states that all pharmaceutical products must be:
Stored with enough space for proper inspection and cleaning

Stored to prevent contamination (adequate temperature and light)

Easily identified by code and status (approved, quarantined, or rejected)

Clearly labeled with distribution procedures for the specific drug

Marked with proper storage conditions
Starting A Pharmaceutical Storage And Distribution Center
There are many things to consider when designing a pharmaceutical storage and distribution center. Storage systems, warehouse layout, and quality control are all vital to the storage and handling process.
Pharmaceutical Storage Systems
Medical security cages offer controlled substance storage, theft prevention, and patient safety. Medical supplies and pharmaceuticals can be valuable targets for theft and must have careful access control systems in place to meet regulatory requirements.
Vertical storage systems provide easy inventory handling. Carousel systems bring products to the pick face and can cycle products horizontally or vertically, whatever works best in the application.
Because medicinal products expire and deteriorate with time, a first-in, first-out (FIFO) storage system ensures that goods cycle consistently.
Steel shelving provides adequate storage for pharmaceutical products and is customizable.
Cleanrooms are a type of modular office that prevent germs and contamination within the space.
Light-duty pallet racking may suffice for medicinal storage facilities as well. Most pharmaceutical warehouses do not regularly handle palletized products. For this reason, steel shelving or light-duty racking with a flat decking surface are great storage options.
Cold storage for temperature-sensitive goods. Handlers must keep applications for pharmaceutical cold storage below 25 degrees C – typically between 2 and 8 degrees C.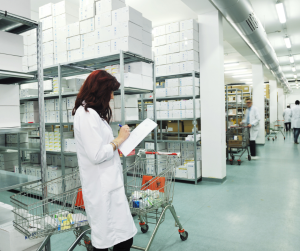 Typical Pharmaceutical Warehouse Layout
A typical pharmaceutical warehouse layout design will include some or all of the following areas:
Quarantine area for goods before inspection or testing

Dangerous goods storage area 

Restricted goods area

Isolation area for faulty or recalled products

Cold storage room 

Sampling booth with air control systems 

"Reject" area and "Released" area for failed or passed products after testing
Quality Control Measures
Proper training ensures every individual in the warehouse is aware of and follows necessary quality control measures. 
Regular quality checks should confirm all containers are sealed and stored in the proper light and temperature conditions. Check that all storage systems are clean and functional.
Adherence to all FDA safety regulations ensures products are in the best condition possible. Always be willing to undergo an FDA audit and improve current storage processes.
Material segregation prevents mix-ups and incorrect order fulfillment. Designate specific areas in the warehouse for approved, rejected, quarantined, restricted, and contaminated goods.
Pharmaceutical Storage Cost
The pharmaceutical storage cost in warehousing varies depending on the required product quantity and types of storage systems. Automated systems are typically more expensive than stand-alone systems like shelving or pallet racking. Specialized storage areas like cleanrooms and cold storage areas can be quite an investment, depending on the scale. 
To learn more about pharmaceutical storage costs for your application, fill out a quote request form or contact AK directly.
Why Choose AK To Build A Pharmaceutical Warehouse?
AK is a specialized warehouse design company well-versed in the pharmaceutical storage industry. We have worked with pharmacy warehouses before and offer effective storage systems for medicine and prescription drugs. 
To get in touch with a warehouse design expert, call 800-722-5908. We look forward to discussing your unique storage needs and devising a specialized solution for your pharmaceutical warehouse design.