Pallet Rack For Sale
Industrial racking for sale! Without industrial racking, you can only stock items as high as you can reach. When things get tight on the ground, most buildings still have unused vertical space. All you have to do is look upward to see that most of the available space in a building is higher than we can reach. Warehouse pallet racking systems allow you to tap into your unused vertical space, making your storage more efficient. Connect with us to learn which industrial racking would optimize your current location's space. Customers often come to us with plans to buy or rent additional storage space when all they need to do is make better use of their current place with warehouse layout design. We have design experts whose job is to help them do just that.
Call 800-722-5908 to get in touch with a design expert today.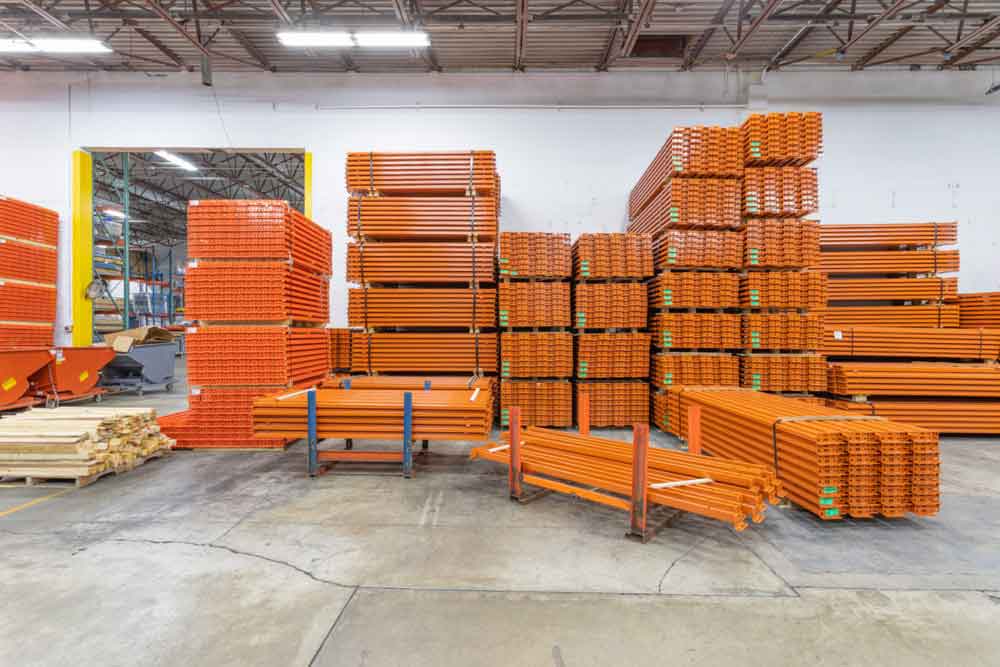 Improve Your Storage Efficiency
We help you improve your storage efficiency by providing a way to utilize vertical space. As a major distributor of in-stock pallet racking, we have the products and know-how to help you reach your storage goals. We'll leverage our extensive new and used pallet racking inventory to ship orders within 24-48 hours. Our popular brands include Ridg-U-Rak, Steel King, and more. In addition to our pallet rack and steel shelving selection, we also offer wire decking from trusted names like J&L Wire, Nashville Wire Products, and ITC Manufacturing.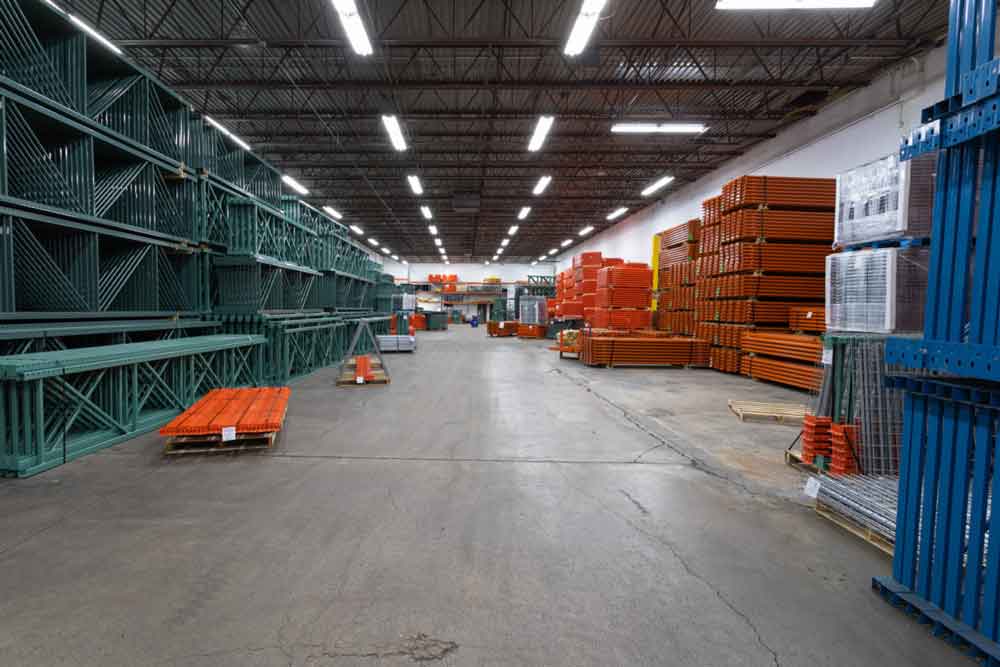 Our two stocking locations in Minnesota and Pennsylvania allow us to minimize freight costs for local and nationwide orders. We know freight, and we always do our best to provide you with the best possible combination of price and service.
We strongly believe in providing our customers with real storage solutions, not just products. We want to help you achieve the results you're looking for. If you have questions or want guidance implementing your new system, our pallet rack experts are here to help. Our experienced sales staff will always listen carefully to your needs before quoting products or services. Are you interested in learning more about pallet racking? Check out our pallet rack guide for helpful information to get started.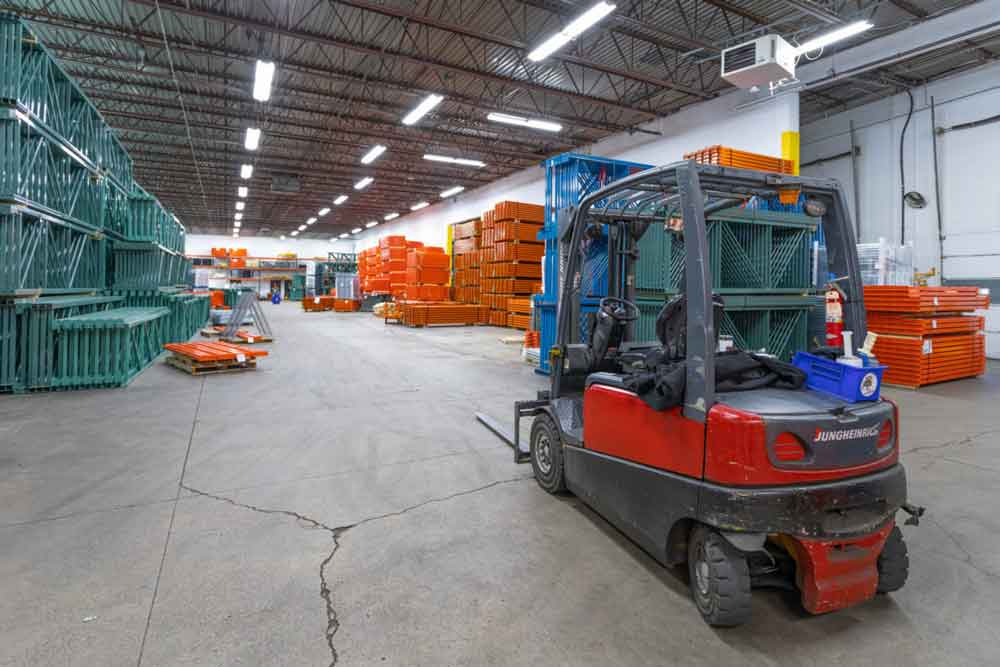 New Pallet Racking for Sale
Are you looking to equip your warehouse with some fresh new warehouse pallet storage racks? If so, you've found the right place. We're headquartered in Maple Grove, MN, and have been supplying the Twin Cities and the rest of the United States with pallet racking for over 25 years. As a result, our teardrop pallet rack inventory is second to none. As you can see in the photos above, we've made a name for ourselves in the distribution industry because of the amount of pallet racking we carry on hand. For example, we stock thousands of frames, beams, and wire decks, all of which are available for quick ship direct to your warehouse.
Our inventory consists of teardrop pallet rack products from Ridg-U-Rak, Interlake, Speedrack, and SpaceRak. We also stock J&L Wire and ITC Wire Decking to complete your beam levels. In addition to teardrop pallet rack, we stock multiple warehouse safety products, including frame anchors, row spacers, column protectors, rubber column guards, pallet rack safety clips, machine guarding, and more. So, make sure to give us a call for all of your needs.
Used Pallet Racking For Sale
We complement our industry-leading new pallet rack inventory with an ample supply of used or pre-owned pallet rack products. Our used pallet racking collection consists mainly of teardrop-style racking, although we have several other styles in stock. We thoroughly inspect all our products when they arrive in our warehouse so our clients can be confident buying used products.
Are you looking to sell your used pallet racks? We buy, sell, and offer trade-in value on used pallet racking. Get a quote today through our rack buyback program. Feel free to stop by our Used Pallet Rack Store in Maple Grove, MN, and look through our inventory.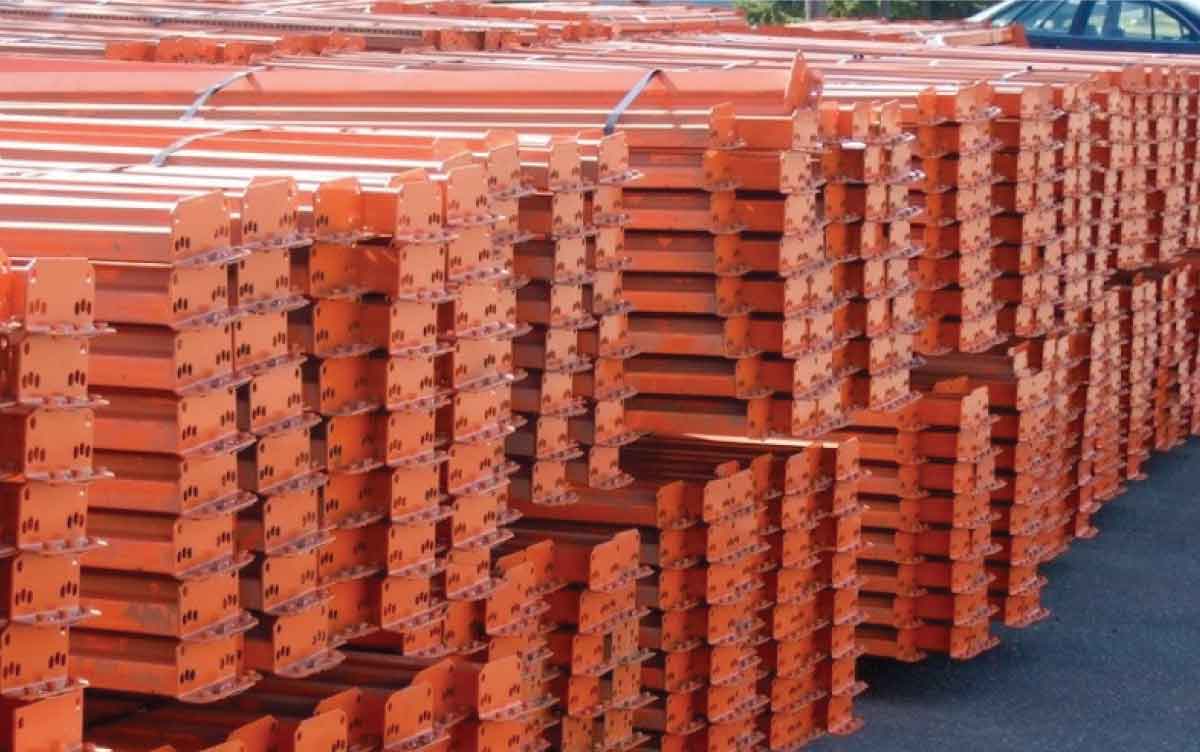 Pallet Rack Wire Decking
As the largest stocking distributor of J&L Wire mesh decking in the country, we offer 10,000+ pieces of pallet rack wire decking available for quick shipping out of our Minnesota warehouse. For customers outside the Midwest, we also have many shipping locations across the United States, including Ohio, Florida, Texas, and Arizona.
Pallet rack wire decking offers increased safety to your rack system by preventing pallets from falling through the pallet rack cross beams. We offer both galvanized and painted gray wire deck options to serve a variety of different applications, both indoor and outdoor. The galvanized wire is excellent for freezer and cold storage applications and tends to hold up better to corrosion and rust.
By owning our inventory, we can ship your product in 48 hours or less!
Pallet Rack Weight Capacity
A common mistake when purchasing pallet racks is not underestimating pallet rack weight capacity. To avoid this mistake, you can calculate industrial pallet rack beam capacity by using your single heaviest pallet load weight and multiplying that by the number of pallet positions per beam level.
Example: 96″ beams with 3000 lb pallets stored on them must hold a total of 6000 lbs capacity per pair (3,000 x 2 pallets per level). Typically, manufacturers design pallet racks to hold 2500 lbs per pallet position. Once the beam capacity is estimated, you must calculate the required frame capacity.
You can find the estimated capacity requirement by using the capacity per beam level on your rack and finding out the maximum vertical beam spacing the system will use. Measure your beam spacing from the top of one beam level to the top of the next beam level.
Example: Calculate the frame capacity using 52" beam spacing if there is a 48" clear between your rack beams when using 4" high beams. You'll add the beam height to the overall spacing.
Attention – Pallet Rack Capacity Warning
A pallet rack professional should determine pallet rack capacity for each application. It should not be roughly figured out or estimated by an untrained person. We always recommend professional assistance when purchasing pallet racking and calculating pallet rack weight capacity needs to ensure the safety of personnel and equipment. We wrote this information to help clients gain a general understanding of how to calculate pallet rack capacity. If you want to learn more about pallet rack capacity, call us at 800-722-5908 and we'll be happy to help!
How to Measure Pallet Racking
Pallet Rack Cross Beam Information:
How to find the right pallet rack beams?
Calculating the correct beam length for your application is done by adding together the widths of the pallet loads, 5″ side clearance between the uprights and pallets, and a 6″ space between pallet loads.
Example: pallet width= 40″
40″(Pallet) + 5″ (Side clearance) + 40″ (Pallet) + 5″ (Side clearance) + 6″ (Between Loads) = 96″ Beam
Beam measurements: Length equals the total distance between uprights. Height is measured from the top to the bottom of the front side of the beam.
Pallet Rack Upright Frame Information:
How to find the right pallet rack uprights?
Base the capacities on 48″ beam spacing. The depth of the frame should be 6″ less than the pallet length. For example, a 48″ deep pallet requires a rack with 42″ depth.
Frame measurements: Frame height = (height of pallet + height of beam + 4″ vertical clearance) x number of levels.
How to calculate allowable bowing or deflection of pallet rack beams
Quick-ship Locations
Our Main Stocking Locations: (Get a Quote)
Maple Grove, MN 55369
East Stroudsburg, PA 18301
Other Pallet Rack Shipping Locations: (Get a Quote)
North East, PA 16428
Pontiac, IL 61764
Carrollton, TX 75006
Sumter, SC 29154
San Diego, CA 92154
Quincy, MI 49082
Marysville, MI 48040
Lodi, CA 95240
Let's Talk
Ready to get started?
Or have questions about any of our products or services?
Fill out the form and a representative will contact you promptly.