High-density Pallet Shuttle Systems
A pallet shuttle system, also known as a pallet mole, pallet runner, or radio shuttle is a semi-automated storage and retrieval system.
Pallet shuttles are automated warehouse systems used in deep lane pallet racking – the longest known system is over 110 pallet positions deep. It can be used for first in, first out, or last in, first out storage. Overall, pallet shuttle systems achieve high-density storage in a warehouse.
Pallet runners maximize deep-lane storage potential while removing the need for forklifts to enter the pallet rack system. The pallet shuttle system stores and retrieves products and is more efficient than having a forklift handle the pallets. Our design group may suggest implementing pallet shuttle systems in a customer's warehouse layout and design for greater storage density.
To get in touch with a design expert, call 800-722-5908.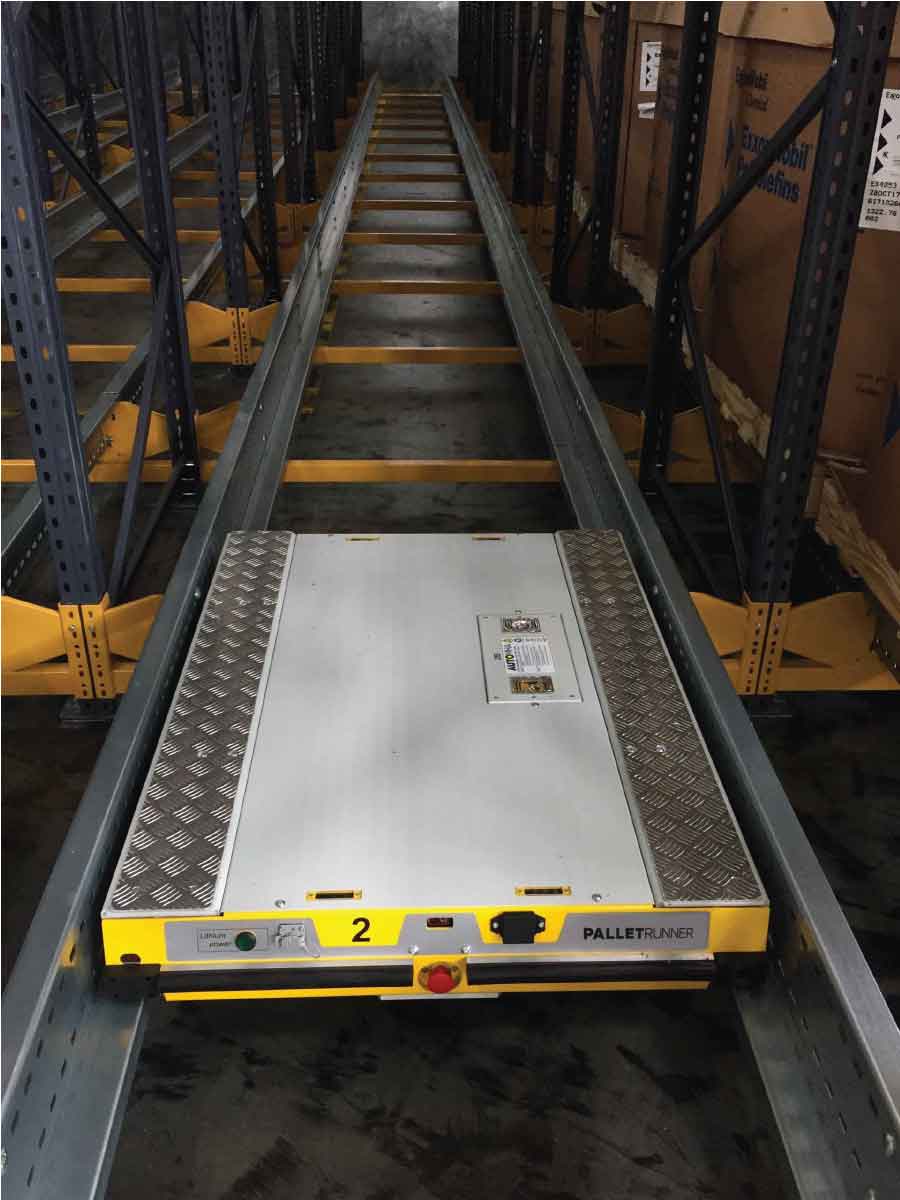 How Does a Shuttle System Work?
Shuttle systems use self-propelled carts that travel beneath pallets in the rack system, carrying pallets to and from the pick face. A forklift truck sets the cart into the rack structure to set up a shuttle system. A manually operated remote control tells the cart what function to perform. A pallet shuttle system is "semi-automated" because an operator controls the pallet runner by remote control.
Once placed into the rack system, the pallet shuttle cart is ready for operation. The self-propelled cart retrieves pallets and runs them to the face of the pallet rack system for unloading. The forklift driver will then load or unload the cart as needed.
Pallet runner systems are battery-operated and run on Wi-Fi. The semi-automated system can be pre-programmed for the day's activities.
Semi or Fully Automated System?
As mentioned above, pallet shuttle systems are semi-automated because they require remote control operation and forklifts. However, if you want to add another level of automation, automated forklifts or Automated Guided Vehicles (AGVs) remove the need for manually-operated forklifts.
Pallet Shuttle Maintenance and Operation
Implementation
Before implementing a pallet shuttle system, AK will complete a warehouse and product evaluation to ensure the system will benefit your storage facility. To qualify for a shuttle system, the application must meet product testing and specific storage requirements.
Pallet runners require grade-A pallets. The automated carts are manufactured according to the pallet, and we can send a sample pallet to our test lane to ensure a proper fit. 
Team training and system awareness are essential to ensure your shuttle system lasts as long as possible. AK offers complete turnkey pallet shuttle services. From evaluations and testing, to installation and on-site training, we ensure your warehouse staff is fully prepared to operate and monitor an automated pallet shuttle system.
Operation
With proper upkeep and operation, pallet runners should run smoothly with no errors. Battery-operated carts typically require daily charging, and accurate loading and unloading are essential for the pallet mole to do its job. 
As stated above, AK wants to prepare your company for a pallet shuttle system which is why we offer full training and continued care.
Maintenance
We will never sell only one cart to a company. In case of a cart malfunction, a backup cart is essential to keep the business in operation. 
We offer maintenance carts that carry an operator into the system to retrieve or repair a damaged cart. AK offers continued maintenance care to keep your warehouse running efficiently. 
Why would someone need a shuttle system?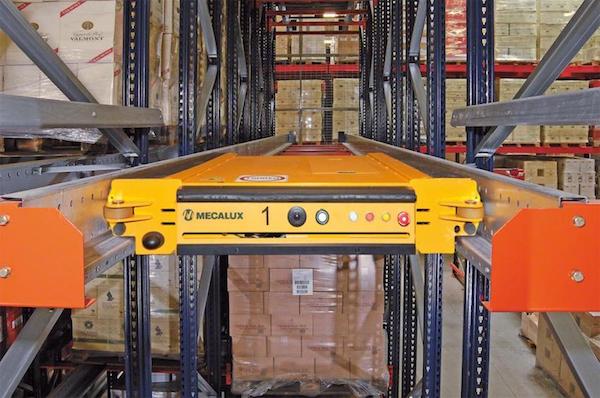 Pallet shuttles are highly specialized automated storage systems for unique scenarios. Not every warehouse needs or is compatible with this technology. Pallet runners may be a good fit for warehouses with deep lane storage requirements and are most common in the food and beverage industry. 
The most comparable pallet rack systems are pallet flow, push-back, or drive-in racking. If these systems do not provide deep enough storage lanes, an automated pallet shuttle system could be a good alternative. 
Shuttle systems require less human labor and offer deep lane storage while minimizing rack and product damage from forklifts driving in and out of the system. One operator can control multiple pallet runners simultaneously, increasing a warehouse's efficiency.
Contact AK if you think a pallet shuttle system might be a good fit.
Difference between Shuttle Systems and Pallet Flow
One considerable advantage of a shuttle system over pallet flow is its level. If your system's height restricts your storage capabilities, you may want to add additional levels with a shuttle system instead of pallet flow. 
Additionally, shuttle systems offer much deeper storage lanes. You can store 40, 60, or even 100-plus pallets deep with a shuttle system if your application allows.
How Much Does a Shuttle System Cost?
Pallet runner systems typically cost $1200-$2000 per pallet position. This price may vary depending on the manufacturer, application, product, system customizations, etc., but it is a reasonable rough estimate. 
Compared to fully automated systems, pallet shuttle systems are more affordable and save money in the long run when implemented in the proper environment.
Our Pallet Shuttle Offerings
AK partners with several quality-driven pallet shuttle manufacturers. AK offers the Automha pallet runner, Frazier pallet mole, Raymond radio shuttle, Mecalux pallet shuttle, and more. Keep reading to learn more about each manufacturer's unique shuttle system features. 
Automha Pallet Runner
The Automha pallet runner integrates with any pallet rack system or brand. It is highly customizable for different pallet sizes and can effectively handle capacities of up to 4,400 lbs.
Single battery charged daily

Up to 10 hours of run time between charges

Runs in temperatures from -22 to +132 degrees F

Can be designed for either FIFO or LIFO applications

Currently holds the record for deepest lane in the US – over 110 pallet positions
Automha Autosat Mover
Automha owns the Autosat brand. The Autosat pallet runner guarantees high-density automatic storage. 
High-performance lithium-ion battery

Controlled by a single multifunction remote

Stainless and washable design

Controlled via WiFi with Warehouse Management Software (WMS)
Frazier Pallet Mole
The Frazier pallet mole is a semi-automated shuttle system that maximizes storage density over 6-high and 50 pallet positions deep.
Ideal for FIFO or LIFO systems

Increases inventory control accuracy

WiFi and remote controlled shuttle

Customizable with energy saving settings
Raymond Radioshuttle
The Raymond Radioshuttle is perfect for applications with multiple pallets of the same SKU. It stores a high volume of pallets in a high-density rack system. The shuttle moves pallets through the racking, independent of a lift truck. 
Provides deeper storage lanes

Increased pallet throughput

Two batteries and a charging drawer station

Controlled with a remote
Mecalux Pallet Shuttle
The Mecalux pallet shuttle groups SKUs by channels rather than by entire lanes. The shuttle is controlled by a wireless tablet connected to WiFi. Built-in shuttle sensors allow the system to intelligently eliminate empty space and optimize capacity.
Fills or empties an entire lane with one command

Reduced loading and unloading ties

Simultaneous operations – pallet shuttle and operator can work at the same time

Handles up to 3,307 lbs per pallet
Stow Atlas Pallet Shuttle
The Stow Atlas 2D is a fully automated pallet shuttle system. The 2D shuttle integrates with a number of different systems and is independently operated by Stow Traffic Control (STC).
Several shuttles per system increases reliability

Operational in temperatures from 22 to 113 degrees F

Compatible with semi or fully automated warehouses

Designed for pallets 48" x 40" and 48" x 48"
Let's Talk
Ready to get started?
Or have questions about any of our products or services?
Fill out the form and a representative will contact you promptly.