High-density Pallet Shuttle Systems
A shuttle system, also known as a mole or pallet runner, is an automated system generally used for deep lane storage. It can be used as first in first out, or last in first out. Overall, it is used to achieve high-density storage in a warehouse.
The shuttle system allows a company to achieve high-density storage without having to enter the pallet rack system themselves. The pallet shuttle system stores and retrieves product and is more efficient than having a forklift handle the pallets. Our design group may suggest implementing pallet shuttle systems in a customer's warehouse layout and design if deeper storage is needed.
To get in touch with a design expert, call 800-722-5908.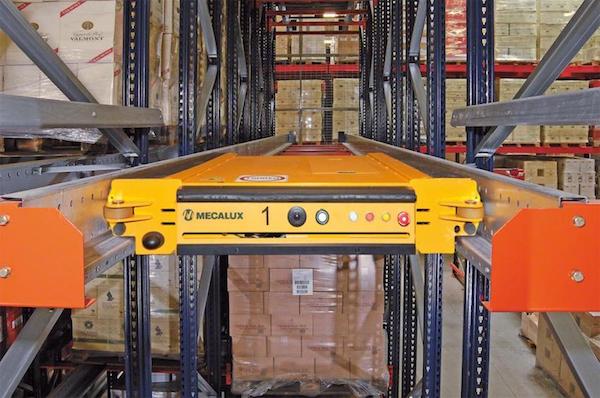 How Does a Shuttle System Work?
The shuttle system uses a self-propelled device that travels under the pallets in the rack system. The forklift sets the shuttle on the given lane that they want to perform the activity of loading and unloading on and then tells the device what function to perform. It will then travel under the pallets moving them as necessary. The self propelled device retrieves the pallet and brings it to the face of the pallet rack system for the forklift operator to unload. The forklift driver will then load or unload as needed.
The pallet runner system operates on Wi-Fi, therefore it's a semi-automated system where these orders can be prearranged for what is going to happen during the day's activities. The operator can controls the pallet runner by a remote control.
Semi or Fully Automated System?
A pallet shuttle system is a semi-automated system. However, if you would like to make it fully automated, you could invest in an automated forklift to remove any manual labor needed.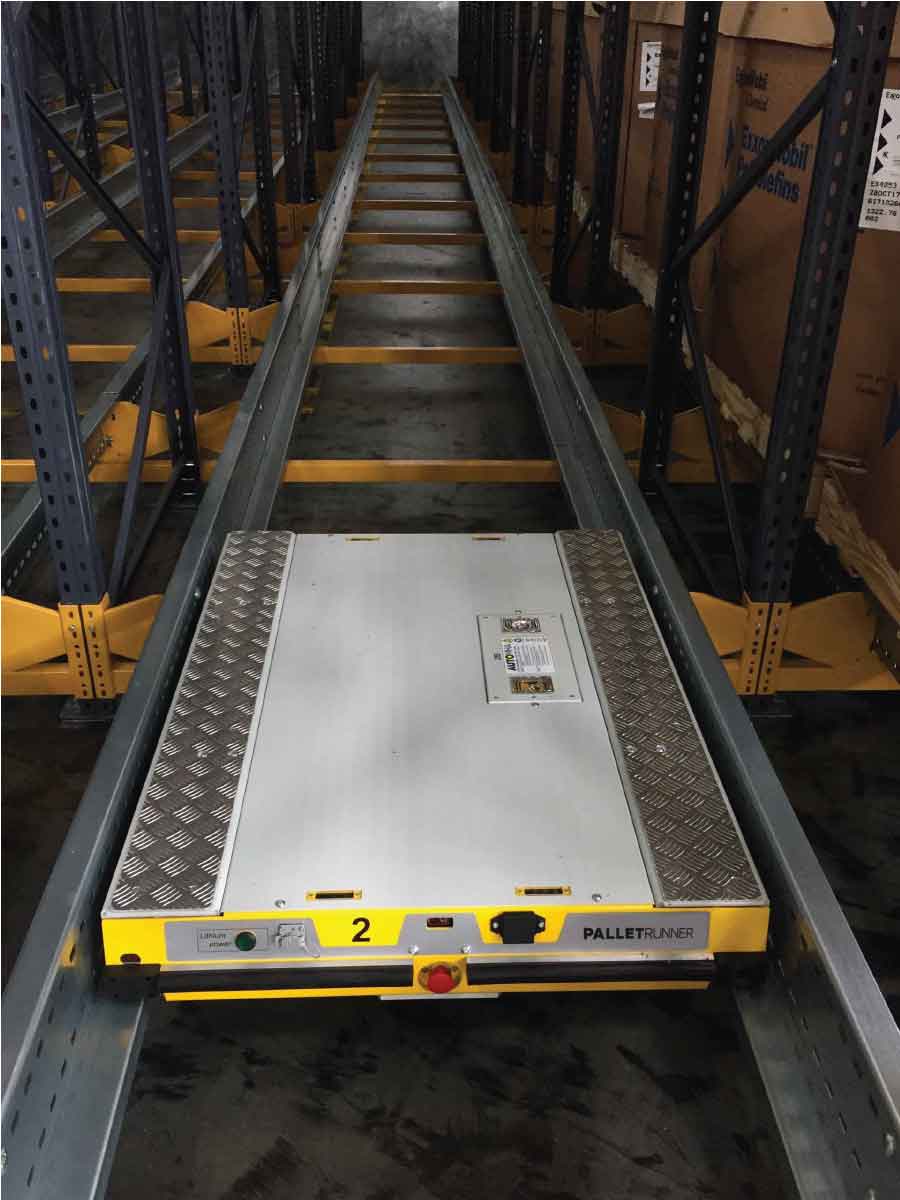 Why would someone need a shuttle system?
A warehouse would need a shuttle system in the case that some of their other rack systems cannot provide a good solution. In other words, the pallets don't work well with pallet flow rack or push back rack. Or, the customer wants to achieve deeper lanes of storage than those other systems can provide. It also has the advantage of not having forklifts drive into the racking which will prevent rack and product damage in the long run.
Another huge advantage of a pallet runner is the need for less human labor than the other systems such as pallet flow or push back. A pallet shuttle system only requires one operator to handle the mole and retrieve or unload pallets into the system. On top of that, one operator can actually control multiple pallet runners at once which can greatly increase a warehouse's efficiency.
Difference between Shuttle Systems and Pallet Flow
One large advantage that a shuttle system has over pallet flow is it is level, so if you are restricted in regards to the height of your building or warehouse, you may be able to get additional levels with a shuttle system instead of pallet flow. Another advantage that pallet runners have over pallet flow is that with pallet flow you may be restricted with how many pallets deep you can make your racking system. However, with a shuttle system, you can go 40, 50, or even 60 plus pallets deep if your application fits.
How Much Does a Shuttle System Cost?
Pallet runner systems cost can actually be very comparable to pallet flow or even less at times. For an automated system a pallet shuttle system is very inexpensive compared to fully automated systems.
Let's Talk
Ready to get started?
Or have questions about any of our products or services?
Fill out the form and a representative will contact you promptly.