Warehouse safety is a top concern throughout the nation. Company profitability, employee safety, process optimization, and order fulfillment all bank on implementing safe warehouse operations and regulatory compliance. Keep reading to learn how we can help you implement safe warehouse practices.
Many factors contribute to safe and compliant warehousing, including pallet rack protection, fire prevention, hazard communication, permitting, rack inspection, safe storage practices, regulation adherence, and more. 
This comprehensive warehouse safety guide covers everything you need to know to protect your pallet racking, employees, and warehouse and will help you comply with safety regulations. Click on a link below to jump to that section on the page: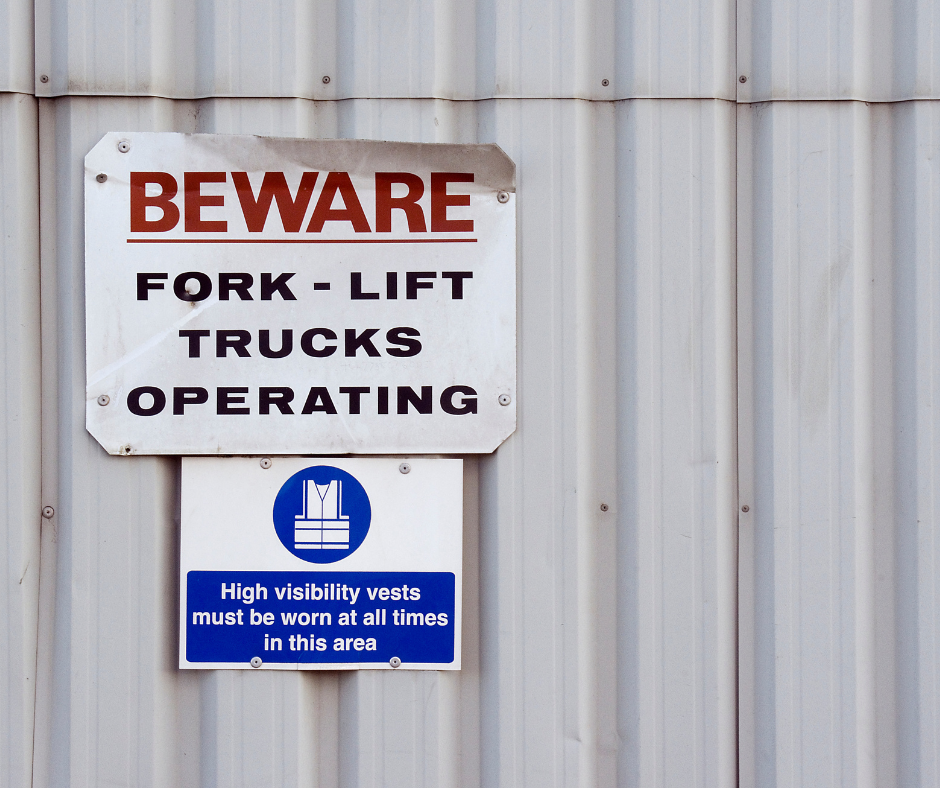 Pallet Rack Safety Products
Pallet racking takes up a significant portion of most warehouses, storing thousands of pounds of valuable products. OSHA heavily regulates these large-scale storage systems. Protecting your pallet racking from forklift damage and overloading is paramount when dealing with warehouse racking safety and process optimization. 
We offer pallet rack safety solutions, including decking, rack backing, column protection, safety gates, safety rails, partitions, fencing, and more. Call 800-722-5908 for a quote or to inquire about additional storage rack safety products today! 
Our Warehouse Safety Product Partners
Save-ty Yellow
Folding Guard
Handle-It
Husky Rack & Wire
Ridg-U-Rak
SpaceGuard Products
WireCrafters
Wildeck
BeastWire Mesh Guarding
Worldwide Material Handling
Bluff Manufacturing
Pallet Rack Decking Options
Pallet rack decking provides a flat surface between beams to increase capacity, create a surface for hand-stacked or odd-shaped items, or prevent pallets from falling through the system. 
There are various styles of pallet rack decks, the most common being wire decking. Other deck styles include corrugated decking, steel decking, perforated decking, and particle board. Pallet supports are another option for supporting pallets. Rather than providing full coverage like decking, these bars hook on between beams and help support full pallets of product.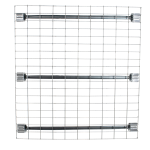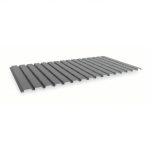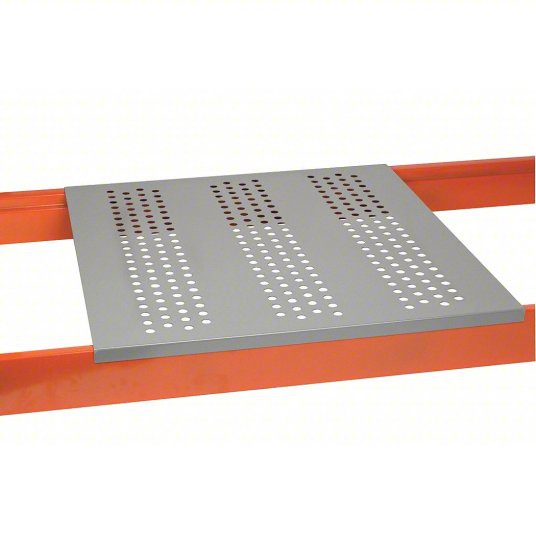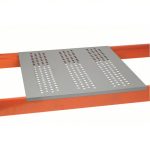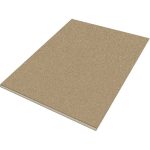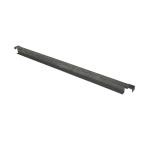 Types of Wire Decks
Wire decks come in multiple styles to fit different beams and applications. Variation primarily occurs between the wire deck channels. There are flanged channels and U-channels, and either can be inverted to provide a sure fit. 
Wire deck edges can sit flush with the beam, wrap over the edge of the beam in a waterfall style, or turn upward to contain products better.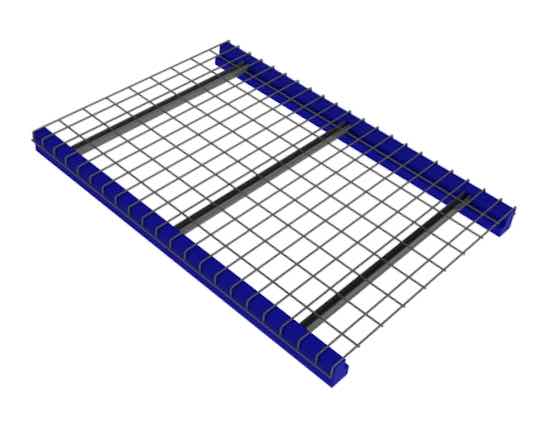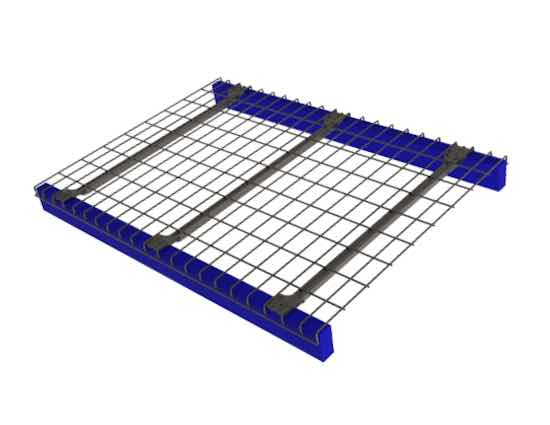 Flare Channel Wire Decking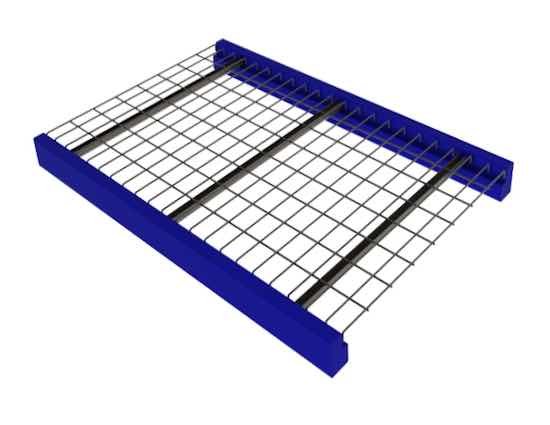 Inside Waterfall Wire Decking
Pallet Storage Safety
Proper Pallet Stacking and Loading Techniques
Falling pallets are a leading cause of warehouse accidents and workplace injuries. Correctly loading and unloading pallets significantly decreases risk, as most accidents occur when forklifts push pallets too far into the system or clip the racking. 
Implementing thorough forklift training and regular performance checks is vital to ensure safe pallet handling. Regularly inspect your pallets for damage or defects, and replace broken pallets immediately. 
Follow the proper pallet loading practices below:
Pallet Fall Prevention Products
The following products prevent pallets from being pushed too far into a system: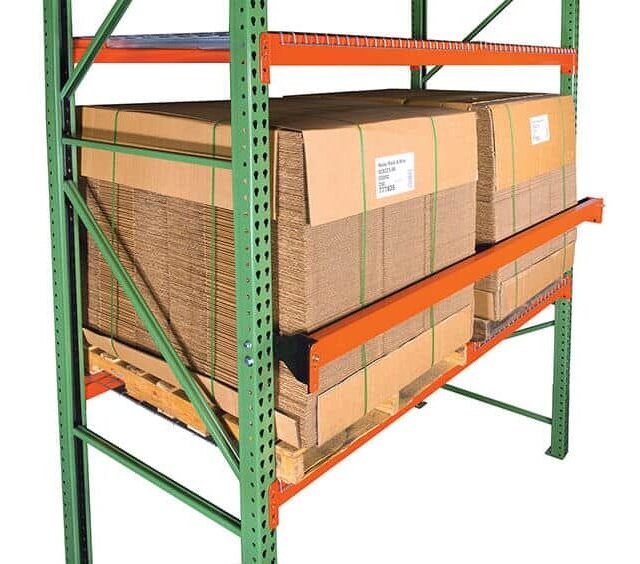 Column Protection
Pallet rack upright columns are the backbone of your pallet rack system. Damage to these structural frame components is potentially catastrophic and, at worst, could result in a complete system collapse or even death. We offer numerous column protection products and recommend preemptively implementing column protection into your warehouse.
Types of Column Protection
Column guards

End-of-aisle guards

Angle deflectors

Row end protector

Bollards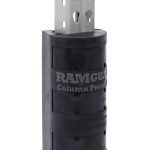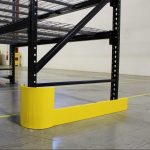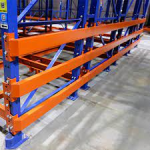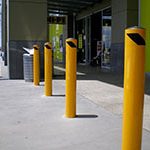 Gates and Safety Rails
Gates and safety rails serve multiple functions in warehouse safety. They protect pedestrians from falls or danger zones, define clear walkways, and prevent forklift collisions. 
Types of Gates and Guardrails:
Safety gates

Guardrail

Handrails

Mezzanine safety rails

Floor angle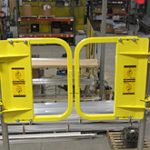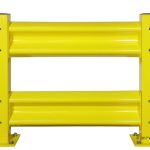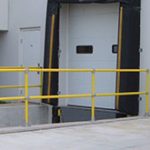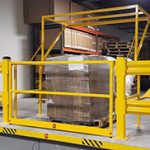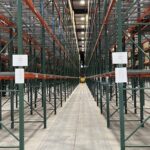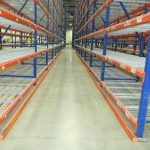 Rack Stability and Securement
There are various ways to stabilize your pallet rack system and prevent tilting, wobbling, or beam disengagement. Some standard pallet rack configurations requiring additional securement include back-to-back rows, against-the-wall rows, and systems in high seismic zones. 
Stability and Securement Products
The following products provide pallet rack fall protection by helping to stabilize storage systems:
Row spacers

Wall ties

Anchors

Pallet rack safety clips

Shims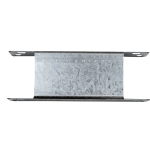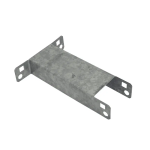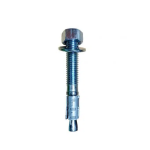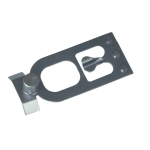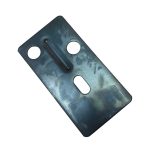 Fire Prevention
Fire prevention systems must exist in all warehouse facilities. The warehouse and rack permitting process involves a close inspection for potential fire hazards and mandates adequate precautions and preventative measures. 
Common Fire Safety Requirements
There are several fire safety requirements for warehouses. We offer the products you need and essential design services needed to integrate fire safety systems into your storage system. 
Flue spaces

Egress routes

Sprinklers

Fire suppression
As experts in warehouse layout design, we are well-versed in fire safety codes and know how to meet fire prevention requirements. If you need help designing a code-compliant facility, contact our design group.
Fencing and Partitions
Wire partitions, security cages, and fencing serve valuable safety functions in warehouse facilities, such as meeting aerosol storage requirements, upholding warehouse security, and protecting personnel from heavy machinery. 
Fencing and Partition Products
Wire partitions

Machine perimeter fencing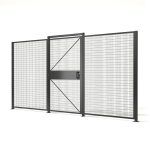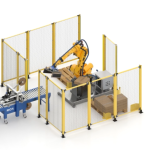 Machine Perimeter Fencing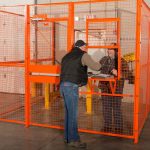 Common Fencing and Partition Applications
Medical security cages

Controlled guest access

Aerosol storage

Machine and

robotics

guarding

Inventory protection
Hazard Communication
Effective hazard communication is paramount to running a safe and operational warehouse facility. Hazard communication includes proper signage and labeling for all potential hazards within a storage facility, such as chemicals, fire hazards, fall/trip hazards, PPE requirements, rack capacity labels, heavy machinery, and more. 
Signage and Labeling Requirements in the Warehouse
Below is a list of required warning signs and labels. Warehouse managers and personnel should know how to identify these symbols and how to respond in case of a related emergency: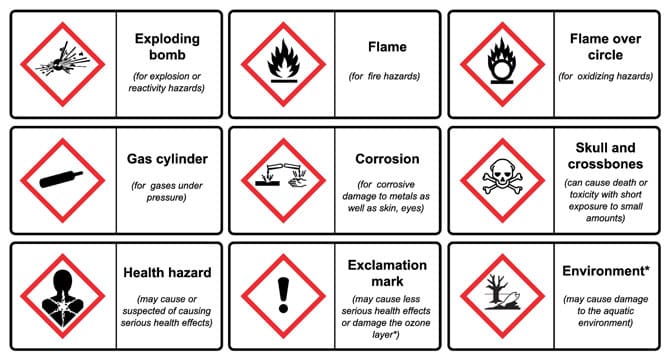 Common Warehouse Safety Signs
Warehouse Sign Colors and Their Meanings
Red -- Danger
Orange -- Warning
Yellow -- Caution
Blue -- Notice
Green -- Safety Instructions
Rack Capacity Labels and Their Significance
Rack capacity labels are essential markers that communicate the maximum available beam capacity to your warehouse workers. Overloading pallet rack beams is a severe hazard that results in beam deflection or worse. 
In the event of selling your racking, capacity labels help future owners know how to properly store their material without overloading the system. 
Proper Usage of PPE (Personal Protective Equipment)
Personal Protective Equipment (PPE), such as safety glasses, steel-toe boots, hard hats, gloves, masks, and safety vests, should be worn within the warehouse, especially in falling object zones, when moving or operating heavy machinery, or when handling chemicals. 
Safety Regulations
The Occupational Safety and Health Administration (OSHA) closely regulates warehouse facilities and has specific requirements for pallet racking safety. To operate a safe and compliant storage or distribution center, you must adhere to OSHA regulations and undergo a rigorous permitting process.
Permitting
Before you are allowed to store products in your facility, you must acquire a pallet rack permit. Permitting can be a long and arduous process with many steps and minor tweaks. 
For help obtaining essential documentation like CAD drawings or spec sheets or to add safety products to your system for code requirements, contact us. We can also assist with your pallet rack installation and implementation.
Pallet Rack Capacity
A common mistake customers make when purchasing pallet racking is underestimating the capacity they need. Choosing the proper capacities for your pallet rack components is essential for warehouse safety and meeting safety standards. Standard pallet racks (see our pallet rack guide) are generally manufactured to hold 2500 lbs per pallet position.
How to calculate industrial pallet rack beam capacity:
Calculate the heaviest pallet weight
Multiply the heaviest pallet weight by the number of pallet positions per beam level
Example: a 3000 lb. maximum pallet weight stored on 96″ beam spans would need to have 6000 lbs capacity per beam level (3,000 x 2 pallets per level).
How to calculate the required frame capacity:
Determine the required capacity per beam level (see above)
Determine the maximum vertical beam spacing for your system. Beam spacing needs to be measured from the top of one beam level to the top of the next beam level.
Example: if there is a 48″ clear between your rack beams when using 4″ high beams, the frame capacity should be considered on 52″ beam spacing.
Attention – Pallet Rack Capacity Warning
A pallet rack professional can determine pallet rack capacity specifically for each application. Pallet rack capacity should not be roughly figured or estimated by an untrained professional. 
We always recommend professional assistance when purchasing pallet racks and assessing rack capacity to ensure the safety of your warehouse and adherence to warehouse safety standards. This information is written to help clients gain a general understanding of how pallet rack capacity is determined.
Safety should be a top concern for anyone in the material handling industry, but especially for warehouse managers and decision-makers. When the well-being of your employees and colleagues is at stake, you cannot be too cautious. 
We are passionate about warehouse safety and security and want to help connect customers with the essential warehouse safety products they need. We hope these warehouse safety tips helped guide you to a safe and compliant storage facility.
For help choosing the right safety accessories or for help designing a code-compliant storage system, call 800-722-5908, or fill out a quote form today!
Let's Talk
Ready to get started?
Or have questions about any of our products or services?
Fill out the form and a representative will contact you promptly.