What is Wire Guidance?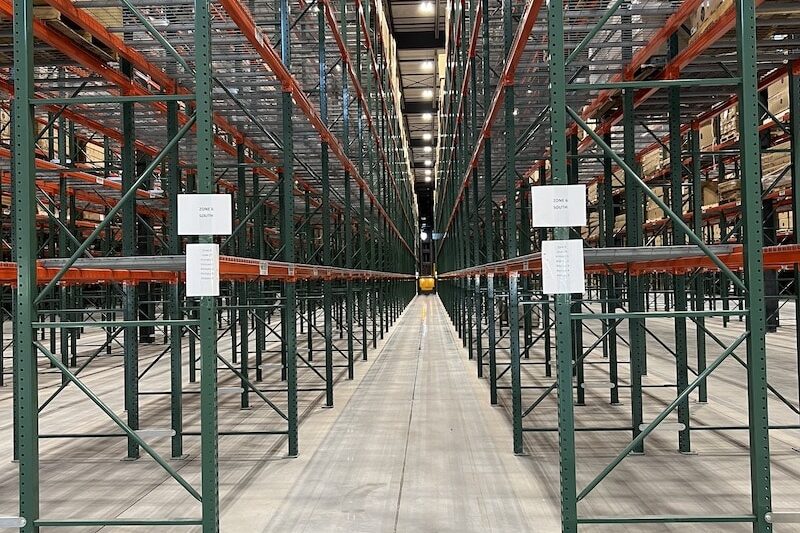 Wire guidance is an electromagnetic wire system that controls Very Narrow Aisle (VNA) forklift steering as they navigate VNA pallet rack aisles. Forklift wire guidance systems are installed into the floor down the center of a very narrow aisle, freeing drivers from steering responsibilities during operation.
Wire warehouses benefit from decreased rack damage and inventory loss, fewer forklift collisions, and fewer employee injuries. Wire guidance, also called "line drive," is a no-nonsense approach to increased productivity, optimized space, and reduced costs in the workplace. 
Rail Guidance Vs. Wire Guidance?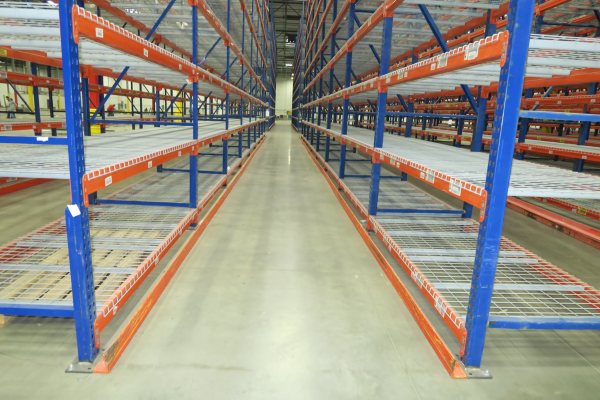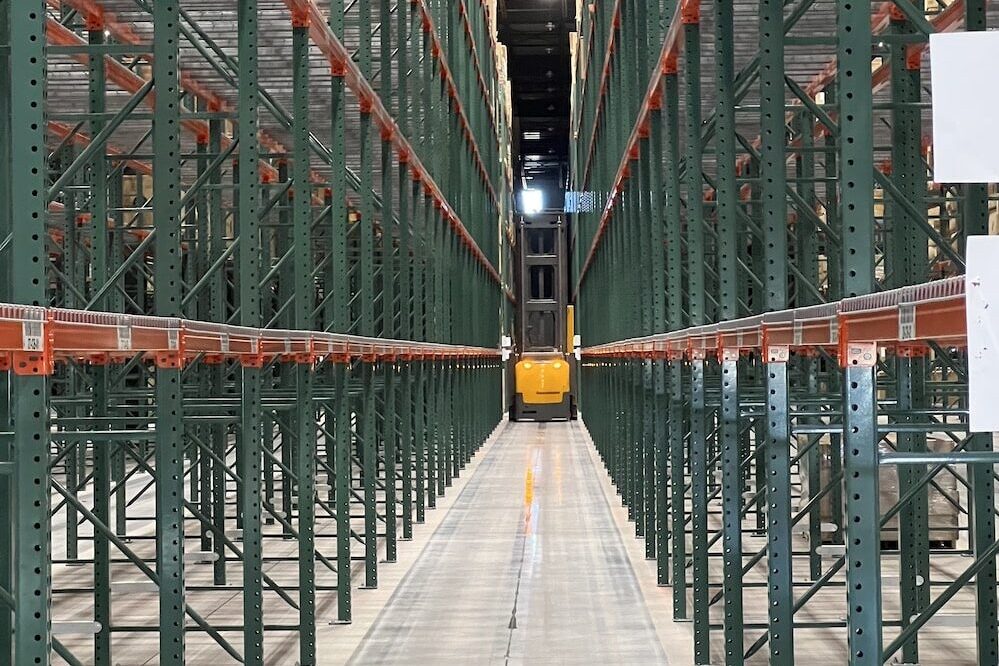 The two options for guiding forklifts are rail and wire guidance systems. Rail guidance is a physical guardrail system that runs the entire length of an aisle, protecting the vulnerable lower columns and baseplates from forklift damage. 
Wire guidance uses electromagnetic signals from charged wires to keep forklifts centered within the aisle. Each option is equally effective, but the cost and other factors, such as aisle length and the number of forklifts, may influence your decision.
Warehouses with shorter aisles and multiple forklifts often benefit from mechanical rail guidance, while warehouses with few forklifts and long runs benefit from wire guidance. Generally, electromagnetic guidance systems are more cost-effective than rail guidance systems.
Cost of Wire Guidance
Wire guidance is a significant investment in your warehouse operations. While upfront costs for the guide wire, forklift electronics, line driver, and installation can add up, the avoided cost of future damage and rack replacement could save you thousands in the long run.
Guide wire costs an estimated $5 per foot or $15 per meter. Additional costs to consider include installation, slurry removal, return trips if installed during a multi-phase project, and clean-up.
The estimated cost for rail guidance is $35 per linear foot for the material and installation. Remember, an aisle has two sides that will both require guide rail protection. Additional costs for guide rail installation include removal of existing rails, disposal, and reconfiguration/redesign.
Types of Guided Forklifts
Wire-guided forklifts are always very narrow aisle trucks – but what makes VNA trucks different than typical lift trucks? 
VNA forklifts, also known as turret trucks or swing reach trucks, are designed explicitly for high-density warehouses. High-density storage allows more goods to be stored and accessed in a warehouse by making smaller aisles. VNA forklifts are narrower and more compact for maneuverability through these close corridors. The 180-degree rotating mast allows operators to access both sides of the aisle without repositioning the truck.
Wire-guided forklifts have numerous customizations that make them perfect for narrow aisle storage. Elements like turret heads, compact turning, shuttle forks, load capacity, lift height, Personal Protection Systems (PPS), energy-saving Advanced Lifting Systems (ALS), and more are often present or available for VNA forklifts. 
VNA Forklift Manufacturers and Order Selector Brands
Yale Industrial Truck

Hyster Company

Raymond Corporation

Crown Equipment Corporation

Jungheinrich

Linde Material Handling

Mitsubishi Forklift Trucks

BALYO

Caterpillar Industrial Inc.

Toyota Material Handling

Clark Material Handling Company

UniCarriers (aka Nissan Forklift)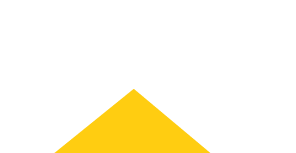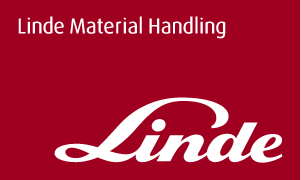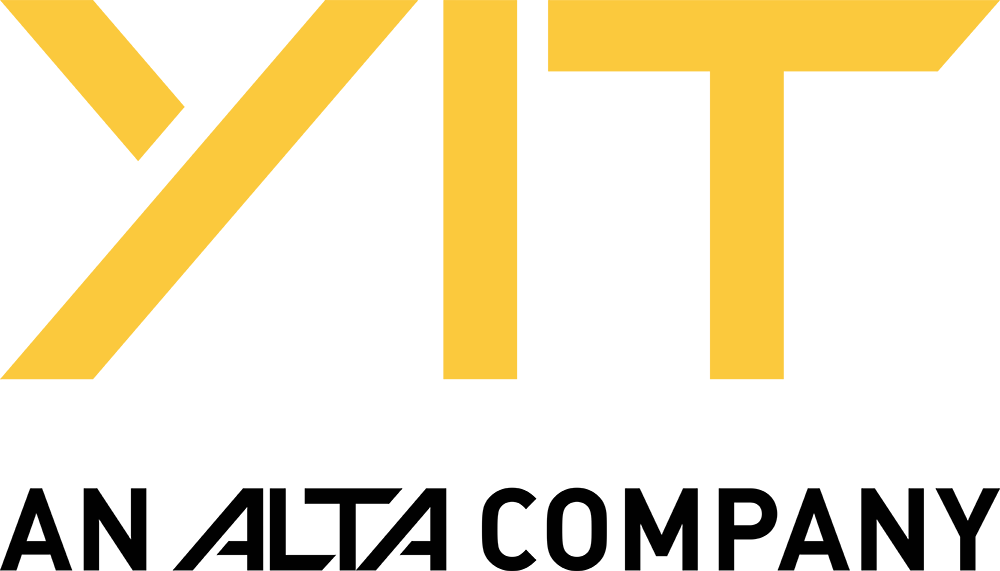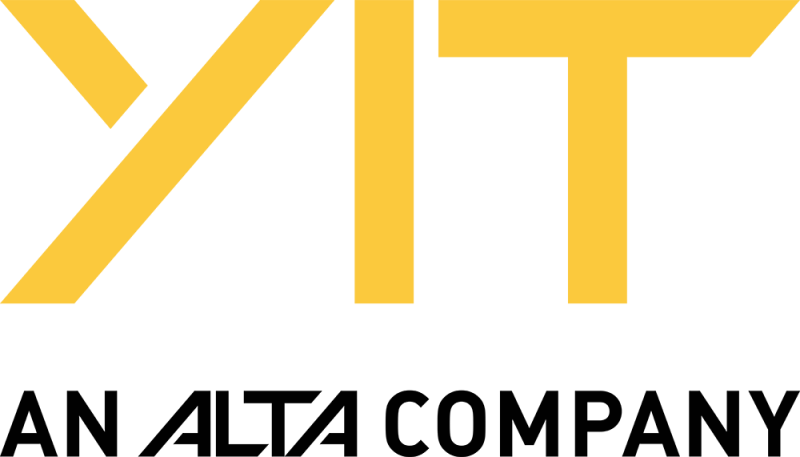 Wire Installation
During wire installation, installers embed the activated wire guide cable in a ½" – ⅝" deep beveled cut in the warehouse floor and seal it with epoxy. These grooves run the entire length of the aisle on either side. 
Wire guidance is a closed path circuit system connected to the Line Driver Unit (LDU). The LDU creates an electrical current, sending a low-voltage RF frequency through the circuit to power each wire-guided aisle.
To properly plan and implement your wire installation, installers require a blueprint to determine the following:
Line Driver Unit location

How many linear feet of wire are needed 

The total number of guided aisles
After receiving this information, your wire guidance installer can cut and lay the lines, setting up the system with your wire-guided forklift. 
UL Certified Wire Guidance Systems
Underwriters Laboratories (UL) is an organization that performs safety testing and certification for a wide array of products, components, and systems. UL certification means that a product has passed testing and evaluation for safety, performance, and compliance with unique industry standards.
If you need a forklift or wire guidance system that is UL certified, we can help! We only offer UL certified VNA wire guidance systems (line drive) for your convenience and safety. Call 800-722-5908 with questions on UL certification. 
Start Planning Your Wire Warehouse
Are you interested in wire guidance for your warehouse? Call 800-722-5908 or fill out a quote form to get started on your forklift wire guidance system. We look forward to helping you optimize your operations!
Let's Talk
Ready to get started? Or have questions about any of our products or services? Fill out the form and a representative will contact you promptly.
Let's Talk
Ready to get started? Or have questions about any of our products or services? Fill out the form and a representative will contact you promptly.