For craft brewers and beer wholesalers, kegs can present an interesting and often frustrating storage problem. Kegs' round, oblong shape means they may not store as efficiently using traditional storage methods, and letting them sit on the floor can use up an unnecessary amount of floor space. Finding out how to store kegs has been made more urgent in recent years due to the rapid expansion of the craft beer industry and the growing number of SKUs stored in the warehouses of wholesalers and breweries around the country. Fortunately, in response to ever-growing demand, a convenient, efficient, and cost-effective solution is available for those needing a better way to store their kegs. Introducing: Keg Flow.
Advantages of Keg Flow
It can be used either as a FILO or FIFO system

Built with high-quality structural or roll-formed steel

Increases warehouse capacity

Store a variety of keg sizes

Reduces travel time required to pick orders

Improves efficiency and productivity

High-strength steel rollers

It can be integrated with pushback pallet rack to form a combination system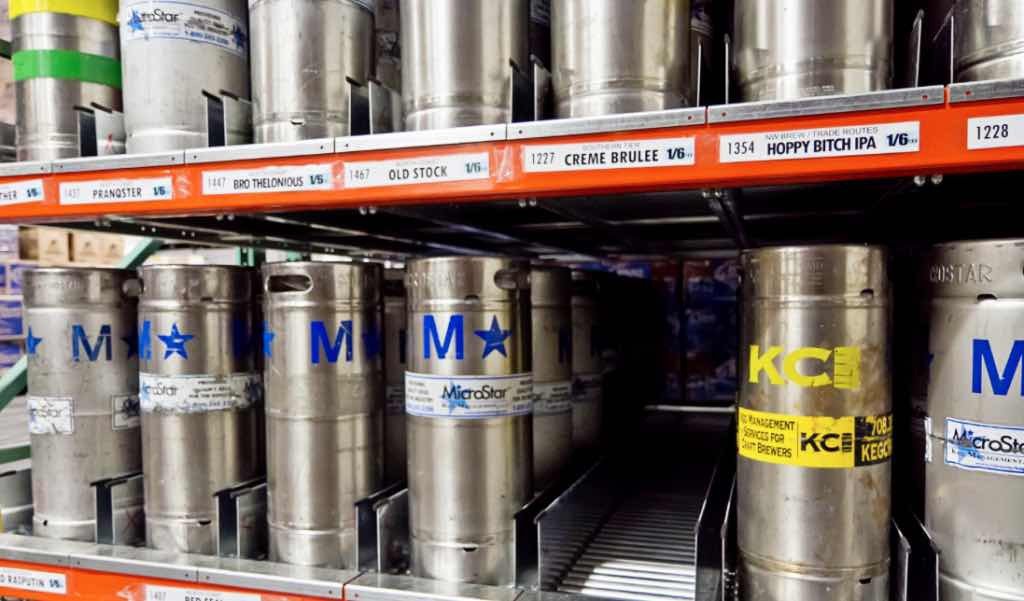 What is Keg Flow?
Keg flow systems are constructed using steel rollers and either roll-formed or structural steel pallet rack frames and beams and can be used either as FILO or FIFO systems, the latter simply requiring an extra beam at the front of the rack to function as a stop. These gravity-driven racks are built with individual lanes so that different SKUs can be neatly organized and won't intermix. Each bay is 96" wide and can accommodate up to eight lanes of kegs, each lane storing from 1-6 kegs. However, because not all kegs are the same size, Keg Flow racks are built to store a variety of keg sizes, including Home Brew, Sixth Barrel, Slim Barrel, Quarter Barrel, and Half Barrel. To learn even more about Keg Flow racking, reach out to one of the rack systems specialists in our Design Group
Keg Storage Solutions
Keg Flow systems are designed and built to do one thing and only one thing: store kegs. This fact makes them especially adept at functioning how users intend them to – i.e., improving product flow, increasing keg warehouse capacity, organization, and overall productivity. AK Material Handling Systems partners with Mallard Manufacturing and UNEX to offer quality keg flow systems. We can provide you with the materials, consultation, warehouse layout design, installation, and expertise needed to integrate a keg flow rack system into your current operations.
Let's Talk
Ready to get started?
Or have questions about any of our products or services?
Fill out the form and a representative will contact you promptly.