What is SpeedCell?
UNEX SpeedCell is a dynamic, high-density storage solution that integrates directly with existing pallet racks. SpeedCell comprises flame-resistant hanging vinyl/mesh columns compartmentalized into storage cells. 
SpeedCell storage cells are available in six sizes ranging from XS to XXL. Each integrated mesh cell can hold up to 35 pounds, and each column can hold up to 240 pounds. 
A primary motivation for SpeedCell users is warehouse space utilization and the desire to optimize available space and operations. This system dramatically decreases the storage footprint of piece-picking facilities and optimizes pick speed and accuracy. Keep reading to learn more about this innovative storage solution, and get a quote today!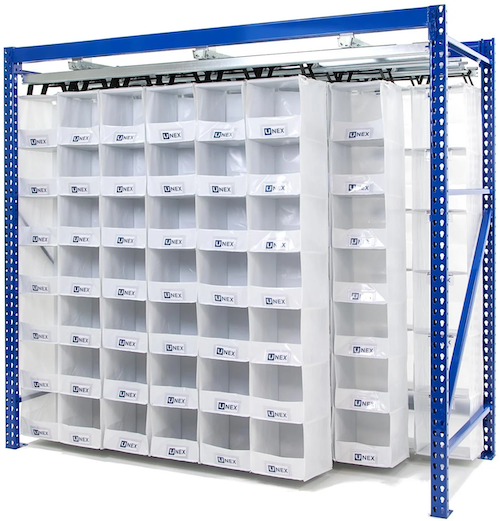 SpeedCell Configuration
SpeedCell columns hang from a sturdy steel track system that locks directly into your rack's cross beams. UNEX SpeedCell can integrate with your current racking or new UNEX racking, consisting of welded uprights and roll-formed crossbeams.
SpeedCell allows picking specialists to rearrange and access columns deeper within the bay. An empty column space is left in each row so that the columns can shift side to side, allowing access to the next row of hanging columns.
SpeedCell Steel Track System
SpeedCell Ready Bay Racking
SpeedCell Storage Applications
SpeedCell is designed for piece-picking applications, also known as each picking, in which a single item is picked from a master carton. Piece-picking operations exist in warehouses, distribution centers, and retail centers that ship directly to customers. 
Standard piece-picking applications include t-shirts, small parts, handheld products, small boxed items, grocery items, and so much more. For help determining if SpeedCell is suitable for your storage application, call 800-722-5908.
Advantages of SpeedCell
Compressed storage footprint (200' of racking/shelving to 40' of organized space)

More pick facings

40-60% greater storage density

High strength material

Increased storage capacity

Less travel time

Faster picking and restocking

Lower labor costs
End Cap Optimization
SpeedCell can turn aisle end caps into dynamic each pick or case pick storage spaces. This is just one way to optimize your warehouse with UNEX SpeedCell or SpanTrack — UNEX's case storage alternative. 
Let's Talk
Ready to get started?
Or have questions about any of our products or services?
Fill out the form and a representative will contact you promptly.