Drive-in pallet racking is a high-density warehouse storage system ideal for multi-pallet storage of low-rotation stock. Drive-in/drive-thru systems store pallets multiple positions deep and are accessed via a forklift, which drives directly into the system. 
Drive-in pallet rack is great for warehouses and distribution centers that need cost-effective, high-density storage solutions. Drive-in racking eliminates unnecessary aisles and allows users to achieve over double the storage capacity they might with standard selective pallet racking.
Most drive-in pallet rack systems store 2 to 10 pallets per lane but can be designed to store nearly unlimited pallets deep as needed.
If you are interested in a drive-in rack system to maximize your warehouse space, call 800-722-5908 to contact one of our pallet rack design specialists, or click the button below to get a quote today!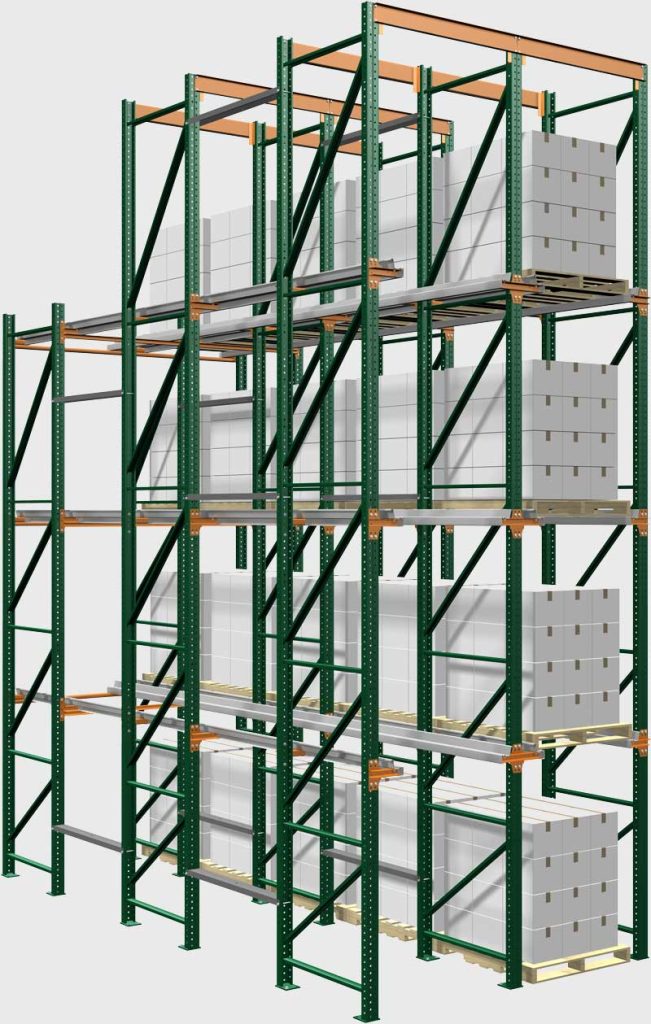 How Drive-In Pallet Racking Works
Drive-in racking systems store pallets in multiple positions deep on sturdy horizontal rails. Pallets are driven into this type of rack system by a forklift and removed from the same entry point when unloaded. 
Drive-in/thru racking offers first-in, first-out (FIFO) or last-in, first-out (LIFO) inventory management, depending on whether the racking is a drive-in or drive-thru configuration. 
While drive-in rack storage is a wonderful space-saving storage system, it is much more susceptible to damage from forklifts as they drive in and out of the system.
We often recommend structural steel racking because structural applications have a higher resistance to upright damage, although roll-formed racking is quite common in drive-in systems as well and can be bolstered with column protection and other safety features.
Depending on the application, drive-in can be designed with structural or roll-formed pallet racking. We always review the application and present the best rack style for our customer's unique storage needs.
Drive-In Racking Advantages and Disadvantages
Drive-In Racking Advantages:
Space Utilization: Drive-in maximizes pallet storage with its high-density, aisle-eliminating design

Storage Depth: Virtually unlimited depth of storage (2-10 pallets deep on average)

SKU Density: Utilizes density over selectivity and stores a wide variety of SKUs

Customizable: Drive-in systems are custom-designed for your pallets & forklifts. Cant leg or set-back leg uprights can help reduce the risk of forklift damage

Cost-Effective: Frees up valuable warehouse space and streamlines storage processes

Versatile: Drive-in racking can be integrated with push-back rack or other pallet racking to form a combination system

Stock Rotation (Drive-Through): Drive-through racking keeps expiration-sensitive products in constant rotation with its FIFO inventory management design.
Drive-In Disadvantages:
Damage-Prone: Drive-in pallet racking is highly susceptible to forklift damage.

Low Selectivity: All of the pallets in a given bay must be unloaded to reach the last pallet.

Poor Inventory Rotation: Drive-in (LIFO) is a poor fit for expiration-sensitive products that require constant rotation – however, switching to a drive-through system solves this dilemma by changing the inventory management to FIFO.

Honeycombing: The "honeycomb effect" can lead to wasted space. Honeycombing occurs when there is insufficient like-product to fill the entire system.
Drive-In Rack Components and Safety Options
Frames:

Pallet rack upright frames bring storage height to the system and provide a sturdy structure to which the beams and rails attach. Cant leg uprights are popular for drive-in pallet racking.
Cant leg (set-back leg) uprights:

Cant leg uprights (also known as set-back frames or offset frames) slope inward near the bottom of the frame to provide greater forklift clearance at the damage-prone aisle entrances.
Top tie beams:

Overhead tie beams add rigidity to the entire drive-in structure and are required for seismic locations.
Rail support beams:

Rail support beams support the drive-in rails from the rear of the system and add rigidity to the system.
Interior support arms:

Interior support arms provide additional support to the drive-in rail from within the system.
Drive-in rail:

Drive-in rails run the entire length of the system attached to the support beams and interior support arms and provide a continuous seat to place pallets on. Roll-formed and structural drive-in rails are available, each with unique benefits.
Bracing:

Top X-bracing and rear X-bracing provide additional strength and rigidity to a drive-in system.
Guide Rails:

Drive-in guide rails guide forklifts along the floor as they enter the rack system to ensure proper alignment and storage safety.
Column protection:

Column protection

and safety accessories are especially important for drive-in/drive-thru pallet racking because these systems are highly susceptible to forklift damage.

Stop beams:

Stop beams prevent pallets from hitting the rear bracing when driven into the system.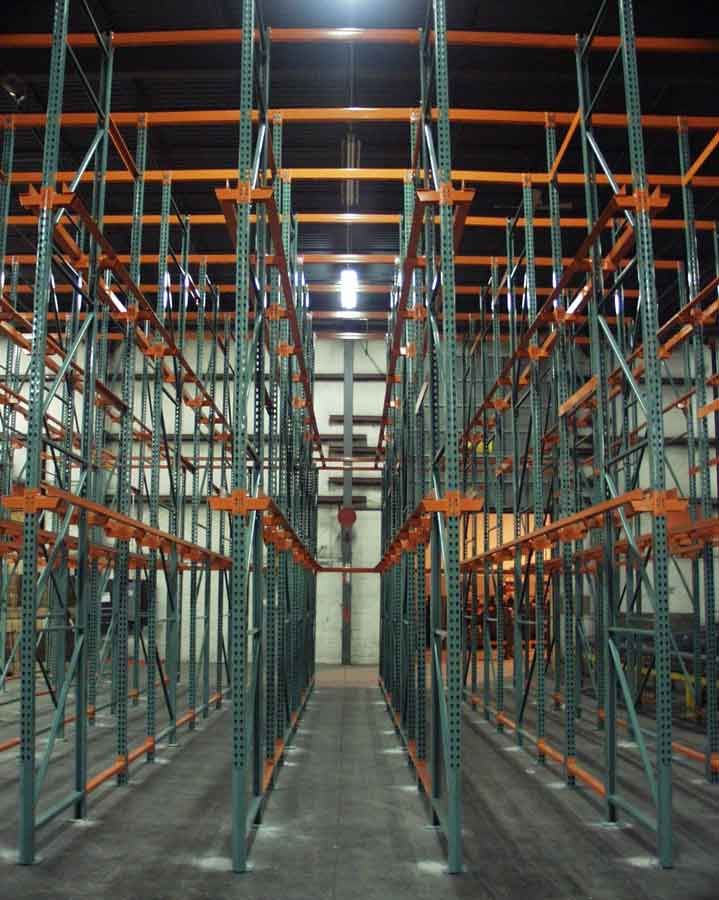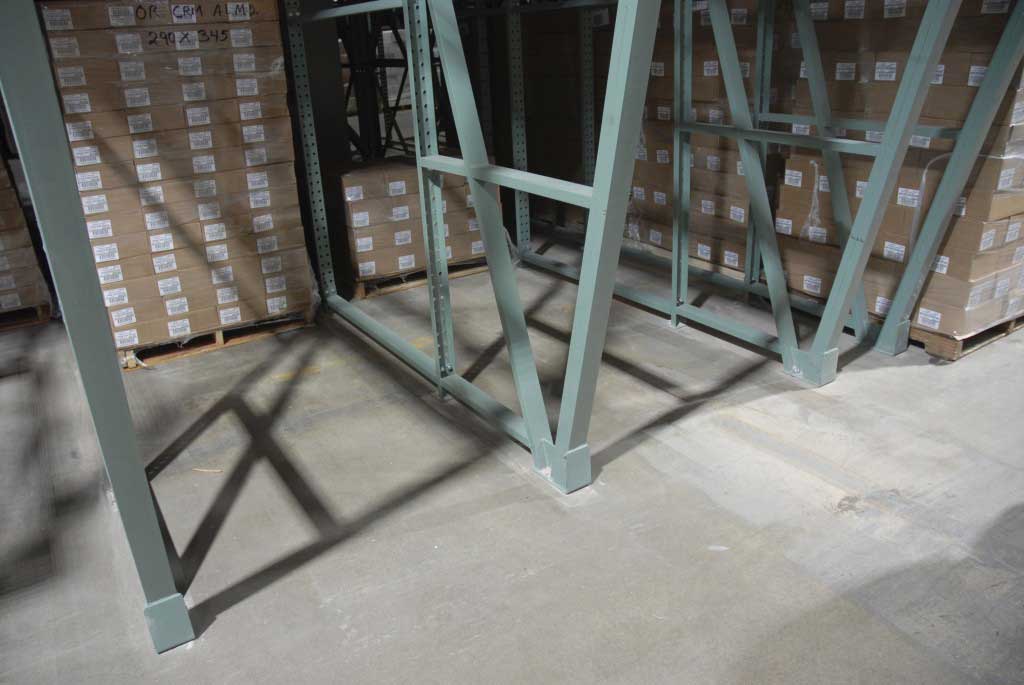 Drive-In/Thru Pallet Rack Applications
Ideal for large stocks of few product types (Many pallets, few SKUs)
Drive-In Pallet Rack Manufacturers
Engineered Products
Advance
Bulldog Rack Co.
Heartland Steel Products
Interlake Mecalux
Rack Builders Inc.
Ridg-U-Rak
Speedrack
Steel King
UNARCO
Konstant
Drive-In Vs. Drive-Thru Pallet Rack
Drive-in racking systems are typically placed against a wall or are otherwise closed at one end of the system, meaning the last pallet placed is the first to be removed (LIFO). On the other hand, drive-thru pallet storage systems are located in an open area so that forklifts can drive completely through the rack system. Drive-thru rack, also called "Drive-through racking," is accessible from either end of the system – pallets loaded on one side are retrieved on the opposite side (FIFO).
Like drive-in pallet rack systems, the "honeycombing" effect is somewhat common among drive-thru rack systems, but both offer equal storage density.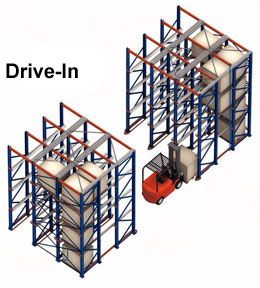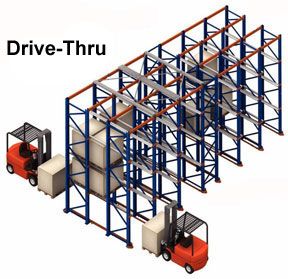 Drive-In Pallet Rack Cost
On average, drive-in pallet racking costs $150-$250 per pallet position, including freight and installation. This cost is a rough estimate based on projects we've worked on, but this number may look drastically different from one storage system to another.
Drive In Pallet Racking Safety
Safe Loading
Safe loading of all pallet rack systems is necessary to protect your personnel, your product, and your racking. Because forklifts enter and exit the rack system, caution and attention to safety precautions are essential. Operators should enter the system slowly and deliberately and carefully avoid hitting the system's upright frames. Before system use, it should be verified that the forklift used is compatible with the rack system's dimensions.
Safe Unloading
Safe unloading of drive-in pallet rack is similar to safe loading. Drive-in racking systems can be quite deep, and forklift operators must take great care when reversing out of the system. While speed is important in most operations, safety always takes priority, and colliding with an upright frame while underneath a system is unsafe.
Maintenance
Because forklift operators are driving inside the rack system, it's extremely important to ensure drive-in pallet rack systems remain in stable condition. While drive-in rack systems generally require very little maintenance, perform regular safety checks to confirm no damage has happened that could compromise structural integrity or operator safety. When performing the inspection, check for damaged frames, loose anchors, and damaged pallet rails.
Let's Talk
Ready to get started?
Or have questions about any of our products or services?
Fill out the form and a representative will contact you promptly.