Drive-In Pallet Racking is installed in warehouses and distribution centers that need a cost-effective, high-density storage solution for their pallets and products. Because of its design, drive-in pallet rack is a first in, last out (FILO) storage system. Drive-in racking is best used with a large number of like-products that are not time-sensitive to best utilize warehouse space. Warehouse access aisles are kept to a minimum with drive-in rack, often allowing users to achieve double or more storage capacity.
Drive-in pallet rack systems can be designed to store 2 to 10 pallets deep per pallet position. If you're curious about how a drive-in rack system can help maximize your warehouse or distribution center space, contact one of our Minnesota-based pallet rack design specialists. We are based in Minnesota, but have shipping points throughout the country you can take advantage of as well.
How Drive In Pallet Racking Works
Drive-in racking systems store pallets drove into the rack system by forklift operators and loaded onto horizontal rails. Drivers then remove the pallets from the same entry point at which they loaded when it's time to move them. Drive-in racking systems are typically placed against a wall or are otherwise closed at one end of the system. Drive-thru pallet storage systems are based on the same concept but are located in an open area so that forklifts can drive completely through the rack system.
Drive-in rack storage does not come without its potential disadvantages, though. It's not the best option regarding selectivity or accommodating the need to rotate inventory because all of the products in a given bay must be unloaded to reach the last pallet. The other potential downside is the "honeycomb" effect that results from unused space in the rack. This occurs when there is not enough like-product to fill the entire system.
Drive-In Pallet Rack System Optional Features:
Rails, Heavy Duty Supports, Cant Leg, Set Back Leg, 2 to 10 Pallets Deep Storage
Advantages of Drive In Racking
Virtually unlimited depth of storage

Limited aisles, resulting in more efficient use of space

Cant-leg or set-back leg designs can help defend against forklift damage

Utilizes density over selectivity

Custom-designed for your pallets & forklifts

Cost-effective storage strategy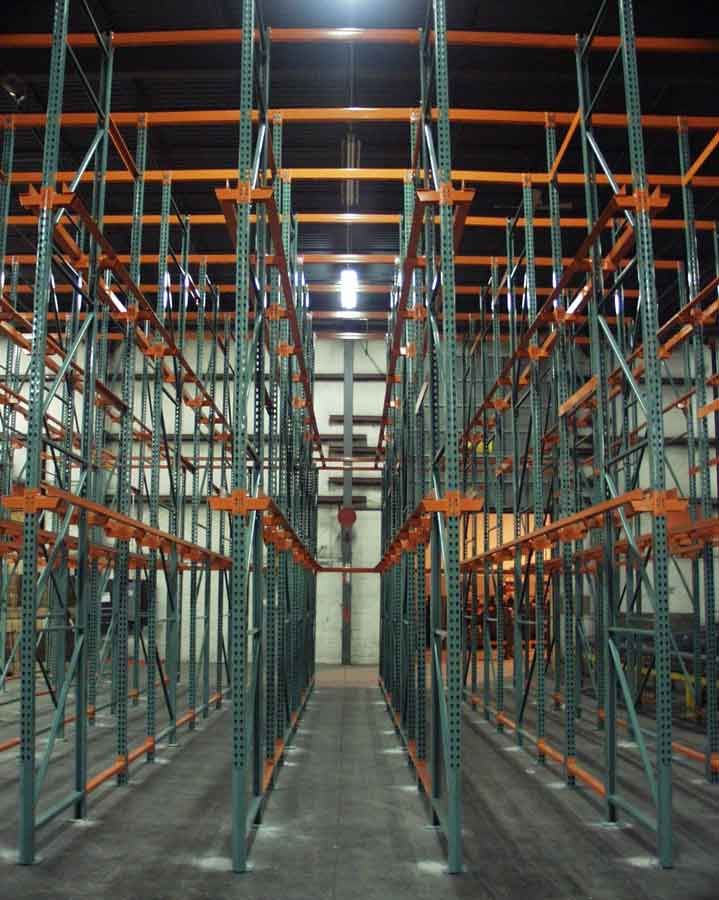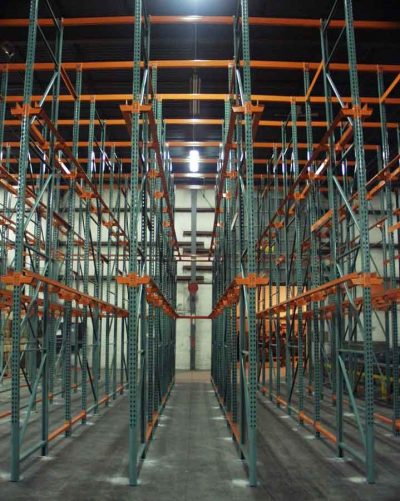 Drive-Thru Pallet Rack
Also called "Drive-through racking," this style of pallet rack features the same design as drive-in pallet rack but is open at both ends, allowing forklifts to drive through it. This turns what would otherwise be a LIFO pallet storage system into a FIFO rack system as the pallets flow through the system. One side of the rack system is used most often to load products, while the other side can be used to unload the product.
Like drive-in pallet rack systems, the "honeycombing" effect is somewhat common among drive-thru rack systems.
Drive In Pallet Racking Safety
Safe Loading
Safe loading of all pallet rack systems is necessary to protect your personnel, your product, and your racking. Because forklifts enter and exit the rack system, caution and attention to safety precautions are essential. Operators should enter the system slowly and deliberately and carefully avoid hitting the system's upright frames. Before system use, it should be verified that the forklift used is compatible with the rack system's dimensions.
Safe Unloading
Safe unloading of drive-in pallet rack is similar to safe loading. Drive-in racking systems can be quite deep, and forklift operators must take great care when reversing out of the system. While speed is important in most operations, safety always takes priority, and colliding with an upright frame while underneath a system is unsafe.
Maintenance
Because forklift operators are driving inside the rack system, it's extremely important to ensure drive-in pallet rack systems remain in stable condition. While drive-in rack systems generally require very little maintenance, perform regular safety checks to confirm no damage has happened that could compromise structural integrity or operator safety. When performing the inspection, check for damaged frames, loose anchors, and damaged pallet rails.
Let's Talk
Ready to get started?
Or have questions about any of our products or services?
Fill out the form and a representative will contact you promptly.