What are Warehouse Cranes?
Warehouse cranes lift boxed or palletized products to high storage levels. Warehouses with high bay racking require high bay warehouse cranes to load and unload the extra tall system. Crane warehouses are semi-automated but may still require human operation for remotely or manually controlled cranes.
Smaller robotic cranes may be installed at the end of a production line to lift, pack, and palletize products. See more of our robotic crane and work cell offerings on our robotics page.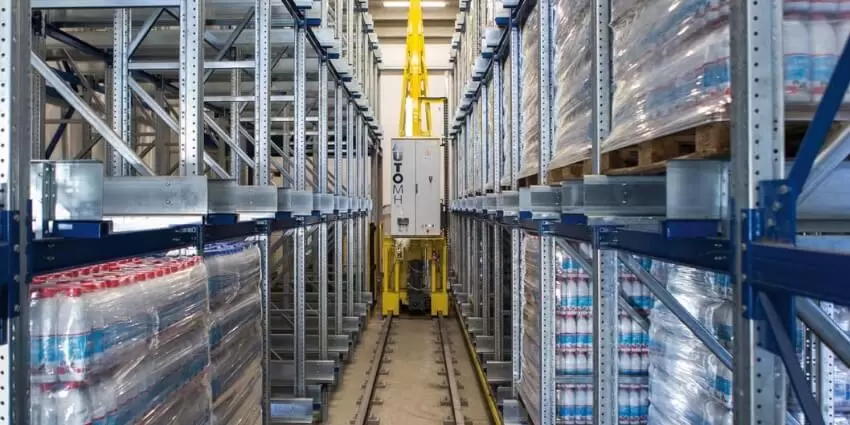 Automated storage and retrieval systems (ASRS) are a type of warehouse stacker crane for high bay rack systems. AS/RS lift systems store and retrieve pallets using automation technology.
Warehouse cranes significantly increase storage options for tall, high-density systems by accessing heights impossible to reach with a typical forklift. 
Types of Warehouse Cranes
There are multiple types of warehouse outdoor and indoor crane systems and lifting devices that all serve different purposes. Here are some of the most common warehouse lifting crane types:
Stacker cranes

Ergonomic lifting devices

High bay warehouse cranes

Warehouse overhead cranes

Bridge cranes

Jib cranes

Gantry cranes

Hoists

Workstation cranes

Monorail cranes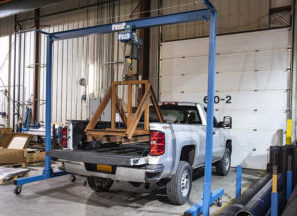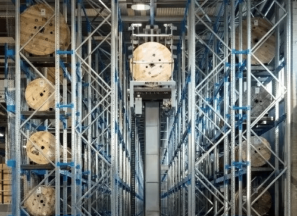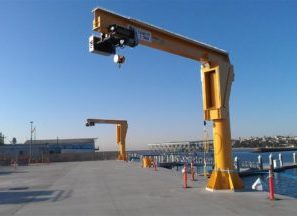 Our Warehouse Crane Offerings
Automha
Automha manufactures the Miniload and SRM Stacker cranes. These automated stacker cranes integrate with industrial buildings or self-supporting rack structures.
Automha Miniload Crane
Automha Miniload stacker cranes handle heavy containers or trays in fast-flowing warehouses. The stacker crane runs along a central corridor between two shelving racks. The stacker crane brings products to an automation area, where they travel on a conveyor to the operator for picking. 
Once picking is complete, the product is returned to the Miniload stacker crane and replaced on the racks.
Automha SRM Stacker Crane
Automha's SRM stacker cranes can manage loads of any size and weight. These warehouse cranes are customizable for different needs and adapt to existing structures. 
Automha stacker cranes run along an anti-vibration rail system with an ascending crane cart that loads and unloads products in high bay storage racks.
Gorbel Cranes
Gorbel is another one of our warehouse crane manufacturers. Gorbel offers a wide array of crane styles including workstation cranes, jib cranes, gantry cranes, overhead cranes, and more.
Workstation Cranes
Workstation cranes are self-supported cranes that perform similarly to bridge cranes. Rather than relying on the building structure, workstation cranes can be placed anywhere with their floor-mounted supports. 
Jib Cranes
Jib cranes are typically floor mounted and shaped like an upside-down "L." Using a building support beam, jib cranes can hoist and rotate to move loads over short distances.
Gantry Cranes
Gantry cranes are overhead cranes built on a movable framework called a "gantry." Gantry cranes come in various sizes for applications as small as a garage to large shipping and container yards.
Cleveland Tramrail Overhead Cranes
Gorbel partners with Cleveland Tramrail to offer a robust selection of overhead crane systems. Their overhead cranes include the following styles:
Underhung crane system

Monorail crane

Freestanding crane

Ceiling-mounted crane system
Ergonomic Lifting Systems
AK offers several ergonomic lifting devices through Gorbel, including their G-force intelligent lifting device, easy arm lifting device, handle accessories, and GS series hoist. 
How Much Does a Warehouse Crane Cost?
Many factors affect the cost of a warehouse crane system. Here are some of the most common factors that may alter the cost of any crane application:
Warehouse crane type

The vertical span (lifting height) and horizontal distance of the runway rails

The lifting capacity rating 

Weight and type of material

The crane duty cycle or amount of time in use regularly

The warehouse environment 

Particular installation or structural requirements

Length of runway bay

Crane speed
Typical warehouse crane projects range from $500 for light-duty workstation cranes to over $80,000 for customized warehouse overhead crane systems. As you can see, the cost varies significantly between applications. Get a free warehouse crane quote today, and contact us for help designing your custom warehouse crane system. 
Need Help Finding the Right Warehouse Crane?
AK Material Handling Systems can help design a customized system if you are searching for a warehouse crane system. Call 800-722-5908 to get in touch with a design expert today! 
Let's Talk
Ready to get started?
Or have questions about any of our products or services?
Fill out the form and a representative will contact you promptly.