Some materials don't fit neatly or effectively into typical pallet rack systems. Lumber and steel, for example, are often too long and awkward to fit on pallets and may not have squared edges. Materials such as these are best stored using cantilever rack systems. Cantilever rack systems are ideal for storing long items in continuous runs to avoid left-to-right vertical uprights interfering with the placement of the product on the shelf. Cantilever racks can be found in various settings, such as lumber yards, hardware stores, or plumbing supplies warehouses.
A cantilever storage rack system is a free-standing rack system with horizontal arms extending out from a single vertical column. Because cantilever rack systems have no vertical obstruction, they create an opportunity for greater horizontal storage space.
This arm rack system is effective for storing non-uniform products, including furniture, building materials, sheet metal, heavy-duty metals, pipe, bar stock, appliances, rugs, and much more. Cantilever racks are manufactured using either roll-formed or structural steel.
We stock cantilever racking at our Maple Grove, MN location — shop online at Cantilever Rack Now.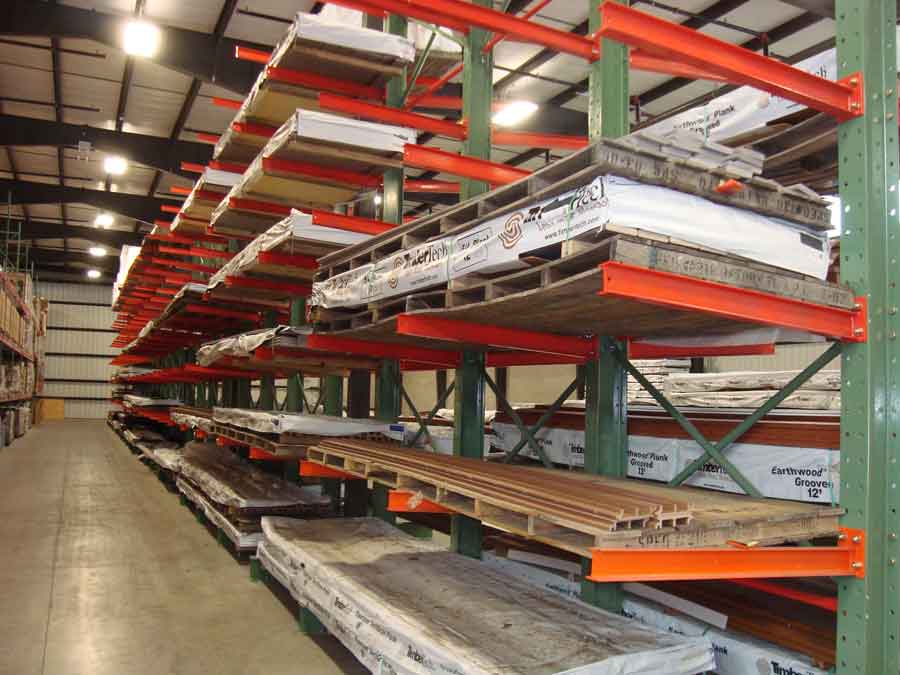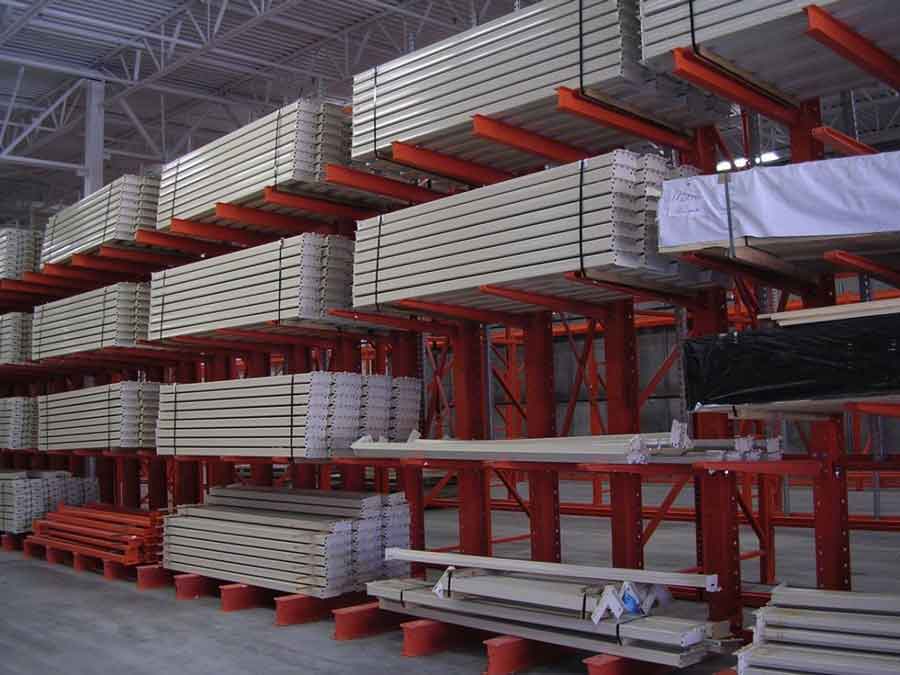 Advantages of Cantilever
No front access obstructions, making loading and unloading quick and simple

Easily adjusted to accommodate a wide variety of load heights

Able to store loads ranging in length; no front-side vertical obstructions means no restrictions on item length which permits storage of objects differing in length within the same rack system

You can build cantilever rack as high as your service machinery can load and as long as is needed for your warehouse

Single-sided can be converted to double-sided

Structural cantilever available for Heavy Duty applications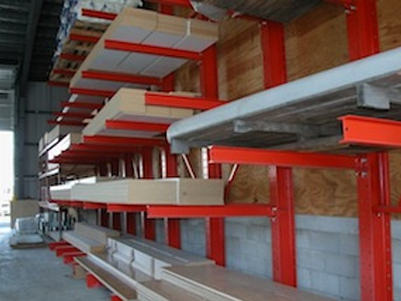 General Cantilever Information
Load Deflection refers to the amount of sagging occurring between load arms.
Determine the upright capacity needed for a given application by multiplying the weight placed on each arm level times the number of arm levels per upright column.
Determine arm capacity for a given application by dividing the total weight required for each product level by the number of arms used for that product level. This number is calculated assuming that the load will be evenly distributed from front-to-back and side-to-side.
In a cantilever rack with two upright columns, the horizontal distance between the cantilever arms should be half the length of the items being stored, leaving 1/4 of the length hanging over each end. In a rack with three upright columns, the distance between cantilever arms should be 1/3 of the product length, leaving 1/6 of the product length hanging over each end.
Cantilever rack is available in single and double-sided units, offering maximum use of warehouse space.
Common Cantilever Rack Design Questions to Ask
When setting up a warehouse, it's important to know these things about your current or future racking. We have warehouse design experts who can help with the warehouse layout design process and ensure you choose the proper racking for your storage needs.
Length? Width? Height?
Weight per bundle of the product?
How many arms are needed to support your product?
Inclined Arms (20 degree)?
Straight (3/8″ per foot pitch to compensate for deflection)?
Size of lip needed on cantilever arms?
Arm length needed? Capacity per arm?
Single or double-sided rack?
Overall height of the rack system?
Bases
A cantilever base anchors the rack system to the floor and supports the column or upright tower. The base size depends on the size of the arms and the rack's capacity.
Columns
(Upright Towers, Verticals): Frame columns mount to the cantilever base, and cantilever arms connect to the column. Columns range in height and capacity depending on the application demands.
Arms
Cantilever arms support the product being stored on the rack system. These arms have many different styles and capacities, making cantilever rack systems highly customizable. Arms vary in capacity, can be straight or inclined, and can have welded end-lips if the application requires them.
Bracing
(Horizontal and Diagonal): Bracing provides stabilization to cantilever systems. The widths and lengths of these braces are determined by product size and application.
Please note that the above information is general cantilever storage rack information. If you are interested in cantilever rack systems for your warehouse, we highly recommend contacting one of the cantilever experts in the AK Design Group, as every application is different and all cantilever specs need to be designed based on the specific needs of each application. Call us at 800-722-5908 or get a quote today!
Let's Talk
Ready to get started?
Or have questions about any of our products or services?
Fill out the form and a representative will contact you promptly.