Cantilever racks offer sturdy, unobstructed storage for long, bulky items such as lumber, sheet metal, and construction materials. Cantilever storage rack systems are free-standing warehouse rack systems with horizontal arms extending out from a series of sturdy vertical columns. 
The load-bearing cantilever arms protrude outward to store products in continuous runs without interference from vertical uprights. Because cantilever rack systems have no vertical obstruction, they provide greater horizontal storage space for any length product and are easy to load and unload. Cantilever racks are manufactured using either roll-formed or structural steel.
We stock new and used cantilever rack systems and can help you design and implement custom cantilever racking in your warehouse. Call 800-722-5908 to speak with a cantilever design specialist today!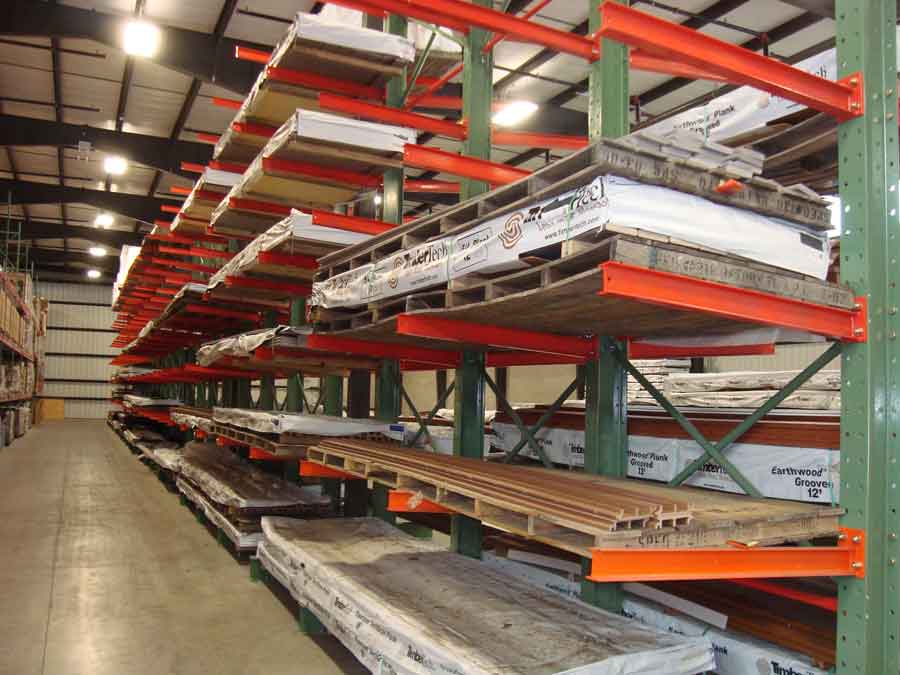 Cantilever Rack Components
Bases
A cantilever rack base anchors the rack system to the floor and supports the column or upright tower. Cantilever base size depends on the size of the arms and the rack's capacity. When properly selected, bases stabilize the entire system and prevent the system from tipping or leaning.
Columns
Cantilever rack columns (upright towers, verticals) mount directly to the cantilever base. Cantilever arms connect to the vertical columns. Frame columns range in height and capacity ratings for different applications and are available in single or double-sided orientations.
Arms
Cantilever arms extend outward from the upright columns to support products. Cantilever rack arms are available in different styles, contributing to the customizability of cantilever rack systems. Arms vary in capacity, pitch (straight or inclined arms), and accessories (welded end lips or pipe stops).
Bracing
Cantilever rack bracing (horizontal and diagonal) provides stabilization to cantilever systems. Brace widths and lengths are determined by the product size and application.
Accessories
Cantilever rack accessories allow customers to further customize their cantilever system. Consider adding arm lips, pipe stops, roofing, cantilever rack decking, column protection, or other accessories to bolster your racking.
To shop cantilever rack components online, including starter units and adder units, visit our online cantilever rack store – Cantilever Rack Now! Please note only some of our cantilever rack components are available for sale online. Please contact us for more brands and offerings, and we can help you build a custom cantilever rack system based on your application and storage needs.
Cantilever rack design begins with choosing cantilever rack components with capacity ratings to suit your application. Here are some useful tips for designing cantilever racking:
Determine the upright capacity needed for a given application by multiplying the weight placed on each arm level times the number of arm levels per upright column.

Determine arm capacity for a given application by dividing the total weight required for each product level by the number of arms used for that product level. This number is calculated assuming the load will be evenly distributed from front-to-back and side-to-side.
In a cantilever rack with two upright columns, the horizontal distance between the cantilever arms should be half the length of the items being stored, leaving 1/4 of the length hanging over each end. In a rack with three upright columns, the distance between cantilever arms should be 1/3 of the product length, leaving 1/6 of the product length hanging over each end.

Load Deflection

refers to the amount of sagging occurring between load arms. Excessive load deflection occurs when columns are spaced too far apart or when products are loaded incorrectly. Load deflection can cause product damage and an unsafe storage environment.
Consider Warehouse Layout:
Warehouse layout design

dictates how pallet racking will fit into a storage facility. Like a puzzle, design experts take all existing storage elements and arrange them according to storage needs, space constraints, and more. 

When

setting up a warehouse,

design specialists require product and application details such as product dimensions and weight per bundle, product type, warehouse space, and more to make informed decisions and recommendations.
Advantages of Cantilever Racks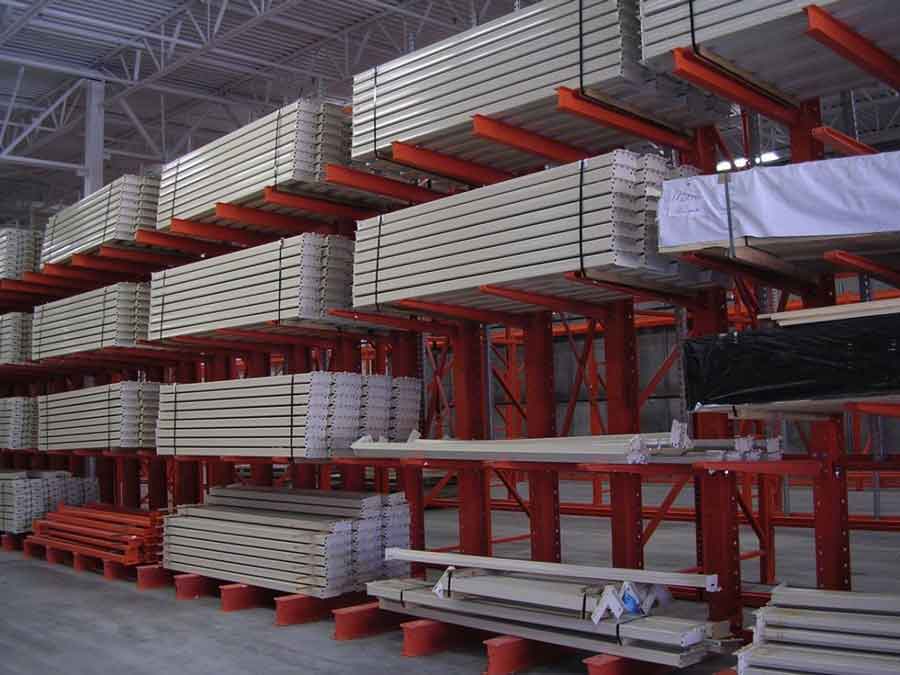 Accessible: No front access obstructions for quick and easy loading and unloading.

Adjustable: Arms can be adjusted to any height to accommodate a wide variety of load heights.

Visible: No vertical obstructions to block visibility, leaving products free and clear

Versatile: Cantilever racking permits storage of objects differing in length and size within the same rack system.

Customizable: Many customizations are available, including different capacities, heights, orientations, system lengths, inclined vs. straight arms, single-sided vs. double-sided, accessories, and more.

Sturdy: Structural cantilever rack and high-capacity steel are available for heavy-duty applications.

Safe: Forklift-friendly and less prone to damage than standard pallet racking.

Cost-Effective: Cantilever racking is cost-effective for storing long products compared to making or buying storage unfit for long and bulky items.
Our Cantilever Rack Partners
We partner with many cantilever rack manufacturers. See our cantilever rack partners below and visit our cantilever rack identifier to learn which brand you have.
Bluff Manufacturing
Bulldog Rack Co.
Cogan
Frazier Industrial Company
Heartland Steel Products
Konstant
Meco Omaha
Ridg-U-Rak
Roll out Racks
Ross Technologies
Steel King
UNARCO
Cantilever Storage Rack Applications
Cantilever Rack Customizations
Custom cantilever racks can meet the specific storage needs of each application. The main way to customize your cantilever system is to custom-select each component and stylize the rack system for your unique product. Here are some common cantilever rack customization options:
Inclined Arms:

Inclined arms are a practical choice over straight arms that prevent cylindrical products from rolling off the system.

Steel Gauge:

Heavy-duty cantilever racking is better for heavy products like steel, rebar, and lumber, while light-duty cantilever racking may suffice for lighter loads.

Rack Style:

Structural steel cantilever racking offers higher capacities than roll-formed cantilever racks, but both are popular options.

Rack Material/Finish:

Painted steel cantilever racking is standard, but

stainless steel

or galvanized cantilever racking is better suited for corrosive environments and outdoor applications.

Cantilever Rack Roof:

Outdoor cantilever rack with roofs are better protected against harsh weather and keeps products dry.

Cantilever Decking:

Wire decking, steel decking, corrugated decking, and more are available for cantilever racking to create a sturdy surface area between arms.

Orientation:

Cantilever storage rack is available in single and double-sided units, offering maximum use of

warehouse space

. Double-sided cantilever racking stores product on both sides of the system, while single-sided racking only stores on one side and can be placed flush against a wall.

Accessories

: Cantilever rack accessories such as pipe stops, arm lips, column protection, and more are available to safeguard your products and racking.
Roll out (crank-out) cantilever racks

New cantilever racks

Used cantilever racks

Galvanized cantilever

Stainless steel cantilever 

Single-sided racking

Double-sided racking

Indoor cantilever

Outdoor cantilever

Structural cantilever racking

Roll-formed cantilever racking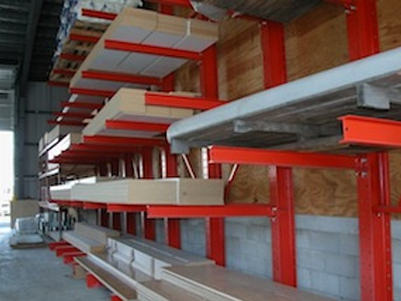 Cantilever Racking System Cost
Cantilever rack price varies by component, capacity, material, customizations, and installation labor. Cantilever racking costs typically average $350 per 4' wide product position and up to $700 for heavy-duty systems.
AK Material Handling Systems specializes in the design and implementation of full warehouse storage solutions, including cantilever racking. Our design specialists can help you choose the best cantilever racking for your product and will discuss any accessories or customizations that may benefit your system.
Let's Talk
Ready to get started?
Or have questions about any of our products or services?
Fill out the form and a representative will contact you promptly.