AK offers warehouse racking installation and teardown services in conjunction with one another or separately. Sometimes all you need is new racking installed. Other times all you need is your racking torn down due to downsizing or product changes. We also tear down and reinstall existing racking if you move or relocate the racking to a different part of the facility. Warehouse relocation also requires the teardown of existing warehouse racking and either reinstalling the same racking or installing new.
At AK Material Handling Systems, we see your pallet racking project through to the end. That means we not only provide your rack system but offer professional rack installation for you as well. Unlike some material handling distributors, we don't use temporary labor for our installations. Instead, our rack installers are professionals that take their job seriously and who will install your pallet racking system in a safe and timely manner. We have built a lasting relationship with our rack installation crew over the years and trust them to install our most significant projects nationwide.
Advantages of Having AK Install Your Rack System
Professional rack installers – no temporary labor

Our installation team places safety first

Fast installation means your rack system will be up and ready to use as soon as possible

We oversee every step of the installation process

We'll tear down your existing rack system

We know how to properly package pallet racking for transport

ISN Members (ISNetworld)

Bring our own equipment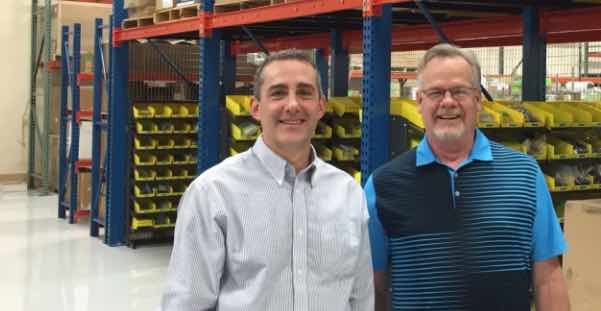 "Everything was delivered & installed, the guys who installed it were really professional… It turned out fantastic!"
– Jeremy, Smiths Medical
Experienced & Professional
As the final stage of our turnkey warehouse rack system service, we believe the installation of your rack system deserves the same attention to detail as the other steps. We may have designed the optimal warehouse storage solution for your needs, but the job's not complete until it's properly installed. We respect your time and facility, and so do our installers. Your rack system will be installed as quickly as can be done without sacrificing safety or quality, and our installers will treat you with the same professionalism and respect that we do.
Nationwide Pallet Rack Installation
We take pride in our service and professionalism, and our installation service is no exception. Each and every installation is important to us, and we'll carefully monitor your rack system install to ensure your rack is being installed according to your needs and time frame. We're in constant communication with our customers and our installation team so that we stay on top of every aspect of the rack installation process. Whether it's selective pallet rack or a deep push-back system in a seismic zone, our installers have the know-how needed to get the job done right.
Proper Installation Equipment
Our installation team has the proper equipment to meet the demand of any project. From varying temperatures to extreme heights, our pallet rack installation team is equipped to install our racking safely and in conformance with all building codes and requirements. Our years of pallet rack installation experience help us conquer all types of difficult scenarios, including special flooring requirements such as in-floor heat or un-level ground. So, the next time you need pallet racking torn down or installed in your warehouse, make sure to call the experts at 763-493-5015.
Let's Talk
Ready to get started?
Or have questions about any of our products or services?
Fill out the form and a representative will contact you promptly.