Plan. Design. Execute. Success.
When skill, experience, professionalism, and customer service converge, you get the AK Design Group experience.
From the first phone call to the final project walk-through, personalized service and attention to detail is our M.O. Whether you need a small pallet rack system and some sound advice or complete turnkey design services for a large-scale warehouse layout, the Design Group's job is to use a client-focused approach to deliver a storage system that maximizes your space.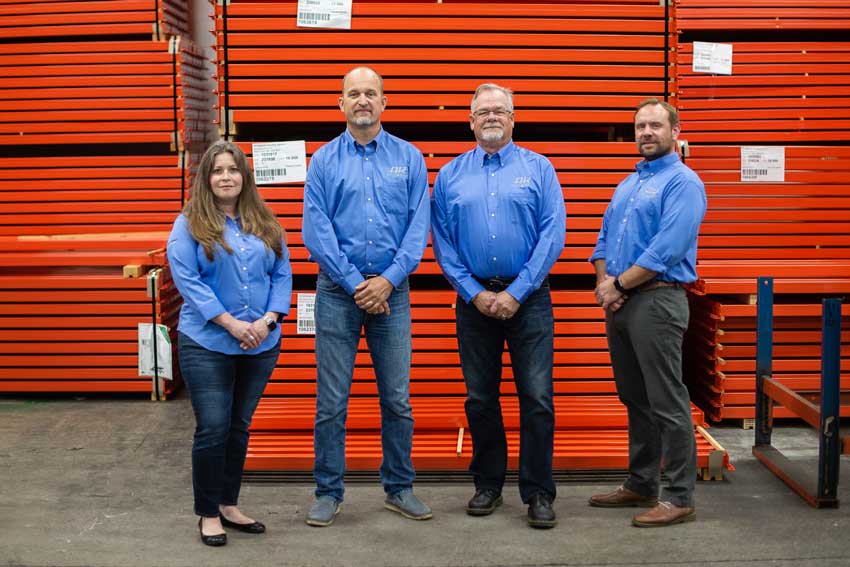 The Design Group: A White Glove Service
Plan
Since 1988 AK Material Handling Systems has been a premier supplier of warehouse storage systems. When you partner with The Design Group, you're supported by national leaders in the material handling equipment industry. Each member of The Design Group brings decades of experience in systems design, safety, installation, and project management. Bring your vision to us for innovative and scalable designs that comply with the most rigorous safety standards.
Design
The Design Group will visit your site and efficiently guide you through identifying and resolving site-specific challenges. Our experts know how to design a warehouse and will provide you with the critical information you need before making costly decisions: engineered drawings, floor plans, load capacity documentation, and more.

Execute
Supply chain hurdles can cause costly delays to your timeline. The Design Group clients enjoy access to our deep stock of top brands. Our nationwide warehouses ship stock orders within 48 hours, thanks to our proprietary order management system and exceptional warehouse staff. We leverage our key vendor relationships to procure your special order product in a timeline unmatched by any other distributor. Enjoy the "White Glove" level of service when you choose our professional installation teams to assemble and service your system
Success
We are your around-the-clock partner for system design, project management, and installation. Our White Glove Service truly sets us apart from the competition. The Design Group is ready to reassess your design and quickly ramp up our installation crew when you are ready to expand or modify. The Design Group commits to you and your project from concept to realization.
The Design Group: Meet the Members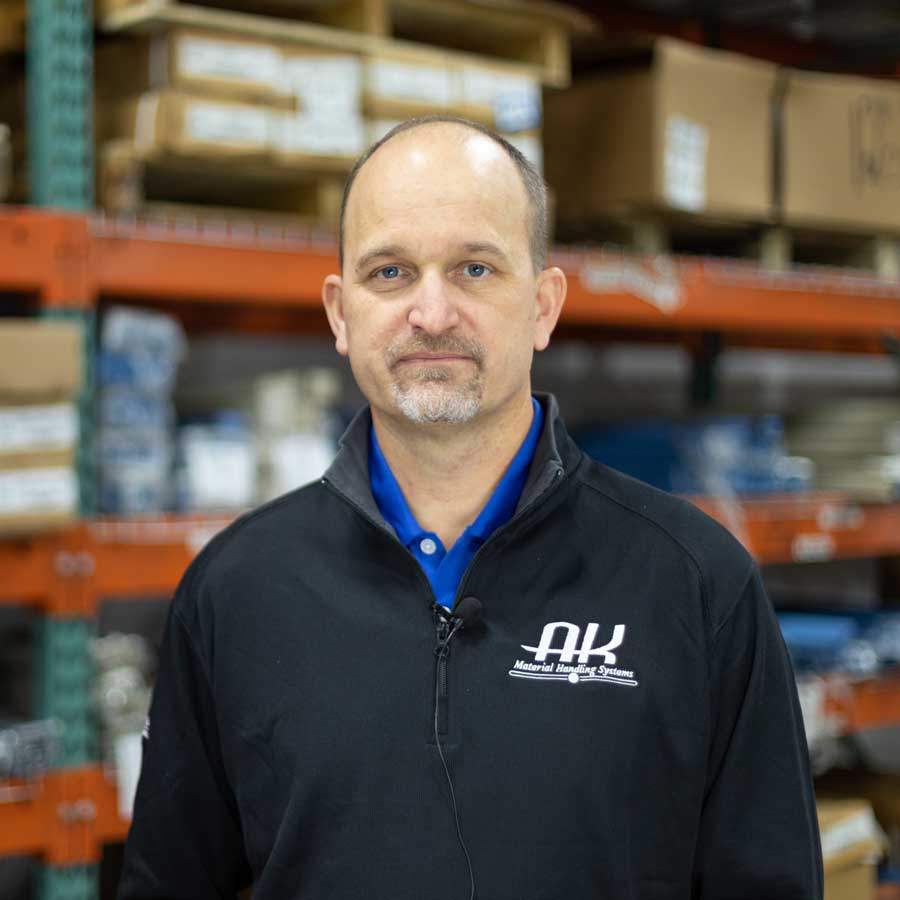 Brian Koski
Brian is a System Design Specialist with 23 years of experience providing warehouse solutions to premium clients in the Midwest and across the country. Since earning an Electrical Engineering degree from the University of Minnesota, Brian has gained a wealth of hands-on experience that he utilizes in each of his projects. To date, he's worked on over 300 notable material handling and storage projects and works with some of Minnesota and the United States' most well-known companies. When Brian's not putting his expertise to work designing rack systems, you can find him on Lake Vermillion, on the tennis court, or with his family.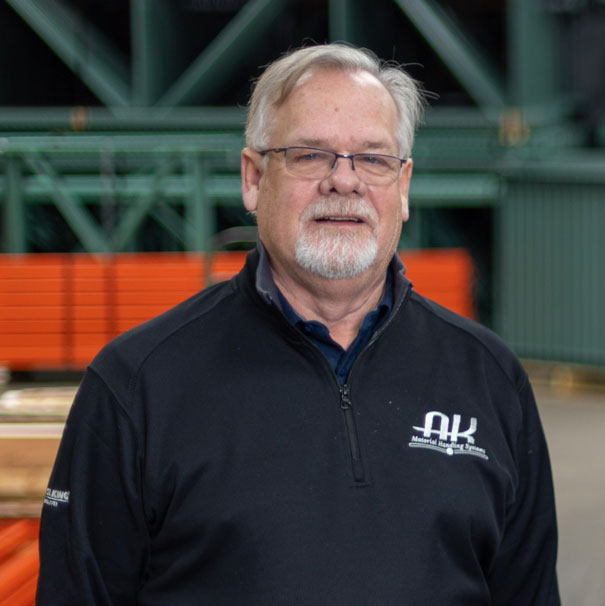 Jerry Fredrickson
As a 33-year veteran of the Material Handling Industry, Jerry is a great example of the depth of warehouse knowledge in the Design Group. Jerry's path in material handling has taken him from Business Manager to Direct Sales, the latter of which he's been doing at AK for 17 years. In his time with AK Material Handling Systems, Jerry has overseen many memorable projects and is known for his eye for detail. He's also a frontrunner to be AK's "Most Interesting Person," as he's a world traveler with plans to visit Thailand who also golfs, fishes, and plays the blues guitar — none of which he enjoys discussing more than his three wonderful daughters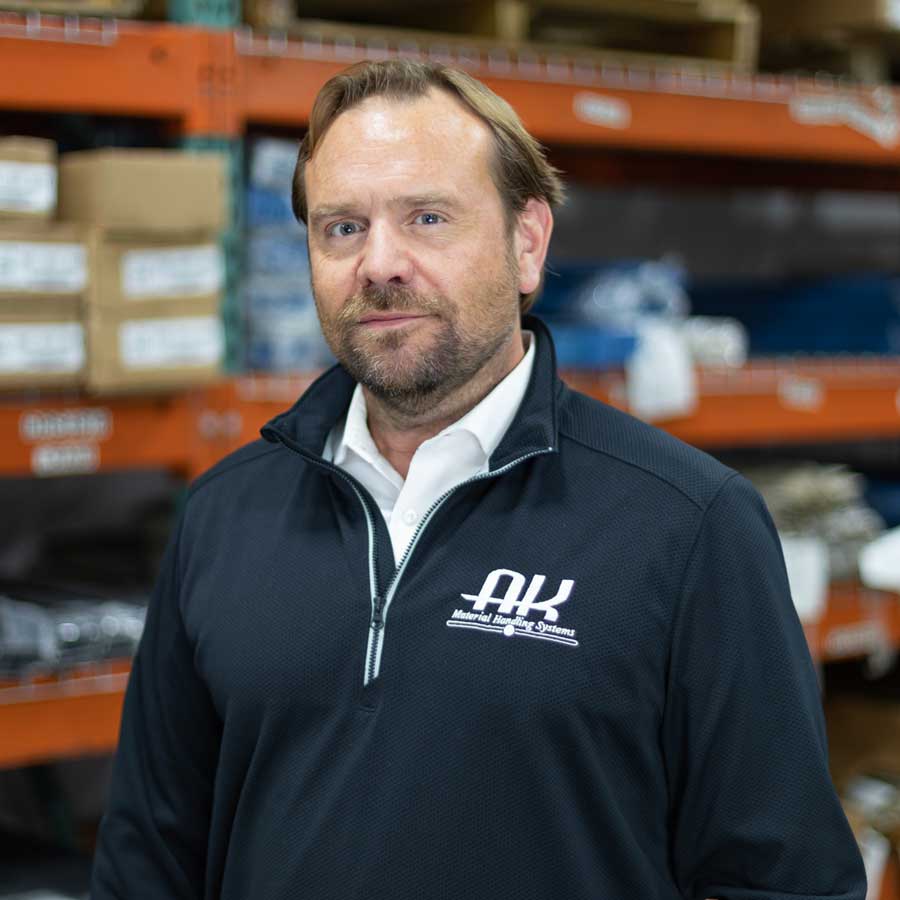 Pete Brandon
Pete is yet another member of the Design Group with a long tenure as a member of the AK Material Handling Systems organization. Pete started with AK in 2000 as a Warehouse Manager, handling inventory, purchasing, parts & service, and facilities. After working as a Warehouse Manager, Pete served the company as an Operations Manager for three years before becoming a Systems Design Specialist, his current position. Pete's extensive knowledge of AK's operations and processes in warehouse storage projects allows him to leverage his warehouse layout and design skills. Pete's love of his craft is topped only by that of his wife, two kids, and three dogs, as well as being involved in his kids' sports teams and spending time at the cabin.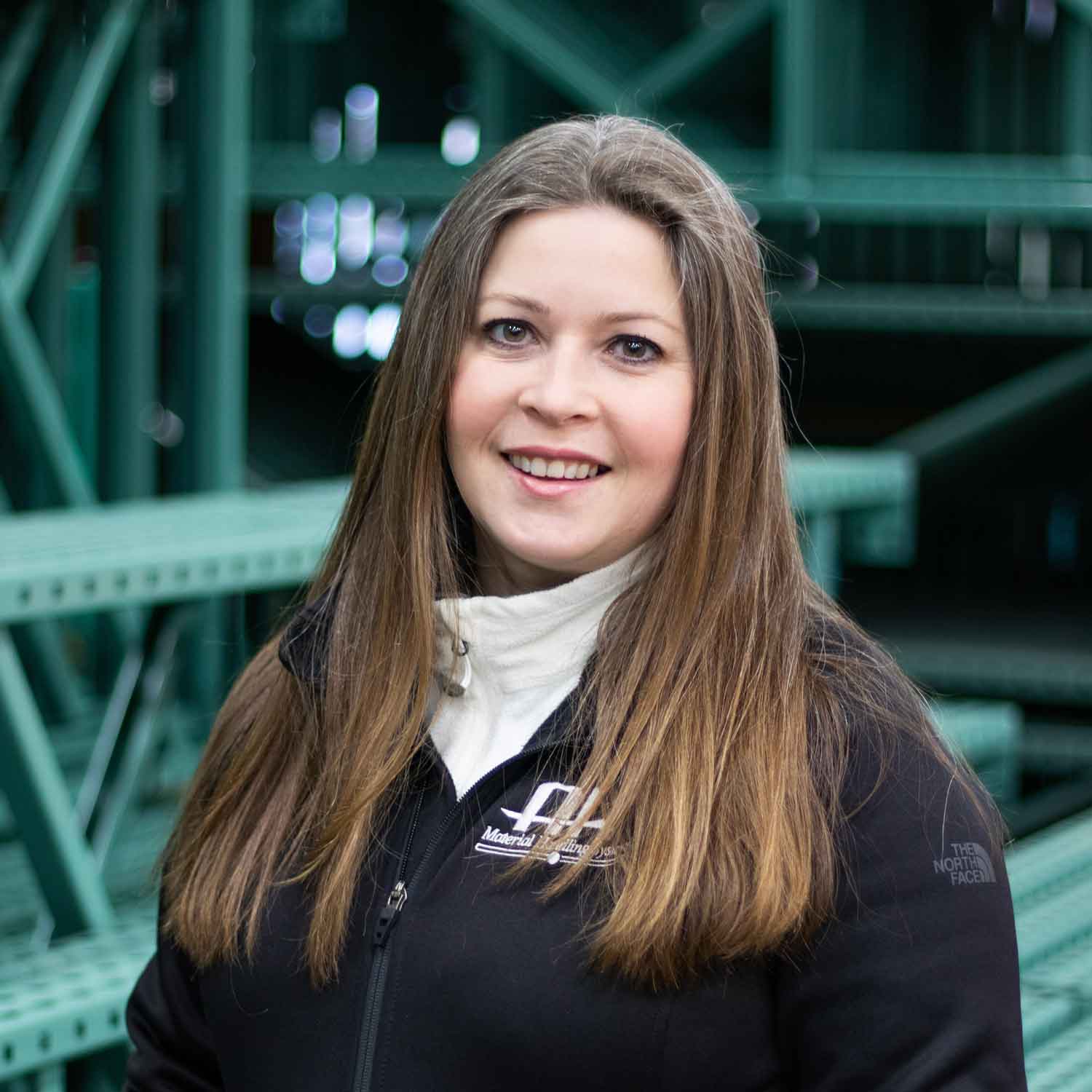 Andrea Neisen
The newest member of the Design Group, Andrea's background in management and order fulfillment allows her to excel in her role at AK as Project Coordinator. Andrea collaborates with our Rack Systems Specialists to make sure the execution phase of your project is delivered seamlessly, and on time. Whether it's making sure an order ships in time or working with our installation crew to meet the demands of your business operations, Andrea goes above and beyond to tailor your project to your needs. Andrea also has a killer double haul cast and is our resident green thumb.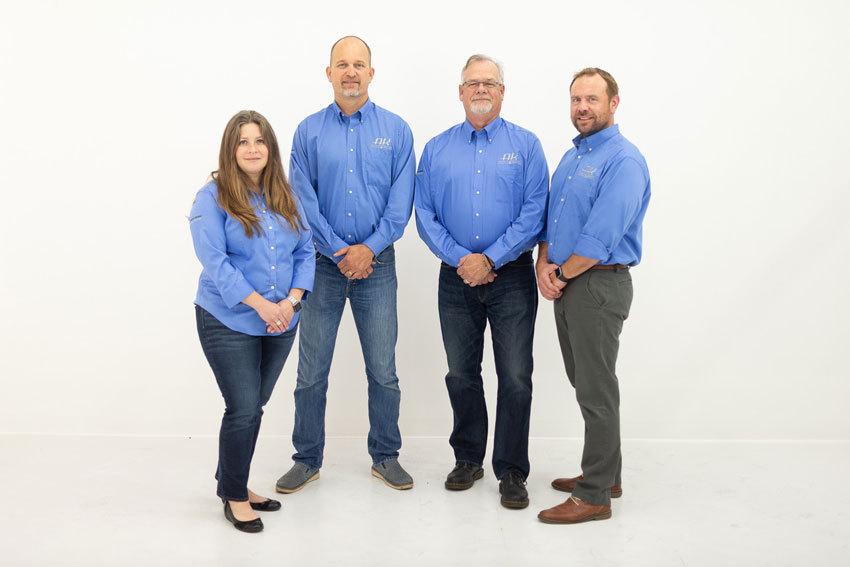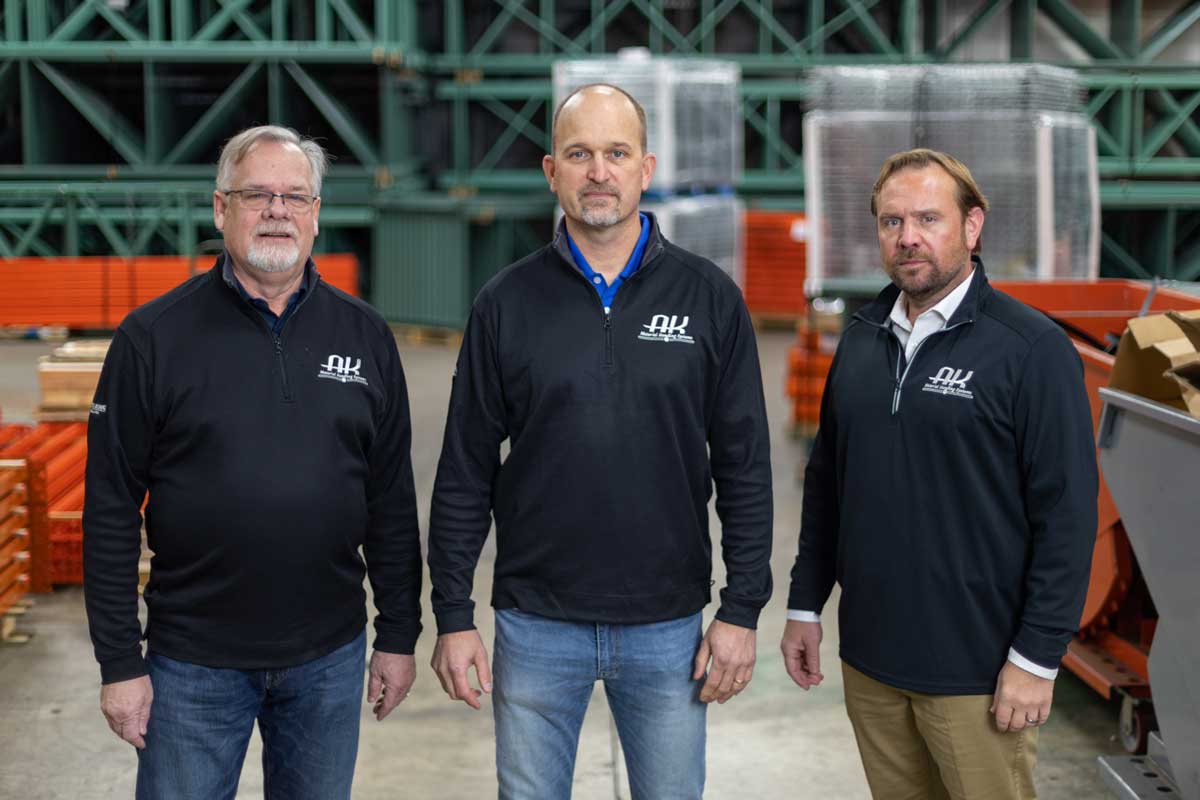 Let's Talk
Ready to get started?
Or have questions about any of our products or services?
Fill out the form and a representative will contact you promptly.