Temperature Screening Stations
Emergency medical testing solutions are a must, especially with the current state of affairs in our country, and the World. AK Material Handling Systems now offers medical testing booths and temperature screening stations for healthcare and safety workers to complete safe, rapid testing.
The temperature screening station is a versatile, portable, and economical medical testing and screening option. This offering features removable flaps, multiple screening ports, and casters to easily move and transport the station when needed.
The medical testing booth was made for rapid reaction to immediate requirements for safe testing areas in light of the Coronavirus (COVID-19) outbreak. The screening booth was created with versatility in mind. The booth can be constructed and delivered in short order, ready to work in several settings.
For help choosing a medical testing booth for your facility, call 800-722-5908.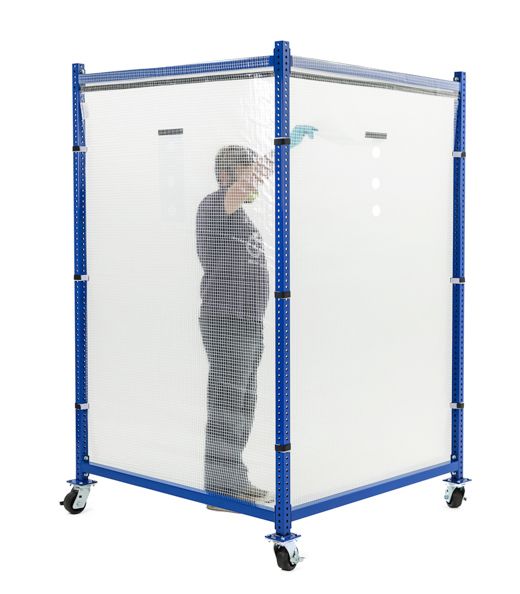 Advantages of Medical Testing Booths
Sealed glass barrier

Glove ports or neoprene one-piece sleeve

Can use in interior or exterior applications

The durable, transparent screen provides optimal visibility

Three screening ports on each side allow for screening people of different heights

Removable flaps for ease of sanitation

Casters for portability

Dual-sided screen for multiple screening lines

Built with components that allow for repurposing when the station is no longer needed.
Important Notes
This Screening Booth is NOT a certified medical enclosure or medical device.
When in use, the operator should be required to wear appropriate medical PPE to address the environmental conditions in the area surrounding the booth.
The OWNER's responsibility is to ensure a clean, sanitary, and safe working environment; both inside and outside the booth.
The design experts at AK Material Handling Systems will work with you and our vendors to ensure you have the best solution for your company's safety, security, and cleanliness. AK works with several vendors and provides several other solutions for these medical testing booths. Our warehouse safety and security options go above and beyond to help improve or maintain your building's cleanliness and safety. Such solutions include modular cleanrooms, security access cages, and more.
Let's Talk
Ready to get started?
Or have questions about any of our products or services?
Fill out the form and a representative will contact you promptly.