Vertical Reciprocating Conveyors (VRCs)
What Are Vertical Reciprocating Conveyors (VRCs)?
Vertical Reciprocating Conveyors, or VRCs, are one of the automated systems we implement in our warehouse layout and design. They are an effective way of moving materials to the upper levels of your facility to streamline tasks like order fulfillment. With a VRC Vertical Lift, you can transfer products on pallets or carts to the upper level to finish a task for the order fulfillment requirements. Easily transporting materials between levels increases warehouse efficiency, and VRC Vertical Lifts and Conveyors often are the right solutions for creating these efficiencies.
To learn more about VRCs, call 800-722-5908 or click the button below to fill out a quote form.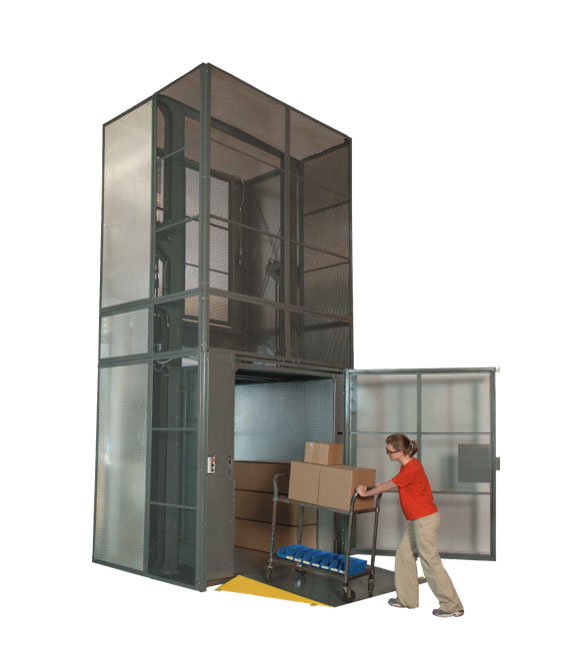 How does a VRC work?
Our industrial freight elevators offer solutions for many industries. They are used primarily in warehouse spaces with Mezzanines that can access more vertical storage options. There are many vertical lift conveyors, aka VRC equipment types. The two basic types are electric and hydraulic. Different configurations of the pole's physical properties support the platform's structure. Depending on your application, there's usually a good reason to choose a hydraulic versus an electric lift. The following factors need to be considered:
The capacity of available vertical storage
Configuration of upper levels
The beams being used to support the VRC
Loading and unloading patterns in the warehouse
Our primary VRC provider is Wildeck, which offers both options. The Design Group has installed a variety of VRCs for companies, from printing companies to grocery stores. To learn more about which system would be best for you, check out this video by Wildeck.
Autoquip
PFLOW Industries
Wildeck
Pallet Elevator Costs
Vertical material lifts (VRCs) typically have a minimum price of $30,000 and can range to over $100,000. Price is determined by the size, location, and weight capacity necessary for the VRCs' purpose. There are typically permit requirements as vertical pallet conveyors (VRCs) fall into the category of being an elevator. The AK Design Group has plenty of experience getting the proper permits for various projects we've completed. In certain states, a licensed elevator installer must be the one to implement the vertical freight lift.
Let's Talk
Ready to get started?
Or have questions about any of our products or services?
Fill out the form and a representative will contact you promptly.