Choosing the Right In-Rack Sprinkler System
Choosing the right sprinkler system for your pallet rack systems is essential to the safety and protection of your employees and everything in your warehouse. In addition, a pallet rack fire suppression system helps ensure that you reduce the chances of your warehouse being a complete loss in the event of a fire.
But the problem is many warehouses are not equipped to handle fire and contain it. Whether it's due to inadequate fire prevention systems or having poorly installed and designed systems, the fact is they're unprepared and risking far more than they need to.
Today, we wanted to look at some of the things you can do to ensure that you choose the suitable in-rack sprinkler systems for your warehouse.
Things to Consider when Choosing Your Fire Suppression System
Before you dive in and search for fire sprinkler codes for storage racks, you want to take the time to understand what your specific needs are and what factors contribute to determining which type of fire suppression system is best for you.
What type of materials and products you're storing in your warehouse is a significant factor in the kind of system that you will want to use. Keep in mind how you're storing everything in your warehouse and its design. This plays a vital role in the in-rack sprinkler system you can choose.
One of the most innovative things you can do as you're designing or redesigning your warehouse is to ensure that you're creating both your pallet rack system and fire prevention system simultaneously. They do go hand in hand in many ways.
Which Type Of In-Rack System Is Best For You?
Once you've identified the type of pallet rack systems you're going to install in your warehouse, now you need to pick the in-rack fire system. Again, we recommend getting your fire suppression contractor involved early in your project to help you make the right choices. Here are a few items to keep in mind that all have different fire suppression benefits.
Wet Pipe
These are the most common in-rack sprinkler systems in warehouses. Water continually sits in the pipes, ready to be deployed in the event of a fire. This is one of the least expensive systems to install. However, it's ineffective if your warehouse has temperatures below freezing.
Dry Pipes
For temperatures below freezing, a dry pipe system uses air or nitrogen to activate the water in the pipes. This is because water might freeze in the pipes otherwise when it's deployed. This system has a high installation cost involved.
Pre-action
Pre-action systems are built for environments that are at risk for water damage. They keep air maintained in the design, and every pipe is pressurized and set off once the trigger point is reached. Pre-action systems can be installed in both freezing and warmer warehouse environments.
Deluge
This system is used to deploy a massive amount of water rapidly. Once the heat is detected, the system triggers electrically controlled valves and releases the water.
Foam-Water
This system is designed for "high-hazard" materials, including flammable liquids, and is excellent at putting out the flames and suppressing toxic smoke and vapors. In addition, foam-water systems require smaller pipes and less water.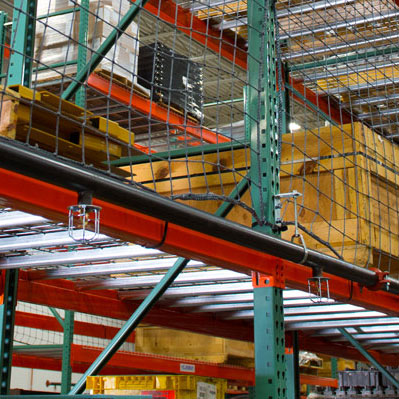 Whatever type of in-rack sprinkler system you're considering for your warehouse, the rack system pros at AK Material Handling Systems are here to help. We can help you choose the best system for your needs and ensure you get the protection you deserve. To learn more, give us a call or get a quote now.
Let's Talk
Ready to get started? Or have questions about any of our products or services? Fill out the form and a representative will contact you promptly.