The last few years have been very exciting ones here at AK Material Handling Systems. We've been incredibly fortunate to have been able to grow as a company and a team, and have experienced and been involved in a ton of new and exciting things. 2015 is still young, but it's already shaping up to be another year filled with positive change. As the year commences, we're thrilled to announce three major changes on our team.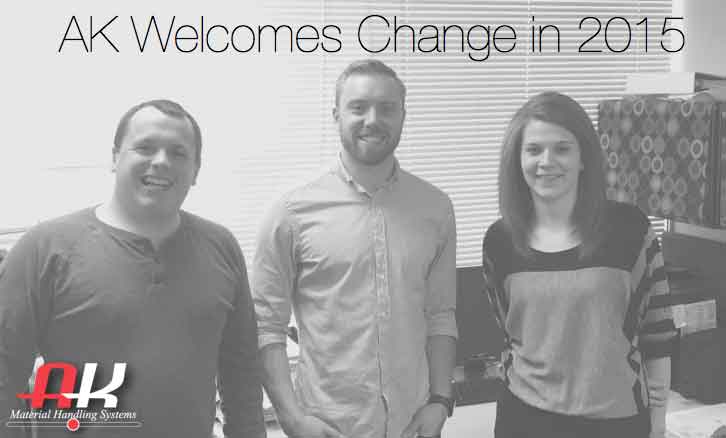 Tessa Peterson, a new addition to the AK team, will be bringing her accounting skills to work as AK continues to expand. Former warehouse specialist Matt Johnson has moved to the office as an Inventory and Purchasing Coordinator, and former Marketing Intern Dave Sewich has joined the team full time as a Pallet Rack Specialist. We're excited to talk about all of these changes, but first, we want to talk about the newest part of our team: Staff Accountant Tessa Peterson.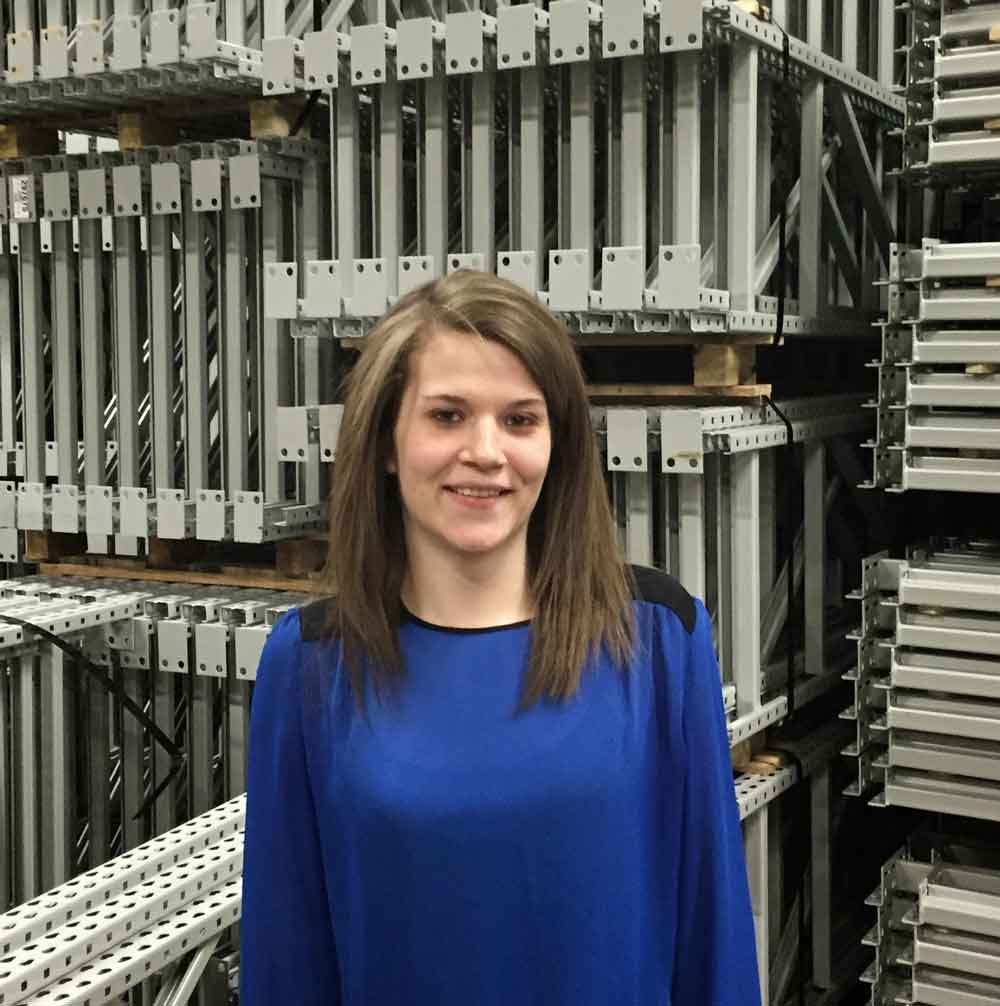 As we said, Tessa is the most recent addition to a growing AK team.  Tessa attended school at Winona and Metropolitan State universities, where she developed the accounting skills she'll be putting to work here as a Staff Accountant.  We're excited to welcome Tessa and the new talent and energy she brings to the office.  We asked Tessa a few questions in order to get to know her a bit better.
Q: Where did you grow up?
A: I grew up in Maple Grove.
Q: Do you play any sports or did you play any sports in high school / as a child?
A: I was a band geek in high school. I played no sports but was in the marching band.
Q: Where did you go to college?
I attended Winona State University for one year before transferring to Metropolitan State University.
Q: What are your hobbies or what do you do in your free time?
A: I like to hang out with my friends, spend time with my dog, and I love to watch movies.
Q: Do you have any pets?
A: I have one dog, a Weimaraner, named Jack.
Q: Do you have a favorite sports team?
A: As a big football fan, and someone whose family is from Wisconsin, my favorite team is the Packers.
Q: Have you ever had a nickname? What is it?
A: As much of a nickname as it is, a lot of people call me "Tess"
Q: What is your favorite Charity?
A: The charity that I have done the most work for is The National Multiple Sclerosis Society.
Q: Do you enjoy running? Would you ever participate in a team 5k?
A: It is not my favorite activity, but I would consider running a 5k.
Another big change we're excited to talk about is the movement of former warehouse specialist Matt Johnson to the office as an Inventory and Purchasing Coordinator. It's a move he's excited to have made. Matt loves math and working with numbers, and has sharp eye for detail, making Inventory and Purchasing Coordinator a natural role for him. Matt has been with AK for about a year now, and we wanted to ask him to answer a few questions about himself as a quick refresher.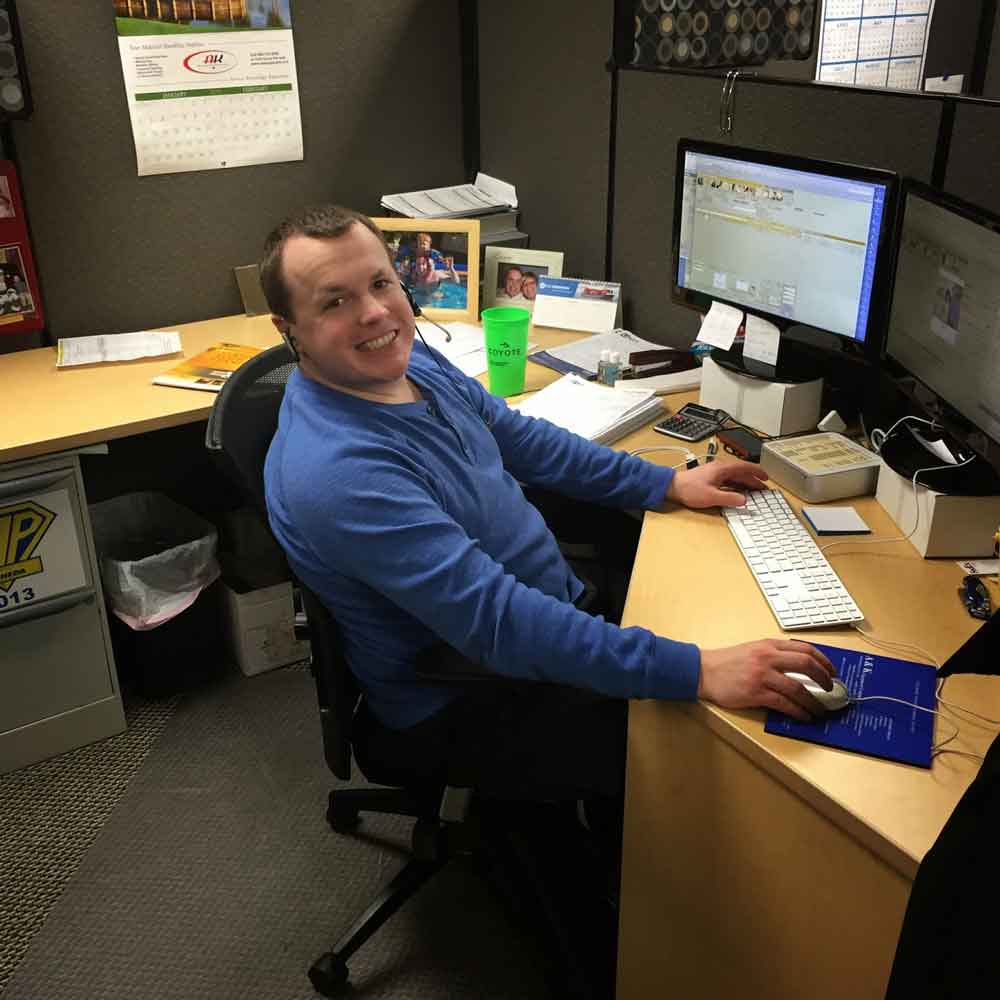 Q: Where are you from?
A: I was born in Minneapolis, MN and grew up in Columbia Heights, MN.
Q: What are your hobbies?
A: Taking care of my 2 kids, spending time with my significant other and friends, playing an occasional video game, and watching most sports.
Q: What do you enjoy most about your new position?
A: I am excited for the new challenges and the tasks that are associated with my job. Inventory and organizing are my strengths so I am pretty sure I am going to love my job once I get everything figured out!!!
Q: How long have you been with AK?
A: 15 months
Q: What's your favorite sport to play?
A: Baseball / Softball To watch? Football
Q: What's your favorite food, and place to eat?
A: My favorite food is pizza and my favorite place to eat is Clive's Roadhouse
Q: What excites you most about 2015?
A: Learning my new position and working on improving what my job entails and helping us grow. I am really excited to take on my new tasks and feel like 2015 is going to be my best year ever!
Another familiar face in the midst of the positive changes at AK, is former marketing intern Dave Sewich. Dave excelled on the marketing team for the last year, learning all of the products quickly and becoming very well liked around the office. Dave has found a new home for his desk amongst Jake, Adam and Matt inside the office as a Pallet Rack Specialist. Dave will now be assisting customers with their pallet rack and shelving purchases. A lot has changed over the last year so let's check back in with Dave and learn more about him and his recent move:
Q: What do you enjoy most about your new position?
A: I love being able to see more of the logistical side of things, as well as being able to interact with customers and learn more about their needs.
Q: How do you think your time as a marketing intern has helped you become a pallet rack specialists?
A: My time as a marketing intern certainly helped me get to know the products we sell here. It also helped me become familiar with our websites, which are excellent reference tools. Sales and marketing are inherently related, and developing skills in one area will help make me better at the other.
Q: What is playing on your ipod right now?
A: Right now I have NPR classical streaming on the iPod's radio and a self-development podcast in the queue.
Q: What did you enjoy most about being an intern at AK?
A: My favorite thing about being an intern at AK was all of the awesome experiences I was able to be a part of. Many interns don't get the chance to participate in charity races, attend various events, or play a meaningful role in company projects, but I was lucky enough to be able to do all of those in a relatively short span of time.
Q: If you could summarize your intern experience at AK in one word what would that be?
A: Rewarding.
Q: Rumor has it that you are the early favorite for the 2015 Best Dressed award, what is one piece of style advice you can offer to the rest of the team?
A: Always wear black and brown together, you'll never go wrong. On a more serious note, I'd say try wearing a size smaller than you think you are — people who know a lot more than me about style always seem to say that.
Let's Talk
Ready to get started? Or have questions about any of our products or services? Fill out the form and a representative will contact you promptly.