The name "modular office" would lead most people to believe that there is just one obvious use for modular office structures. However, not all modular offices contain desks, computers, and meetings that last too long. In fact, as the components of modular offices are prefabricated and are commonly interchangeable, they can be used to build a wide spectrum of structures spanning many different industries.
Modular offices have several other major advantages over permanent structures. Since they're made of prefabricated components, they're more flexible than permanent construction and can be moved, expanded, collapsed or added onto. Because they now qualify for accelerated depreciation under the Section 179 deduction, allowing for a 100% write-off in the purchase year as opposed to over seven years in the past, modular offices provide a sizable tax advantage. In addition, they can be up to 50% less expensive than a permanent structure. For the more creative, here are just a few examples, with help from our friends at Starrco, of the different uses for modular offices.
Administrative Modular Offices
This is what most people probably think of modular offices being used for. Administrative duties often require a space in which workers can reliably get away from the hustle and bustle of a warehouse or manufacturing facility in order to properly concentrate and collaborate on tasks. However, this space doesn't have to be a permanent addition or rented space; a modular office can achieve the same goal for a fraction of the cost.
A two-story modular office already in use on the lower level.
Cafeterias and Break Rooms
Cafeterias and break rooms don't always get a lot of attention unless you're on your lunch break. But after working long and hard hours, a place to rest and digest is a welcome site. Modular offices create the perfect solution for creating a space where workers can eat and relax without needing to leave the facility.
Laboratories
Many engineering, scientific and manufacturing centers are required to have separate spaces, or laboratories, for particular functions. A modular office can easily be built-out from an existing structure to provide the infrastructure needed to build a fully operating laboratory.
Conference Rooms
Conference rooms: everyone's favorite. If meetings are the work version of sitting in rush hour traffic, they're also just as much a part of everyday life, and it's hard to have a conference call or meeting in the middle of warehouse operations. A modular office gives us a cheaper and easier way of setting up a meeting space that's insulated from the surrounding particle and noise pollution.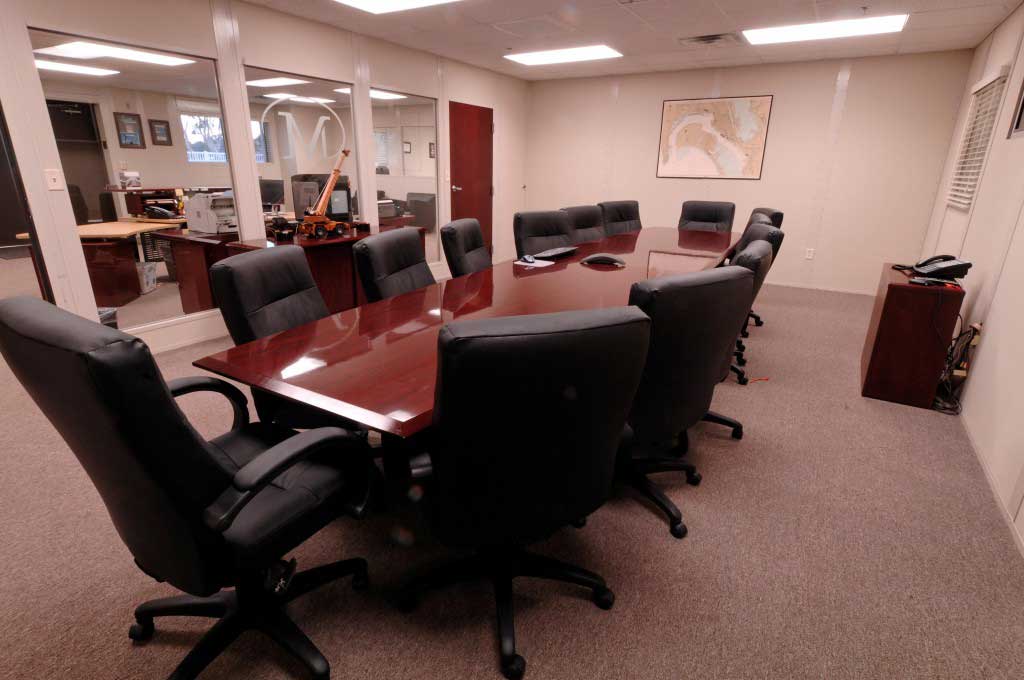 At first glance, this conference room looks just like most standard conference rooms. With a closer look, we can tell it's constructed with modular components.
Powder Coating Booths
Being heavily involved in the pallet rack industry, we're very familiar with the process of powder coating. Powder coating is a unique way of painting items, particularly metal ones, that is more durable than regular paint. Since powder coating needs to be applied in a spray-on fashion, a powder coating booth is needed to keep the powder coating operation contained. This is a perfect application for the modular in-plant office.
Computer Room Enclosures
Computers and servers provide the technological foundation for most of our business communications and information storage today, and anyone who has had their technology malfunction knows the headache that comes with it. To keep computer technology safe in dirty or dusty conditions, computer room enclosures can provide just the right amount of protection and security, while keeping costs in check.
Coordinate Measuring Machine Rooms
Coordinate Measuring Machines (CMM) can house some of the most delicate and sensitive machinery in use today. Of course, this also means the machines and their operators must be isolated and often temperature controlled. Modular offices can be used in conjunction with HVAC and other systems to provide a perfectly controlled CMM enclosure for your operation.
Shipping and Receiving Offices
Modular offices are often used to create a uniquely customizable enclosure for shipping and receiving offices within warehouses. When the operations within a shipping and receiving center call for a shipping and receiving office, modular offices can take the place of permanent structures, providing a more flexible option that can be expanded, moved or collapsed at any time.
Gyms
More and more often, employers are dedicating rooms to health and wellness activities, such as yoga, meditation or fitness. With a modular office, you can build your very own gym without needing to hire a construction contractor. Since modular offices like Starrco's are able to be outfitted with electrical wiring, a modular gym can contain treadmills, sound equipment and all of the other amenities familiar to gym goers.
Remember, if you're interested in learning more about modular offices and how you can use them to maximize your space and your budget, you can head to our modular office page here.
If you have any questions, call (800) 722-5908 to speak with one of our experts!
Let's Talk
Ready to get started? Or have questions about any of our products or services? Fill out the form and a representative will contact you promptly.
Let's Talk
Ready to get started? Or have questions about any of our products or services? Fill out the form and a representative will contact you promptly.