Our team recently completed a massive warehouse design and installation project handling over 1.5 million pounds of steel and 28,250 pallet positions. We designed this storage system and performed multiple other facets of this project for Blu Dot's Otsego, MN, warehouse facility. 
About Blu Dot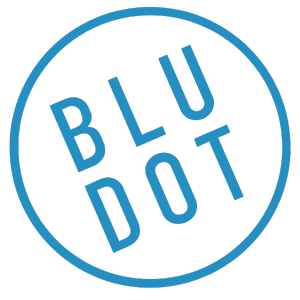 Blu Dot is a modern furniture company whose vision is "inspiration through design." The company creates statement furniture pieces to elevate any space, from living, dining, and bedroom to office, outdoor, and beyond. 
Blu Dot designs, manufactures, warehouses, and sells its custom-designed furniture online and in numerous outlet stores nationwide. 
Blu Dot Storage Needs
Blu Dot outgrew one of its major warehousing facilities in Otsego, MN, and began seeking a professional warehouse design partner to assist in the teardown, relocation, storage design, and pallet rack installation at its 400,000 square-foot newly-purchased warehouse facility across the street from its original warehouse. 
From start to finish, the project would require multiple services, including pallet rack teardown, design, installation, and more. Blu Dot needed a solution and one that could complete its large-scale warehouse project in a short 4-month span.
AK Material Handling Systems Partners With Blu Dot
AK Material Handling Systems is known for warehouse design services, but we also specialize in pallet rack teardown, installation, and warehouse relocation. We partner with top-tier pallet rack manufacturers to provide quality racking for every client, ensuring each storage system meets their unique needs and expectations. 
Our comprehensive warehouse services and years of experience keep large-scale projects like the Blu Dot relocation localized and efficient. Rather than hiring multiple companies for each step and extending the project timeline, Blu Dot came to AKMHS for a one-and-done deal.
Services Provided
Warehouse Relocation
Over 49 truckloads carried torn-down pallet racking from warehouse A to warehouse B and brought new racking from AK's Maple Grove facility to the project site for installation. Warehouse relocation involves systematically tearing down existing racking and removing it from the old site. 
Used racking can be reinstalled at the new location or sold to a pallet rack distributor like AK for resale. In Blu Dot's case, the company reused some of its previous racking and sold the rest to us, which we removed from the site. We regularly buy used pallet racking – here's where you can learn more about our rack buyback program. 
Warehouse Layout Design
Working with both used and new pallet racking provided by AK, our design expert, Pete Brandon, created a custom CAD drawing and worked with Blu Dot to fine-tune the design to the company's needs while optimizing the warehouse space. Approximately ¾ of the Blu Dot pallet racking was new and ¼ used.
This layout included a mixture of very narrow aisles (VNA), standard, and wide aisles. The majority of the aisles were VNA and required a forklift guidance system. Blu Dot chose wire guidance for its warehouse.
My highlight of the Blu Dot project was seeing everyone working together to achieve the completion of the new facility and the completion of the teardown of the old facility in the timeframe allowed.

The project coordinators, installers, drivers, purchasing staff, accounting, and our receiving team back here at AK worked above and beyond what was originally expected of them. They are the ones that really made everything happen when and how it needed to be done.

My hat's off to all of them.

-Pete Brandon, Systems Design Specialist
Pallet Rack Installation
The Blu Dot pallet rack installation occurred in a single phase from January 2023 to April 2023. As our installation crew installed over 28,250 pallet positions of Steel King selective pallet racking, our client followed behind us, simultaneously filling the new rack system with the product.
Watch Now: Blu Dot Pallet Rack Installation
Watch our Blu Dot Pallet Rack Installation Timelapse to learn more about the Blu Dot warehouse design and installation project! This video shows the installation project from start to finish and includes additional before and after footage that puts this project into perspective.
Need Warehouse Design?
If your business needs all-inclusive warehouse design services, AK Material Handling Systems is your one-stop shop for storage system design and integration! Our design group has years of experience in warehouse design and CAD creation and can help bring your storage project to the next level.
Call 800-722-5908 or fill out an online quote form to get started. We look forward to making your storage ideas a reality!