Is Cantilever Rack right for your warehouse? What you need to know before you buy.
These tips will help you figure out if cantilever racking is right for your inventory.
There are many types of pallet rack systems in the industry, and if you don't do your research you might not use the best system for your needs. If you're looking to store long, awkward, or bulky materials, cantilever racking might be the right match for your storage needs. These free-standing systems have unique functionality, offering no vertical obstructions in the storage area.
Cantilever Terminology
Load deflection: refers to the amount of sagging occurring between load arms. Some deflection can occur naturally, but too much can will be problematic, especially.
The upright capacity weight supported by each arm level x the number of arm levels per upright column
The arm capacity = total weight needed for each product level / the number of arms used for that product level. This number is calculated with the assumption that the load will be evenly distributed from front to back and side-to-side.
The horizontal distance between the cantilever arms should be half the length of the items being stored, leaving 1/4 of the length hanging over on each end. In a rack with three upright columns, the distance between cantilever arms should be 1/3 of the product length, leaving 1/6 of the product length hanging over on each end.
There are also some key components of the cantilever system that you should understand before applying cantilever racking yourself. The base, columns, arms, and bracing are what make up the system. The base of the racking anchors to the floor, and is the support to the column or upright. The size of the base changes with the size of the arms and the capacity of the racking. The columns, also known as upright towers or verticals, mount into the base. The columns provide support to the arms that connect to them. They too vary in size depending on the capacity and application of the system. The cantilever arms are the horizontal support for whatever the system is storing. Arms can vary in capacity, can be straight or inclined, and can have welded end-lips to keep product from rolling off if the application requires them. Because of the many styles and capacities available for these arms, cantilever systems are highly customizable for each application. Last but not least, the bracing is what stabilizes the cantilever system. The widths and lengths of these braces are determined by the size of the product being stored, as well as the application for which the system is being designed. According to rack manufacturer Steel King, the bracing lengths refer to the "horizontal centerline distance from column to column."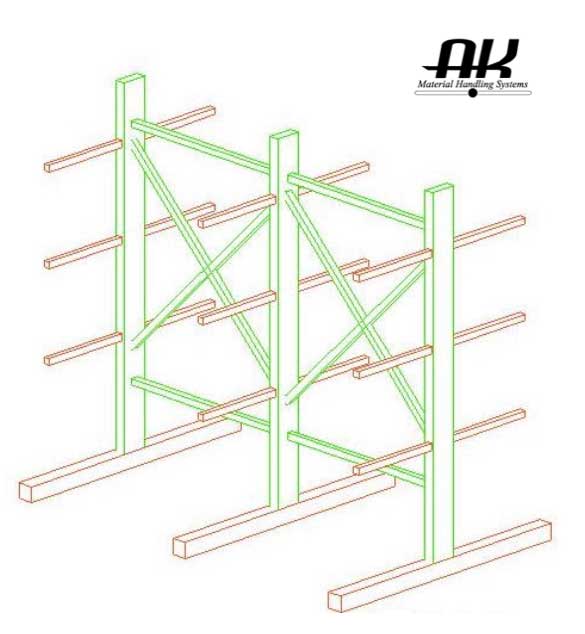 Cantilever racking is different from other racking systems in several ways. Here are a few ways in which cantilever stands out:
Easier to use for lengthy product: With no front column to obstruct loading, cantilever racks are faster to load and unload when it comes to products such as timber, piping and many other non-palletized products.
More flexible: Loads can be placed almost anywhere along the length of a run of cantilever racking, creating more storage flexibility.
More compact design: The absence of a front column creates more space in which to operate.
More selective: Any load or storage slot is immediately accessible to the loader or picker.
More economical: Reduced handling times and increased space utilization can make cantilever racks a more cost-efficient storage solution. Additionally, cantilever racks become more economical as load length increases, while standard pallet racks do the opposite.
More adaptable: Cantilever racks can store nearly any type of load that can't be stored on traditional racking or shelving. They are especially useful for storing long, bulky, or oddly-shaped loads.
Other Things to Know about Cantilever Racking
• Easily adjusted and highly customizable to accommodate a wide variety of load heights
• Able to accommodate loads ranging in length; no front-side vertical obstructions means there are no restrictions on item length, and also permits the storage of objects differing in length within the same rack system
• Shop online cantilever today at Cantilever Rack Now
• Cantilever racks are single sided by default, but can be converted to double sided if needed
• Structural cantilever is capable of being used with heavy-duty applications
Before purchasing a cantilever system, we highly recommend you ensure all of the listed points above fit your inventory needs. Cantilever rack isn't for everyone, and many applications require selective pallet rack or other rack systems. That said, cantilever racking can be very successful, and a great way to fully maximize your vertical storage space if used with the right kind of inventory and setting. One success story comes from a customer right here in Minnesota, who decided cantilever was the perfect option for them when they needed to store long heavy-duty stacks of sheet metal while taking up minimal space. After the client provided their specifications of their inventory, our Design Group was able to create the perfect cantilever rack system to fit their needs.
Click here to learn more or get fast-response quote.
Let's Talk
Ready to get started? Or have questions about any of our products or services? Fill out the form and a representative will contact you promptly.