Do you work within the food and beverage industry, particularly at a warehouse? 
If so, you will be pretty familiar with the unique material handling challenges synonymous with this industrial space.
Unlike your typical dry goods warehouse, food and beverage warehouses have to consider an extensive range of factors, whether it be handling chilled, frozen, or refrigerated products. Each item has to be cared for and maintained according to the appropriate sanitation standards, health compliance, and storage efficiency.
With all of these components to consider, it may seem challenging to maximize efficiency and safety within your warehouse space. Different food industries may have varying objectives too. For example, fast turnaround, long-term storage of food, etc. – each posing its unique issue.
Unique challenges. Much of this involves a supply chain that provides ample room and pallet rack systems to maximize space and efficiency. Racking thus provides that much-needed organization to facilitate accessibility and space-saving within the warehouse. We have identified some of the challenges that you may face when storing food and beverage are following:
Cost: The Need to Reduce Costs and Maximize Productivity.
Dealing with SKU Proliferation
Maximize Storage (Pallet Positions)
FIFO Requirements
Food Sanitation
Ambient Vs. Cold Storage Areas
Since most operations have both types of storage and production areas, should they be treated differently for a rack design? Generally, the same principles apply for both ambient and cold storage. But, there can be important rack considerations that are different such as having your rack galvanized for certain types of coolers or wash down areas. Another example is that freezer racking should be heavily reinforced and designed to prevent rack and product damage as operators tend to be operating at a higher speed.
Rack types for the Food and Beverage Industry
Our experience has shown that High Density Rack systems are the prevalent style of rack. Pushback, Pallet Flow, Mole Systems, and Drive-in are used in both ambient and cold storage environments. Selective rack will always have its place as well to take advantage of all of the available space in a plant or the applications of small lot size per SKU.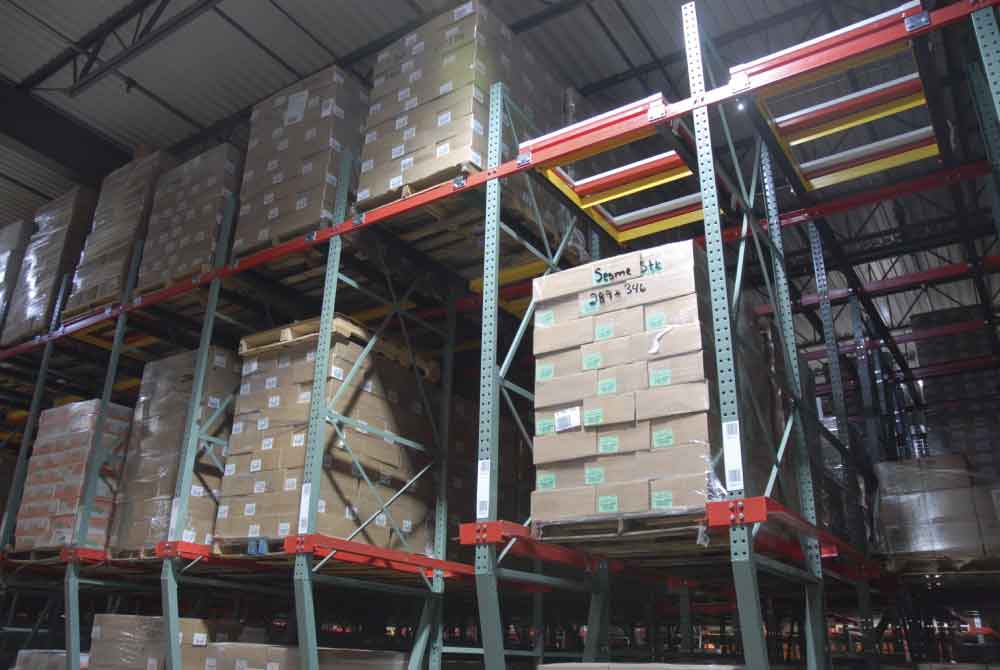 Criteria for Rack System Design
The following is a list of criteria that we take into consideration when designing a Food and Beverage warehouse:
Is FIFO Required
# SKUs
Total Pallet Positions needed
Pallets per SKU
Sanitary Requirements
Open Product? I.e. Drip pans required
Temperature
Forklift type
Space allowed for storage
Guarding /Reinforcement Needed
By properly planning and choosing a proper pallet rack system, you can increase productivity, safety, product damage/loss and reduce the number of errors that come with warehouse performance. We have worked with market-leading companies in a range of Food Industry sectors. We have a wide variety of clients within the Food and Drink Industry.
Let's Talk
Ready to get started? Or have questions about any of our products or services? Fill out the form and a representative will contact you promptly.