Custom Push-Back Pallet Rack
Customization is one of those things that everyone loves. It allows goods or services to become more personalized and fit the wants, tastes and needs of the people purchasing those goods and services. Unless it is cost-prohibitive, it's often preferable to opt for a customized option when available, as it's far more likely to be a satisfying purchase. Believe it or not, pallet rack systems are an excellent example of this. There's a reason we at AK tout the importance of consulting a design specialist when it comes to planning your rack system (no, it's not only because we want your business) — in order to fully optimize your storage and warehouse operations, you're probably going to want a rack system that's designed specifically around your needs.
One might think that customizing pallet rack systems is all about placement, and that's certainly a large part of the equation. But the structure of the racking itself can also be modified to fit the unique requirements of the customer and provide a storage solution that's custom-fitted to their needs. Take, for example, a customized push-back pallet rack.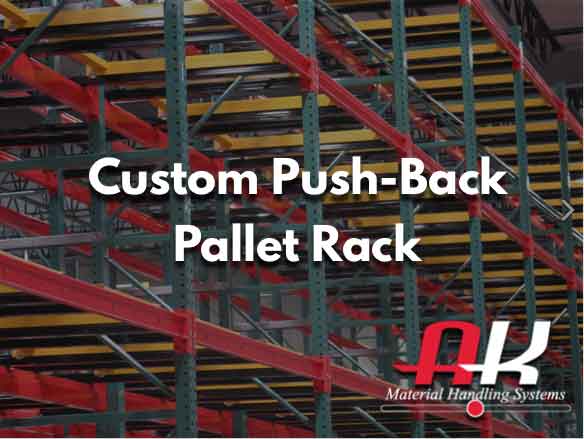 The Nuts and Bolts of Custom Push-Back Systems
If you're in warehousing or any industry in which a warehouse is used, for that matter, you know that not everyone uses the same pallets. While there are industry staples like GMA pallets that are extremely common, there is a myriad of other types and sizes of pallets circulating through warehouses, and sometimes a cookie-cutter approach to pallet racking just doesn't cut it. Because of this, there are a number of ways push-back pallet rack can be customized to accommodate a wide variety of storage applications.
Push-Back for Extra Wide or Extra Long Pallets
If you use extra-wide pallets, you don't have to let it stop you from utilizing a push-back pallet rack system, as push-back systems can be made to accommodate pallets that are wider than standard. They can also be constructed with longer carts and rails in order to hold extra-long pallets. There are limits to how wide or long the carts and rails can be made, but most pallet sizes can be accommodated with these customizations.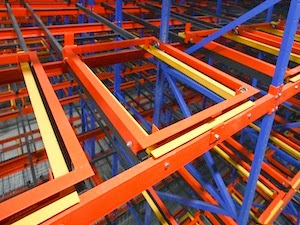 Push-Back for Weaker Pallets
Some pallets are stronger than others. Oftentimes, GMA pallets have the strength necessary to support themselves and their load when sitting upon push-back carts. However, there are many pallets that lack sufficient strength to do so. In order to determine whether or not your pallets could support themselves in a push-back application, you'll want to ask a specialist. If it's determined that your pallets would be too weak on their own, push-back carts can be outfitted with cross supports for added strength. Push-back pallet carts can also be equipped with full mesh supports that are placed on top of the cart to provide evenly distributed support. These mesh platforms are similar in appearance and function to the wire decking used on selective pallet rack, which leads us to our next topic: postal pallets.
Push-Back for Postal Pallets
If you work with postal pallets, you're likely aware of the fact that they're not the strongest pallets around. In fact, in comparison to their wood counterparts, they're relatively flimsy. General push-back pallet rack carts require pallets to be self-supporting in the middle, which would rule out the use of postal pallets. Fortunately for those people looking to use push-back rack with postal pallets, regular push-back carts can be modified and made into covered carts. This simply means that the push-back carts are covered with the full wire mesh decks mentioned in the above paragraph. While these decks might function as an added strength feature for some pallets, they are a necessary requirement when handling postal pallets. With a full wire mesh cover, push-back carts are able to evenly support the weight of the weaker postal pallets.
Let us help you out. If you've got questions regarding push-back pallet rack or are interested in planning and installing a push-back pallet rack system, give us a call or send us an email. You can reach us by phone at 800-722-5908 or by email at

[email protected]

. One of our pallet rack experts will work with you to get your questions answered and a storage solution figured out.
Let's Talk
Ready to get started? Or have questions about any of our products or services? Fill out the form and a representative will contact you promptly.