This weeks employee spotlight is on Jerry Fredrickson.
He has been working with AK for over 15 years a Senior Systems Design Specialist. Jerry has successfully completed warehouse rack projects for companiues such as: Polaris, Coborn's, Tony's Pizza and more.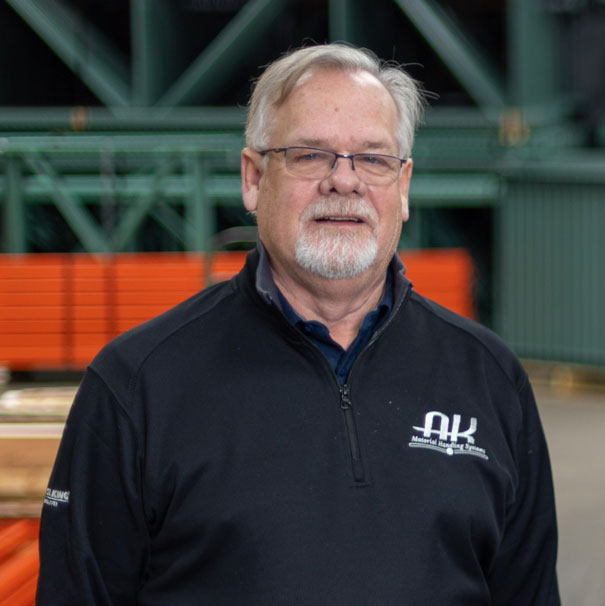 Q: What have you learned from working at AK?
The importance of team building, support and working with a group focused on making every day a positive day.
Q: What is playing in your car right now?
Right now, Jack White, Blunderbuss.
Q: What is your best achievement?
Having 3 Wonderful Daughters, pertaining to work, my CAD Layout Drawing for Cloverleaf and of course getting the Order, 1.2 million.
Q: What is a hidden talent you have?
I play Blues Guitar and Harmonica.
Q: In 5 years you hope to…?
Have visited Bangkok, Thailand again.
Q: What is the best advice you have been given?
Always admit your mistake, correct it and move on. Customers always appreciate honesty and hard work. Mistakes happen.
Q: What would you do with $1,000,000?
I would plan my retirement.
Q: If you could start your own business, what would it be?
Too late for that, I have been doing Material Handling for 30 years.
Q: What is the best gift you have been given?
My voice, I am a great singer….just kidding I have a very mediocre voice, not good. Probably, my first pair of CCM Tacks – hockey skates growing up in Int'l Falls.
Q: If you could go back in time, what year would you travel to & what would you do?
I would go back to 1972 when I was living in Bangkok, Thailand with my brother. I could have gone to Katmandu, Nepal, but I didn't, big mistake….Mount Everest is 90 Miles from Katmandu. Still on my bucket list.
Q: What is your favorite tradition you have?
I would have to say celebrating Christmas with my daughters…
Q: What is your favorite AK memory?
Watching Jake beat Russ in a foot race outside between the 2 buildings…it was hilarious, Russ actually thought he was fast.
Let's Talk
Ready to get started? Or have questions about any of our products or services? Fill out the form and a representative will contact you promptly.