There are a lot of great things about Summer: cabin trips, warm weather, team runs, the 4th of July, grilling — the list goes on. One of our favorite things about summer at AK Material Handing Systems is the opportunity offer internship programs to students who are eager to learn and gain some real world experience.
This summer, we welcome to the team Marketing Intern MacKenzie Deutsch.
MacKenzie will be joining Rachel, returning Marketing Intern, in working with the AK Marketing Team. We look forward to having MacKenzie as a part of the team and a contributor to our marketing initiatives this summer.
Take a moment to get to know the newest member of the AK Family!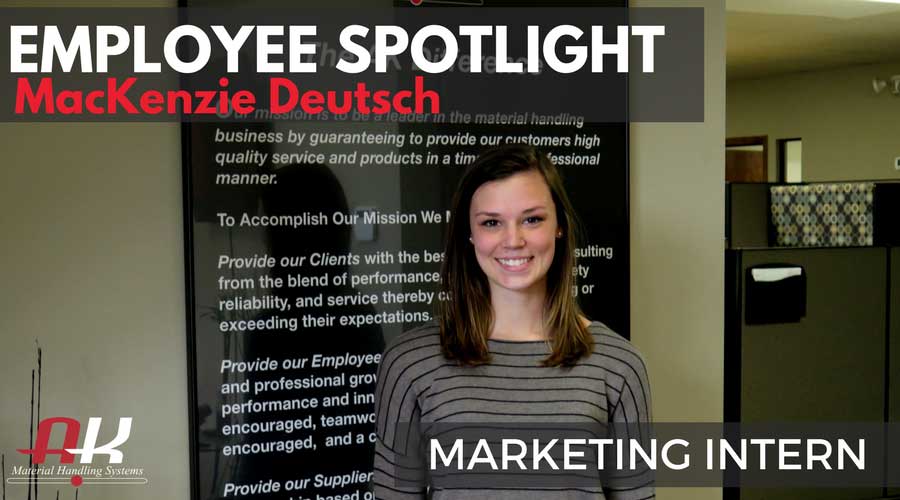 Q: What interested you in working with AK as an intern this summer?
I was interested in working for AK because the internship was a broader marketing internship, and I really liked that it has to do with digital and online marketing, which I haven't gotten too much experience in yet. So I was excited for something new!
Q: What are you currently working on in school?
Due to it being summer, I'm not really working on anything for school but when school is in session I'm majoring in Marketing Analytics and minoring in Psychology.
Q:What is your best achievement so far?
The achievement I'm currently most proud of is being accepted into the program/major I'm in at school because it's very selective and I never thought I'd get in.
Q: What is one of your hidden talents?
I've competed in gymnastics for 11 years and can still do many flips and tricks on all four apparatuses.
Q: What is one piece of advice you've been given that you would share with others?
"If you're ever scared, nervous, or don't want to do something, just count to 5 and do it. It's as simple as that."
Q: What is playing in your car right now?
Due to my hour long drive to and from Maple Grove everyday, I've been listening to a lot of different genres and artists; primarily country and hip-hop.
Q: What are the kinds of things you plan on working on with AK?
An upcoming website redesign will be a big part of the summer, also some work with analytics and social media too.
Q: What would you do with $1,000,000?
First I'd pay off all my student debt and then with what's left buy a cabin on a lake up north.
Q: What is your favorite movie quote of all time?
I'm not sure I have a single favorite movie quote but the movie I can quote the most of is The Little Rascals. So every line from that movie is my favorite.
Q: What's something special about you that you probably don't have in common with anyone else at AK?
I'm not sure if this considers as 'something special' but I'm terrified of snakes. Just looking at a picture of a snake makes me anxious/nervous and I panic when I see real snakes (even the little gardener ones). Just thinking about them now gives me the heebie jeebies.
Let's Talk
Ready to get started? Or have questions about any of our products or services? Fill out the form and a representative will contact you promptly.