Working with heavy equipment inside a warehouse, like a forklift for example comes with risks. In addition to making sure that no one is ever hit by a lift truck, you have to make sure you protect your other equipment as well as your products. However, it's your pallet rack upright frames and beams that might be in the most danger of being damaged by a lift truck or other heavy equipment.
Accidents Happen
You've probably seen it before. Someone takes a corner too sharp, or backs up a little further than he or she planned, and wham, one of your pallet rack upright frames is damaged. Not only is this bad for the pallet rack frame, but it can also cause products or goods to fall from the racks. That can lead to damage goods, or even worse, injured employees.
Protect Your Goods
Although accidents happen from time-to-time, there are measures you can take to protect your pallet rack upright frames. One of the best moves you can make is to protect them with a RAM Guard. A RAM Guard offers excellent protection for your upright beams and columns. That means you could avoid serious damage and/or injury in the event of an accident.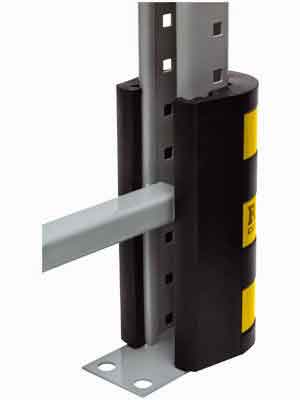 Absorbs Impact
So what makes a RAM Guard so effective? First, the RAM Guard protects your structures from every angle, including front, side and angled collisions. Perhaps the best feature of the RAM Guard is that when a collision does occur, the impact to your pallet rack upright frame is greatly reduced. Another plus of the RAM Guard column protection is that you don't need any hardware or tools to set the guard up or keep it in place on your column or beam.
We Can Help! The RAM Guard also comes in several heights and depths in order to fit many different sized columns. If you need protection for your pallet rack upright frames, then contact Pallet Rack Now for assistance. We can help you choose just the right protection for your warehouse. You can buy our Column Protector RamGuard Rubber 12″ Black/Yellow Online.
Let's Talk
Ready to get started? Or have questions about any of our products or services? Fill out the form and a representative will contact you promptly.