Pallet flow rack, also known as "gravity flow," "gravity flow pallet rack," "flow through rack," or simply "flow rack," is a FIFO (first in, first out) warehouse storage system. The basic concept behind pallet flow rack is similar to that of a conveyor belt. Pallets are loaded at the back end of the rack system and gently "flow" down to the front of the lane at the opposite end. At the pick face, there is a stopping mechanism to keep the pallet from rolling off the front end. Each time a pallet is removed from the front of a lane, the pallets behind it move forward one position. This flow of inventory creates easy throughput for warehouses with a high volume of inventory movement.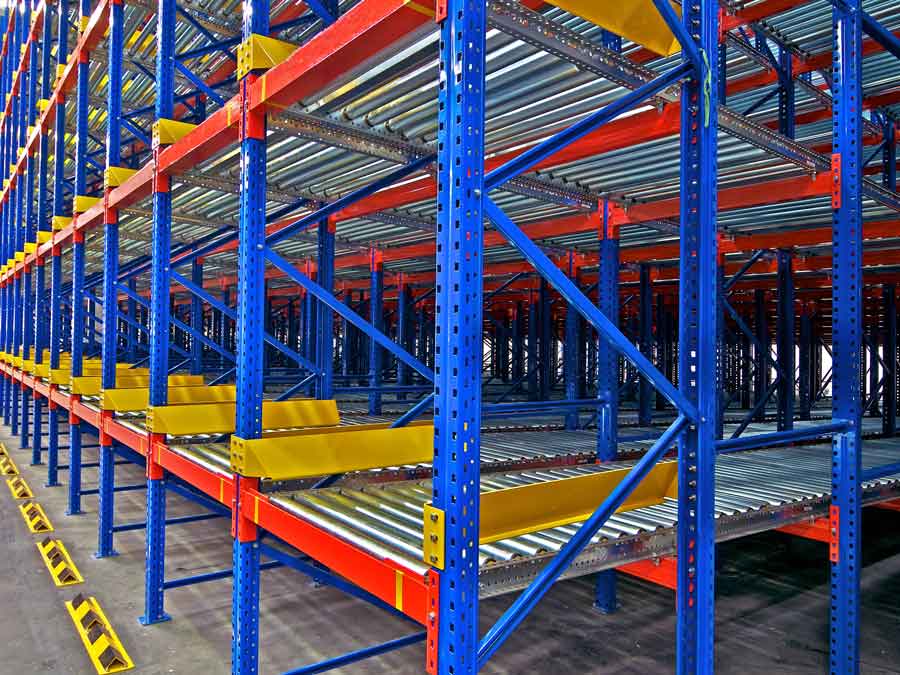 Flow through rack systems are made up of two different types of components: 1. the rack structure itself and 2. the wheels, rollers, and brakes that let pallets flow through the rack system. Let's look at a few of the specific advantages of pallet flow rack and why it's a popular storage system.
"The basic concept behind pallet flow is similar to that of a conveyor belt"
Benefits of Using Flow Through Pallet Rack Systems
A pallet flow system can offer several practical benefits for certain types of warehouse storage applications. In general, pallet flow systems deliver the most value for operations that have a high volume of inventory throughput and limited diversity of SKUs. Here's a quick rundown of pallet flow perks to help you determine if this system is right for you.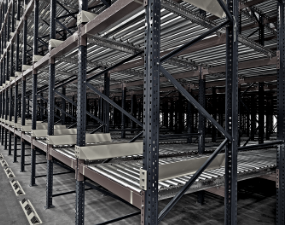 Pallet flow systems:
Allow for easy sorting and distribution of commonly used SKUs

Are an excellent solution for large-volume SKU movement. Pallets can be simultaneously loaded and unloaded so inventory movement remains constant.

Improve warehouse efficiency by eliminating aisles. With only two aisles needed — one for loading and one for unloading — pallet flow helps maximize cube utilization. When it comes to material handling, saving space means saving money.

Enable fast inventory rotation. The system can be replenished with new inventory at the same time the older inventory is being unloaded.

Help save on labor costs by reducing the number of touches.
Flow Through Rack Demonstration
Sometimes it's hard to visualize how different pallet rack systems really work. Below is short clip showing a palletized load moving from the back of the system to the front of the system on rollers. Notice the large speed control wheels that control the pace of the load.
Planning Your Pallet Flow System
Although each business is different, the goal of almost any warehouse operation is to be as productive as possible. Usually, this means finding ways to move products quickly and efficiently. How to achieve this goal will depend on the business, but having the right kind of pallet rack system in place can make a huge difference in the output of your warehouse. For warehouses that fit the right criteria, a well-designed gravity flow system is one of the best ways to make operations flow smoothly.
Are you planning a warehouse move and need budgetary pricing? We can help with detailed budgetary pricing for your warehouse move or expansion. Contact us today to get started.
Let's Talk
Ready to get started? Or have questions about any of our products or services? Fill out the form and a representative will contact you promptly.