Repurposing, AKA "Upcycling" – Saving Money and Decreasing Waste
If you've spent much time at all perusing the internet, you've probably noticed the developing trend of "upcycling" or "repurposing." Essentially, these are fancy ways to refer to using used wooden pallets to create something new, whether it be a piece of furniture or a piece of art. With a growing number of people becoming interested in DIY projects and a shift towards sustainability, these wooden platforms are making the move from landfills to the living room. If you're like most people interested in learning how to repurpose pallets, you love the idea but have no idea where to start or what to create. While we're not do-it-yourself experts or arts and crafts aficionados, we can provide some ideas to spark your creativity, as well as provide a few tips on how to find quality used pallets.
Where do I get Pallets, Anyway?
Unfortunately, there isn't one definitive answer to this question.  There don't seem to be a lot of large, consistent, widely available sources for quality used pallets.  Of course, this doesn't mean there aren't plenty of sources around, it just means you may have to poke around a bit. Oftentimes, small businesses, particularly ones with warehouses and which deal with bulk materials, will have used pallets available for you to pick up.
We say small businesses, because the larger the business, the more likely it is that processes such as materials disposal are automated and efficient, leaving no pallets for DIYers like us.  Another great place to look is the internet – platforms such as craigslist are often ripe with used materials that can be obtained for free or very cheap.  More than likely, your first step will simply be to call any local businesses or internet listings you think maybe promising, and ask them yourself.  You'll have pallets ready for repurposing in no time.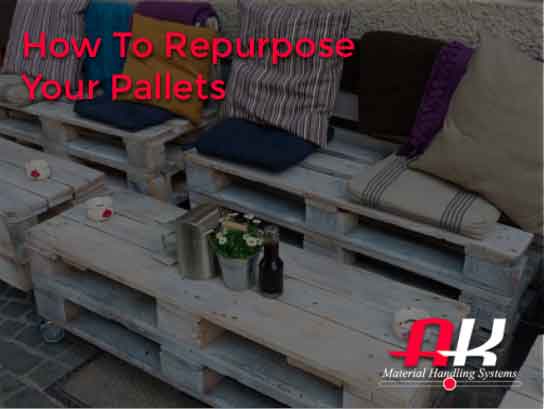 What do I do with Them?
Say you've managed to get your hands on a few good-quality pallets from a local business. You might be wondering how to repurpose pallets now. Well, as far as specific projects go, there's an infinitude of them available online. So many, in fact, that it would be impossible to outline any in this blog that isn't readily available with a Google search. However, what we will do is suggest a few different types of pallet projects to get you thinking about how you might be able to repurpose yours.
Tables
One of the most popular ways to repurpose pallets is to make tables out of them. This isn't particularly surprising, because the pallet's natural shape lends itself well to being converted into a table. There are a wide array of pallet table designs out there, as you may have guessed, but the most common seems to be the coffee table pallet. The coffee table pallet consists of a glass sheet that's connected to one side of the pallet and wheels that are connected to the other, making for a sleek, low-to-the-ground design that most DIYer's could master.
Couches
Couches, sofas, davenports — whatever you call them in your neck of the woods – can also be made from pallets, and it's not as complex as you might think. In fact, simply stacking a few pallets horizontally, then attaching a vertically oriented pallet to the back for a backrest, can be enough to form the basis of a pallet couch. This may sound odd, but, as you can see below, it actually looks pretty cool. All you need to do is add cushions, paint to your liking, and lounge the day away.
Wall Décor
Repurposing pallets doesn't necessarily mean making them into furniture. In fact, it turns out that the handiest and most visually appealing way to repurpose pallets is to make them into wall décor. This can take any number of forms, from utility-based projects, such as wine or DVD racks, to more artistically oriented projects, such as a surface on which to paint or write quotes. When it comes to wall décor, the result of your project will be, more than anything, an expression of your own creativity.
However you choose to repurpose pallets, you can be confident it'll be a success. If what you make is a masterpiece, you'll obviously have succeeded. If it doesn't turn out so well, then you've learned what not to do when repurposing pallets, and you'll make something great next time.
Check back with our blog for more useful tips, information, and other helpful content.
Let's Talk
Ready to get started? Or have questions about any of our products or services? Fill out the form and a representative will contact you promptly.
Let's Talk
Ready to get started? Or have questions about any of our products or services? Fill out the form and a representative will contact you promptly.