Safety and Pallet Rack Go Hand-in-Hand
Hiring for Safety is Easier Said than Done.
Warehouse safety is a rising hot topic. As warehouse safety standards and enforcement continue to grow, avoiding OSHA fines, personnel injuries, and bad PR is more important than ever. When we add insurance to the mix, the simple goal of creating a safety-minded workplace isn't so simple anymore. When you're hiring a contractor, things can get even more tricky. How do you know what their safety record looks like? Have their employees completed the required training and certification programs? You want to hire an established and reliable contractor for your project but don't have time to personally verify safety metrics.
Making sure the company you're hiring is safe, credible, and experienced can be a hassle, but you don't have to do it alone. We understand and have experienced these challenges, which is why we're an ISN Member pallet rack contractor (ID 400-172275).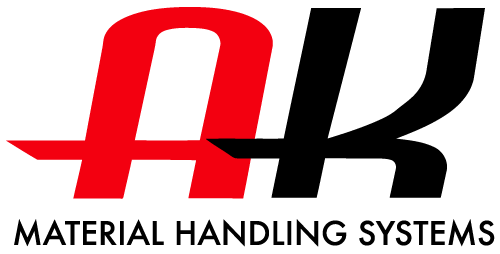 The goal of ISN is focused and simple: connect qualified, safety-oriented contractors with the hiring clients that need them. Since its formation in 2001, ISN has established a network of over 500 hiring clients from around the globe. Many of ISN's clients are Fortune 500 companies. ISN's contractor network is much larger, now with over 60,000 members.
Becoming an ISN Member contractor can require significant time and financial investments from the contractor.
The platform requires detailed records, which ensure accurate assessment of contractors. After collecting the relevant information from contractors, ISN then verifies the information provided and connects contractors with hiring clients.
AK Material Handling Systems is an ISN Member Contractor. We are highly rated for quality and regularly reviewed to ensure our company follows proper ISN standards.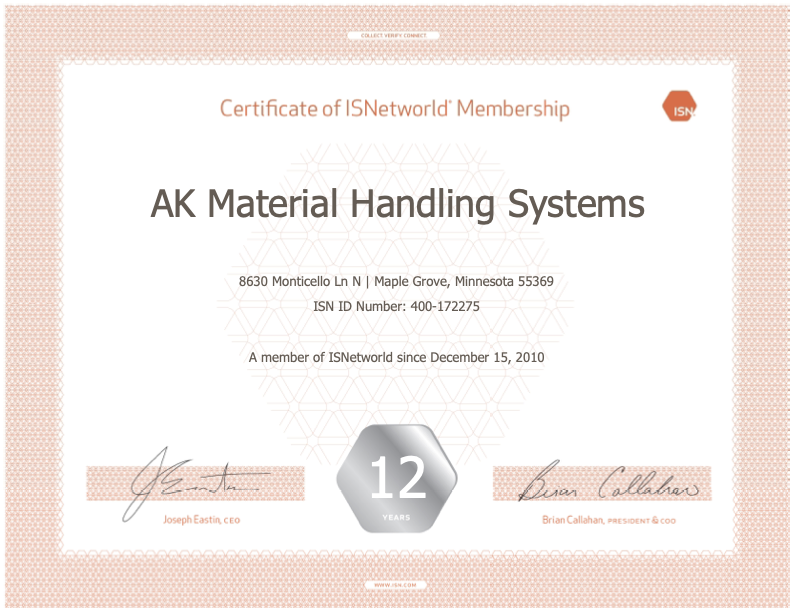 Why does it matter to me?
Being an ISN Member pallet rack contractor helps us help you. We can tell you we're confident in our products, service quality, and safety standards all day, but we don't expect you to simply take our word for it. As a member of ISN, we not only validate our historical performance records using independent third-party verification but commit to being held accountable for maintaining a workplace grounded in safety and accurate information.
ISN contractors have a 48% lower incident occurrence than the overall industry average and experience a 16% decline in incidents once joining. There's value in knowing the contractor you hire to install your pallet rack invests heavily in safety and quality.
To learn more about ISN or how to get ISN certified, visit their website at www.isnetworld.com.
Contact an ISN Member Contractor
For ISN-certified pallet rack installation, relocation, and warehouse design services, call AK at 800-722-5908 or fill out a quote form today. We look forward to assisting you with your storage project!
Let's Talk
Ready to get started? Or have questions about any of our products or services? Fill out the form and a representative will contact you promptly.
Let's Talk
Ready to get started? Or have questions about any of our products or services? Fill out the form and a representative will contact you promptly.