If we took a poll to see which products people are most versatile, pallet racking might not crack the top 10, or even the top 1,000. After all, it seems like a pretty straightforward product with a simple purpose. It's true that almost all of our customers have a common goal: better utilize their storage space. However, the number of different ways in which pallet rack, including drive in rack, can be used to accomplish this might surprise you.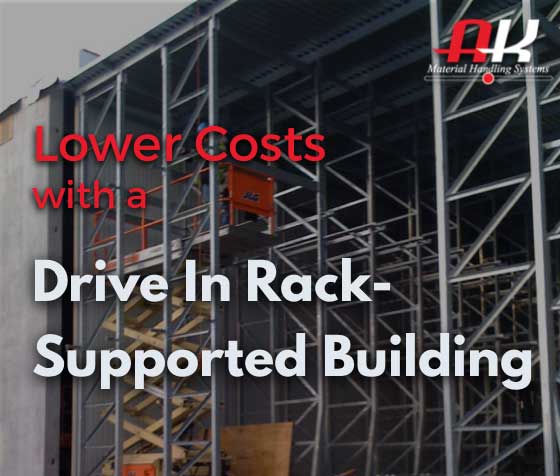 We get a lot of questions from people looking to achieve greater density in their warehouses. They have a lot of product to store and need to make sure they're working smarter, not harder. The largest percentage of these customers will use roll formed selective racking to reach this end, since it's cost effective, easy to customize and maintains selectivity. But for a certain type of operation, there's a solution that will produce an even more efficient, storage-dense warehouse: drive-in pallet rack.
Drive in Rack and the Honeycomb
Without a doubt, drive-in racking won't work in every situation. The structure of drive-in rack allows for a large volume of product to be stored in a given aisle. When customers with too many SKUs and not enough of any one SKU try to use drive-in rack, they often experience what's known as the dreaded "honeycombing" effect. Honeycombing occurs when a large portion of a rack system is left vacant due to poor storage utilization and not enough available product. The resulting effect gives the racking a honeycomb-like appearance when viewed from an aerial perspective. This costs businesses money and can make their warehouse operations even less efficient than before.
Drive In Racking Criteria
There's a type of storage application for which drive-in pallet rack is the perfect solution: warehouses storing relatively few SKUs, but with a high volume of each SKU in stock. It's important that warehouses meet these criteria, because drive-in rack systems are first-in, last-out (FILO) systems. Depending on the volume of product moved each week, it could be a long time before the first products to enter the rack system are finally picked. This is an obvious issue for those whose products are time-sensitive. For the warehouses that require this kind of space for each SKU and have a high rate of throughput, drive-in pallet rack is often the most cost-effective choice in both the long and short term.
The Rack-Supported Building
For businesses that are really looking to get resourceful, they can take their cube utilization to the next level by using the pallet rack itself to support the warehouse roof. Having a rack-supported building offers a number of unique advantages. It gets rid of obstructive columns that would use up valuable storage space, and helps keep building costs to a minimum if a new building is being constructed. Most important, it ensures that the maximum amount of space possible is used for its intended purpose: storing product.
Numerous upright frame columns take the place of regular building columns in supporting the buildings roof. The resulting storage space only required a single aisle.
Systems Design Specialist Jerry Fredrickson oversaw a great example of a rack-supported building project using drive-in pallet rack in Central Minnesota. The warehouse was storing only one type of product, which in this case was dog food. They had a designated area in which to store their product and needed to maximize its utility, which meant ditching building columns in place of drive-in uprights. Jerry's layout design also allowed the warehouse to have only one aisle. Shims were inserted between the uprights and floor, and the tops of the uprights were secured to purlins near the ceiling. In this scenario, the rack-supported building was just the solution the company needed.
Like drive-in racking in general, rack-supported buildings aren't ideal (or even feasible) for every single type of application. There are several pitfalls that can come with forcing the rack-supported building model on a warehouse with dynamic storage needs that may not benefit from its use. And because the racks are holding up the roof, there's no simple reorganizing or reconfiguring of a rack-supported building. But for businesses who have like-product, need to optimize their space and want to keep costs down, it can be a catalyst for efficiency and growth.
As always, you can learn more about drive in racking or rack-supported buildings by having a conversation with one of our Systems Design Specialists, who can be reached at 800-722-5908 or by email at

[email protected]
Let's Talk
Ready to get started? Or have questions about any of our products or services? Fill out the form and a representative will contact you promptly.
Let's Talk
Ready to get started? Or have questions about any of our products or services? Fill out the form and a representative will contact you promptly.