It was mid-November that we started the installation of our exciting ongoing project in Duluth, Minnesota supplying and outfitting Miner's, Inc with brand new pallet rack. Because it's been a little while since then, we'll provide a quick refresher. Our project for Miner's Inc. has three major stages. The first stage consists of providing and installing pallet rack in Miners' new 85,000+ square foot warehouse, an addition that essentially doubled the company's existing warehouse space.
Since we last checked in, our install team has made significant headway, nearing completion of pallet rack installation for the new Miner's warehouse addition. The team is working hard, progressing steadily each day toward the end goal of two warehouses equipped with brand new, high-quality pallet rack to meet the demands of a busy food distribution center.
Within the next week or two, the team will begin the process of taking down the old racking and installing new racking in the existing warehouse. As pallet rack installation in the new warehouse edges closer to completion, Miner's continues to be able to supply their supermarkets with product, already able to make use of the new racking we've installed. In approximately a month's time, the entirety of the project will be nearing completion, and Miner's will have over 160,000 square feet of warehouse space with sparkling new Steel King rack.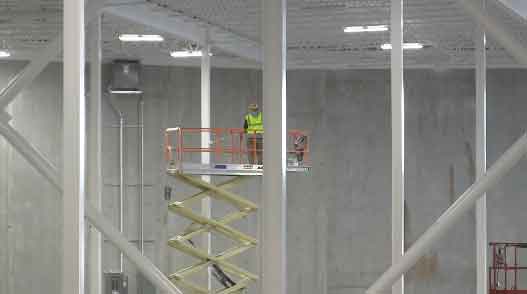 When the project is complete, we will do another feature blog, highlighting the various aspects of the project and doing an overall recap. Until then, stay tuned for more informative content.
As always, thanks for taking the time to read.
The next stage involves tearing down the old racking in the existing warehouse while simultaneously installing the new racking. Because the Miner's warehouse complex is a food distribution center for 31 supermarkets in the upper midwest, the rack installation needs to be carried out without disruption to the steady supply of product flowing from the warehouse. Fortunately, we were able to work with Miner's to develop a strategy to do exactly that, and so far the plan has been executed without a hitch.
Let's Talk
Ready to get started? Or have questions about any of our products or services? Fill out the form and a representative will contact you promptly.