"What is the difference between New Style Interlake pallet rack and Old Style Interlake pallet rack frames, and why are there different types of frames?"
We're hoping to answer this question once and for all. But first, we'll need to dive into a little Interlake Mecalux history. We'll talk about why the Old and New styles are so easily confused and which Interlake Mecalux pallet rack products are actually in production and available today.
Interlake Mecalux: A Brief History
Interlake and Mecalux were once two distinct companies. Mecalux began in Barcelona, Spain, in 1966. At that time, the company specialized in light shelving. Over the next decade or so, Mecalux's sales network grew across Spain and eventually broadened its range of products to include pallet rack systems. Mecalux grew to become the largest pallet rack manufacturer globally, selling racking in over 70 countries.
The Interlake Corporation was once a company in the steel industry. Dating back to 1880, this company grew and morphed from a steel manufacturer to a diversified metal products company providing solutions for different industries. Interlake's domestic material handling unit focused on delivering complete warehouse storage solutions.
In 2008, the American division of Mecalux acquired Interlake Material Handling, Inc. out of bankruptcy for 30 million dollars. The two companies are now joined together as "Interlake Mecalux," forming one of the world's leaders in the storage industry.
How to Differentiate Between Pallet Rack Styles
Even though most pallet rack systems serve the same big-picture purpose, more than one type of warehouse racking can get you there. Our pallet rack guide lays out the different types of racking. Each type has its advantages and disadvantages and may pair with various applications, depending on what's important to the user. 
One sure way to differentiate between rack styles/brands is to identify if the pallet racking is welded or bolted together. Before its integration into Mecalux, Interlake only offered welded pallet racking while Mecalux offered bolted. Today, the conjoined Interlake Mecalux offers a bolted style frame. If you need welded racking, you need to order it separately.
Another attribute that differentiates pallet rack styles from one another is what we call the "beam-to-frame connection." These differences can lead to confusion, even among experienced pallet rack specialists. 
One such point of confusion is the difference between New Style and Old Style Interlake pallet rack. 
New Style Interlake Pallet Rack vs. Old Style Interlake Teardrop
There are two distinct types of Interlake selective pallet rack frames: Old style and New Style. The difference is the shape of the punch holes in which the beams connect to the upright frames. 
Old Style frames have teardrop-shaped holes, while New Style frames have a more angled, rectangular slot that tapers at the bottom (see images below).
Here's the catch: the terms "Old" and "New" are pretty misleading, as the Old Style Interlake frames are the only ones usable with current Interlake racking today. Only the teardrop design works with Interlake Mecalux's existing beam end connector.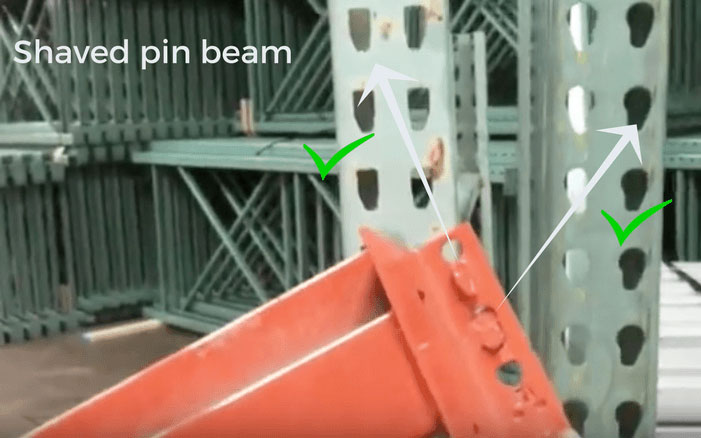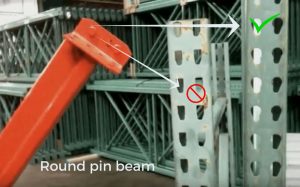 Teardrop pallet racking is sometimes interchangeable with other rack brands. Because of this, the Old Style Interlake rack design may offer greater long-term flexibility.
If you find yourself with Interlake New Style pallet rack frames, many beams designed for teardrop pallet rack frames won't fit. The round-shaped locking pins are too wide for the New Style slots. So, it's essential to know what type of pallet rack frames you have to know what kind of beams you need (and vice versa). This identification will come in handy if you need to add to your existing warehouse racking.
Interlake Mecalux Punch Pin Beam End Connector
Interlake Mecalux currently manufactures a beam with punched pins on its end connectors. Some people call this current end connector a "can opener connector" because of the unique punch hole design. As we know from the images above, punched pins (round) are only compatible with the Old Style teardrop frames. 
The image below shows Interlake Mecalux's newest beam end connector plate as of 2022. This beam end connector is the only style manufactured today. 
Top 5 Things to Know When Considering Interlake Mecalux for Your Facility
There have been five or six model changes over the years

Just because it says "Interlake" doesn't mean it is compatible with all Interlake styles

Make sure you know what year and style your Interlake Mecalux racking is

The "Old Style" teardrop frames are Interlake's current frames

If you need an expired Interlake Mecalux rack style, consider buying used
Used Interlake Mecalux Pallet Racking
The names "New Style" and "Old Style" are why it can be so tricky to keep the two straight and remember which styles are compatible. New Style Interlake is, in fact, not new at all. Instead, it is a name given to a type of pallet rack that originated some time ago. At the time it was invented, it was definitively "new." However, as of the writing of this article, New Style Interlake is no longer being manufactured.
But this doesn't mean it's impossible to find New Style on the market. Interlake manufactured lots of New Style Interlake pallet racking in its time, and it's still widely available from companies who provide used warehouse racking. If you're in the market for used pallet rack frames and have Interlake New Style quoted, check to make sure your beams are compatible. If they're not Interlake New Style or shaved pin beams, you might be in trouble when it comes time for installation.
Interlake now sticks to a teardrop design for its roll-formed industrial pallet rack, having long eliminated New Style from the production line. This is good news for those who own beams with punched pins because these round pins, or "lugs," wouldn't be compatible with the slimmer, "U-shaped" New Style slots. It's confusing, but the "Old Style" Interlake is the current style produced and sold right now. If you're scratching your head, we don't blame you. But at least you'll have come away knowing the main differences between the two. Hopefully, this knowledge will help you avoid buying incompatible parts.
Need Help Finding the Right Pallet Rack Capacity?
If you're not sure how to calculate your capacity requirements, remember that you don't have to do it alone. If you'd like help figuring out your rack requirements, contact us or call us at 800-722-5908. It's always best to have a pallet rack expert on your side.
Warehouse Safety Helpful Resource: OSHA Materials Handling & Storage
Let's Talk
Ready to get started? Or have questions about any of our products or services? Fill out the form and a representative will contact you promptly.