Warehouse Safety Labels
As popular as it is to promote safety in the workplace, it can easily become something that gets overlooked. Safety standards set out by OSHA and other regulatory agencies MUST be in place before acquiring a warehouse permit, but it's easy to become lax with daily safety protocols over time.
Most of the time this is unintentional. There's work that needs to get done and sometimes we take for granted the fact that workplace injuries are rarer than they used to be. If nobody's getting hurt and no inventory damaged, safety precautions might be put on the back burner. But workplace safety is just as important as it always has been, and warehousing is statistically above average when it comes to the risk of getting injured.
One of the most important safety labels in the modern warehouse is the pallet rack capacity label. As their name suggests, these labels let lift truck operators know the total weight that a section of pallet racking can safely hold. The true capacity of the racking is often higher than what its rating is.
This is because there is a safety cushion built in to reduce the likelihood of someone accidentally over-loading the rack. However, the stated safety rating should always be respected as the absolute weight limit, both for safety and liability reasons. It's also important to remember that structurally damaged or pallet racking purchased in used condition may not have the same strength it did when it was in brand new.
Pallet Rack Capacity Labels
Warehouse managers often either don't know that pallet rack systems need capacity labels or, just as frequently, aren't aware that it's actually their responsibility to place the pallet rack capacity labels on the rack system. According to RMI standards, "The owner is responsible for displaying in one or more conspicuous locations a permanent plaque(s)." That means, of course, that once you purchase your rack, it is indeed you that needs to place the capacity label on your racking. How, exactly, do you go about doing that?
Pallet Rack Cross Beam Label
Labeling Your Rack System
You might be wondering, "So, how do I do it, then?" Outfitting your pallet rack with capacity labels isn't as daunting as it might sound. Simply place a label on your rack with the following specs: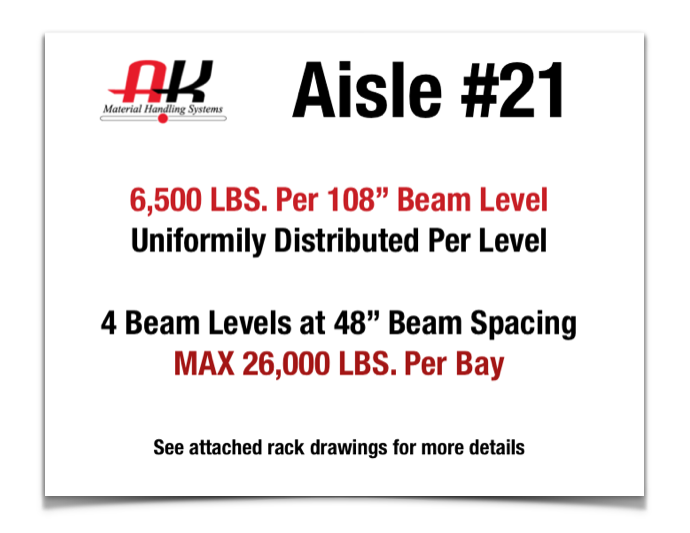 End of Aisle Pallet Rack Capacity Labels
No less than 50 square inches
In "clear, legible print":
"The maximum permissible unit load and/or maximum uniformly distributed load per level"
"The average unit load of applicable"
"Maximum total load per bay"
"Storage levels with multiple stacking of unit loads"
Readers should also note:
"Load application and rack configuration drawings shall be furnished with each rack installation. A copy should be retained by the owner for future reference."
"If a pallet rack or stacker rack system is designed for more than one shelf configuration or profile, the drawings are to include either all the permissible configurations or limitations as to the maximum number of shelves, the maximum distance between shelves and the maximum distance from the floor to the bottom shelf."
That's it. Label your pallet rack with the above information, and you've both met regulations and taken a step towards making your warehouse that much safer. We hope the information provided has been helpful. We encourage you to give us a call at 800-722-5908 if you've got a pallet rack question or are looking for pallet rack products or pallet rack capacity labels – we'd love to help.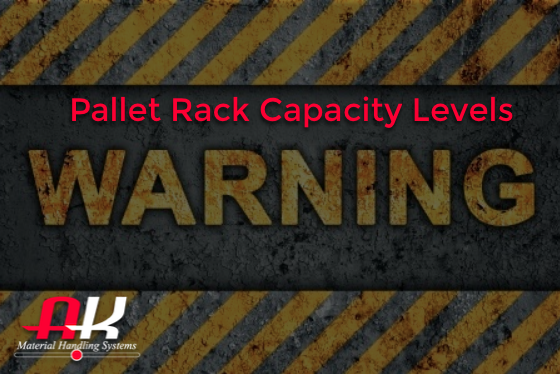 Let's Talk
Ready to get started? Or have questions about any of our products or services? Fill out the form and a representative will contact you promptly.
Let's Talk
Ready to get started? Or have questions about any of our products or services? Fill out the form and a representative will contact you promptly.