Last night Senior Design Specialist Jerry Fredrickson and I were fortunate enough to attend the Minneapolis/St. Paul Business Journal 2014 Executive of the Year Awards Dinner at The Depot in Minneapolis. This year's event was held to honor Scott Wine who is the Chairman and CEO, of Medina, MN-based Polaris Industries, Inc. Jerry has completed numerous warehouse projects with Polaris Industries so it was an honor to be present when Scott was given this award.
Before the main speakers took the stage, the hosts from the Minneapolis/St. Paul Business Journal welcomed the 600+ crowd and announced that Governor Mark Dayton officially named Feb. 13 Scott Wine day in Minnesota. Speeches we were given by Richard Davis who is the CEO, US Bank and also the Executive of the Year Winner 2010, Doug Baker the CEO of Ecolab and also Executive of the Year Winner 2012, John Wiehoff who is the CEO of CH Robinson, and Charlie Weaver the Executive Director of the Minnesota Business Partnership. Mixed with some good humor they all had fantastic things to say about Scott and his leadership skills. The quote of the night came from Richard Davis the CEO of US Bank and he said Scott has a desire to Run toward the problem and run toward the opportunity when most are running from the problem scared.
In summary, Jerry and I enjoyed representing AK Material Handling Systems honoring a successful and honorable Minnesota businessman. Congratulations Scott Wine "The 2014 Executive of the Year"
"I have worked with Polaris for many years now, helping them improve their storage and material handling and it has always been a pleasure. They are a great company to do business with and I am proud to see Scott and Polaris be recognized for their hard work."
~ Jerry Fredrickson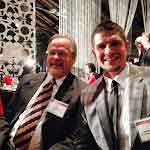 Let's Talk
Ready to get started? Or have questions about any of our products or services? Fill out the form and a representative will contact you promptly.