Safety Sandy is all about helping you make your workplace safer. In this episode of "Sandy's Warehouse Blog Series" Sandy has some great idea tips to keep your warehouse running safely. There are so many different ways people can get hurt in a warehouse or similar work environment. Therefore, maintaining a safer warehouse, and the safety of the people that work in it, is something everyone should be involved in.
Think Safety First
There are several areas that you need to pay close attention to if you want a safer warehouse. These are some of the best ideas to help keep your employees safe from harm in these areas, which will help keep your warehouse running at full capacity and help you reach your maximum productivity.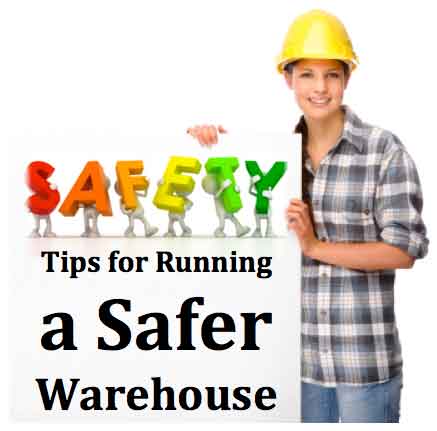 Forklifts – it's imperative to properly train and certify anyone who will be operating a forklift.
You should never exceed 5 mph and all loads should be properly secured before moving them. Drivers should always wear a seatbelt and keep their hands inside the cage at all times of operation. It's also vital to properly maintain forklifts to ensure they are operating correctly.
Docks – employees should always properly open and close all dock plates. Keep forklifts clear of dock edges. Employees should not jump from a dock; ladders or steps should be accessible.
Materials storage – stack and store all loads according to proper safety standards, including following weight and volume guidelines. Only remove one item at a time from a shelf and always keep aisles clear of materials.
Conveyors – make sure conveyors are running properly with regular inspection. Protect workers from all pinch points with the proper safeguards.
Hazardous materials – no one should handle hazardous material unless he or she has been properly trained how to do so. Employees should understand the risks of each kind of hazardous material and how to act in the event of a spill.
Manual lifting & handling – always get help if something is too heavy or too bulky to carry alone. Don't be a hero.
Charging Stations – make sure charging stations are free of open flames or other combustibles, and ensure proper ventilation.
If you need help developing and implementing a safety plan at your warehouse then contact the experts at AK Material Handling Systems at 800-722-5908.
Let's Talk
Ready to get started? Or have questions about any of our products or services? Fill out the form and a representative will contact you promptly.