Understanding and Preventing Most Common OSHA Violations
Today Safety Sandy would like to talk a little about OSHA and what it does. The Occupational Safety and Health Administration (OSHA) was created to help assure safe and healthy work conditions for everyone in the U.S. workforce. It does this by training and educating people with the proper safety standards, as well as enforcing those standards. OSHA is very important because it holds employers responsible for keeping their worksites safe for employees.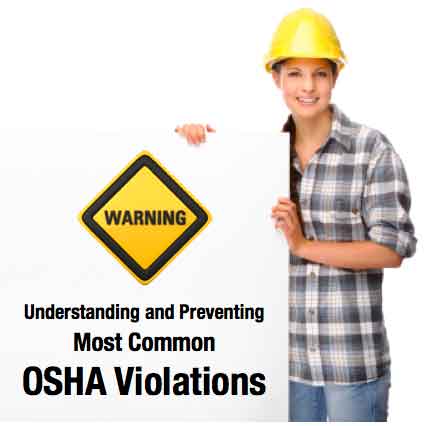 OSHA's Top 10 Most Frequently Cited Standards
There are many violations that occur in the workforce, but according to OSHA, these are the 10 most common.
1926.501 – Fall Protection
1910.1200 – Hazard Communication
1926.451 – Scaffolding
1910.134 – Respiratory Protection
1910.305 – Electrical, Wiring Methods
1910.178 – Powered Industrial Trucks
1926.1053 – Ladders
1910.147 – Lockout/Tagout
1910.303 – Electrical, General Requirements
1910.212 – Machine Guarding
Fortunately, AK Material Handling Systems offers quality products that can provide solutions for items 1,7 and 10 on OSHA's list.
We Can Help With Fall Protection
Fall protection is OSHA's number one cited safety violation, but the good news is it can be avoided with the help of a platform handrail system. AK Material Handling Systems offers several options of safety rails to protect workers from falling.
Using the Right Ladder for the Job
Ladders are one of the most common tools used in a warehouse setting but it's very important they are used right. According to OSHA in order to be considered safe, all self-supporting and portable non-self-supporting ladders must be able to support at least four times the maximum intended load. At AK Material Handling Systems we carry customized ladder designs, machine stands, stair products, and conveyor crossovers, all intended to make your work environment safer and to comply with OSHA's standards.
Safeguard Your Warehouse With Machine Guarding
Number 10 on OSHA's list is the failure to use proper machine guarding. AK Material Handling Systems carries the right guardrails to protect your machinery. These guardrails offer a clear and visible warning sign to forklift operators as well as durable protection in the event of a collision.
Contact AK Material Handling Systems
If you need help complying with any of these OSHA violations then give AK Material Handling Systems a call at 800-722-5908.
Let's Talk
Ready to get started? Or have questions about any of our products or services? Fill out the form and a representative will contact you promptly.