Push-Back Pallet Storage Systems
If you've spent a limited amount of time in warehouses, you might be unfamiliar with pallet rack. Most people are, at least until they have it explained to them. It's a product that's simultaneously straightforward and complex.
There is not just one type of pallet rack, but rather several sub-types, all with individual duties and specialized features. There is a lot of information out there, and new business owners or those who have never overseen warehouse operations and are suddenly in a position to do so might have a challenging time trying to figure out which type of rack should be installed in their warehouse. To help people in situations like these, we've developed a six-part series discussing the major types of rack and who would benefit most from using them.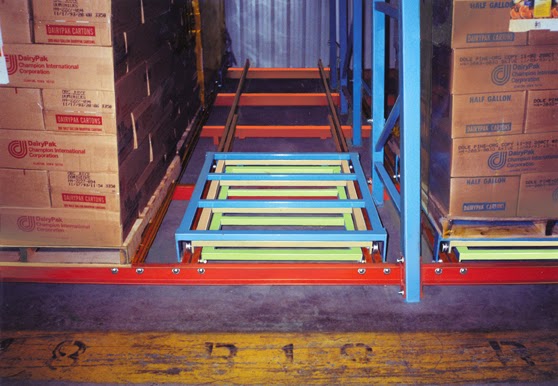 Push-Back Pallet Rack 101
Part one of our series will focus on push-back pallet rack. Push-back pallet rack is a unique type of racking in that it works to increase storage density while simultaneously retaining a considerable amount of selectivity.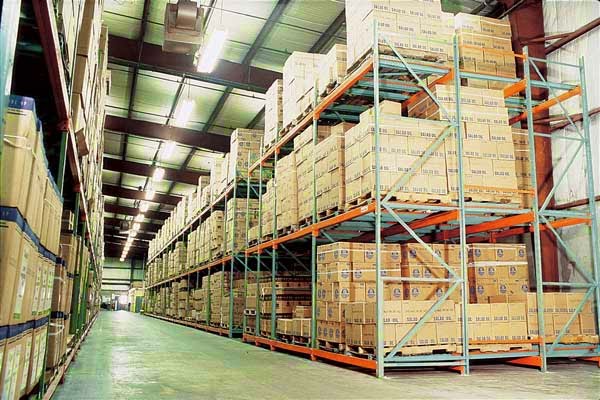 Push-back pallet rack consists of anywhere from two to six carts nested atop one another at a given pallet position. The carts sit on rails that are tilted at an angle. When a pallet is loaded onto a push-back rack system, it is loaded onto one of these carts.
When another pallet is loaded onto the rack system at the same pallet position, the pallet (or pallets) that is already being stored at that position will be pushed backward on its cart, and the new pallet will be loaded onto the cart that was nested below. Likewise, when a pallet is pulled from a particular pallet position, the pallet(s) that was resting behind it will slide forward to the front. This means that push-back pallet rack is able to increase storage density by making each pallet position deeper, but retains selectivity by maintaining a large number of pick faces.
Who Needs Push-Back Pallet Rack?
The features of push-back pallet rack make it ideal for a variety of applications. Push-back rack can accommodate different sizes and types of pallets, such as postal pallets, GMA pallets and skids. Push-back rack doesn't require specialized lift trucks or storage and retrieval equipment, and also saves space. Push-back pallet rack can also be installed atop a different type of rack system for a more diversified storage solution.
The industry in which push-back pallet rack is perhaps most ubiquitous is food and beverage. The food and beverage industry often utilizes cold storage, a type of storage for which push-back rack is especially well-suited. While food and beverage may make use of more push-back rack than any other industry, it's potential applications span far and wide. Whether or not push-back pallet rack would be beneficial is dependent upon the conditions and operations in that particular warehouse.
If we've left any of your push-back pallet rack questions unanswered, give us a call at 800-722-5908 to talk to one of our seasoned pallet rack experts. They'll let you know if and how you can utilize push-back pallet rack in your warehouse.
Let's Talk
Ready to get started? Or have questions about any of our products or services? Fill out the form and a representative will contact you promptly.