Are you trying to calculate how much square footage you need for your new warehouse? It seems that most architects and other space planning professionals have the ability to produce estimates for office space rather quickly. But when it comes to warehouse space, most do not feel comfortable making recommendations or calculations. Adding to the challenge, many warehouse managers simply don't have the ability or experience necessary to properly calculate square footage. Here are the steps that we use with our clients, whether they're moving, adding on, or just want to better utilize their existing space.
Determining space usage
The first step we take is to find out how the client uses their space. Manufacturing space can be pretty straightforward, as most clients know how much they need for machinery and production space. When it comes to storage and warehousing, clients will and should state how many units (typically pallets and SKU's) they need to accommodate. Surprisingly enough, they may not actually know what this figure is. Sometimes they want to focus on a square footage number that may not be accurate.
We try to steer them away from using this method by drilling down to some hard numbers that we can use to analyze their needs. In the majority of cases, these hard numbers will include pallet positions, pick faces, and/or SKU's (stock-keeping units). Once the baseline is established at their current space, we can move on to what their goals are for the new space. The client may be downsizing, planning for growth, taking on a new product line, etc. Again, we find a way to quantify this need.
The last step of the initial information gathering stage is to observe how the operation works and the types of material handling equipment the client is using or planning to use. In other words, if it is a typical warehouse, we're going to look at what aisle widths work best with the forklifts. In some cases, we find out that a client may be wasting valuable space on aisles that are much too wide. With a simple upgrade to their forklift fleet, the client can often gain significant amounts of storage space or reduce square footage requirements.
Preparing for the search
The second step is to begin the search for the warehouse space. Once the baseline measurements of the client's needs have been established, we take those needs and translate them into square footage, based on a given clear height. For example, if a client needs to store 2,000 pallets we can estimate that they are going to need 25,000 square feet, including adequate staging and processing areas. This assumes the client is storing the pallets four high in a selective rack system (single deep).
However, you need to be careful when doing this! Four-high storage can mean 30' clear in one application and 20' clear in another. In addition, you must understand the effects of the rack system, sprinkler clearances, forklifts, code requirements, etc.  Also, for some, high-density storage rack systems can be used, leading their required square footage to decrease. On the opposite end, large or long products can dramatically increase the square footage requirement per unit stored.
Understanding the different types of pallet rack systems and options is a critical component of this step. For example, push back rack requires significantly less square footage than selective pallet rack.
Creating a layout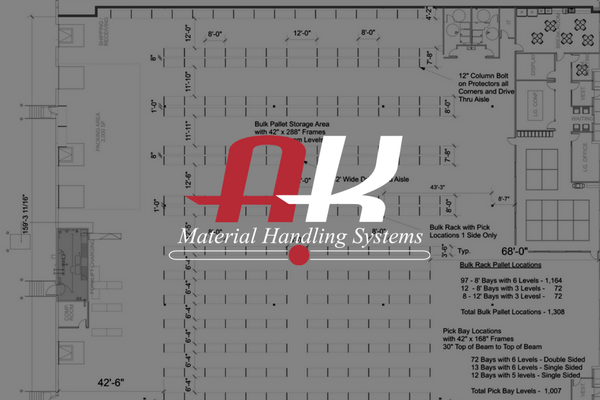 Once there are some property choices that meet the client's other criteria, (ie. location, costs), we perform the third step, which is to create a layout to see how a potential rack system will work in it. The shape of one building may prove to be better than another because of the particular aisle widths needed. Building column spacing and dock location may also affect storage counts.
If the layout proves adequate, the storage height restrictions should again be reviewed. Important issues, such as clearance to the lighting and sprinklers, will be key factors. Do not assume that having a 25' clear ceiling means you can store up to 25' high. No one wants to find out after they sign a lease that their storage capabilities are going to be 25 percent less than anticipated due to the Fire Marshal's restrictions.
In summary, we recommend involving a qualified material handling professional early in the space planning process. This can save your company time and money by ensuring that the right-sized warehouse is determined before a property is chosen.
Let's Talk
Ready to get started? Or have questions about any of our products or services? Fill out the form and a representative will contact you promptly.