What is Warehouse Space Utilization?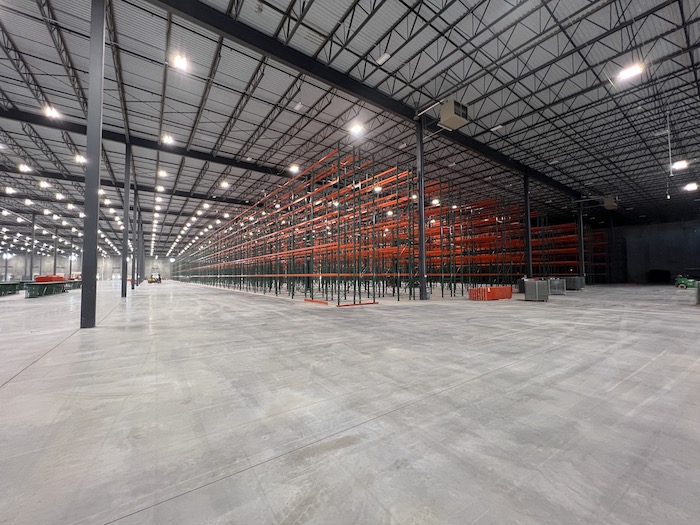 Warehouse space utilization revolves around how available storage space is used and optimized within a warehouse or distribution center. To analyze a warehouse's space utilization is to measure how effectively that facility uses open space to store and handle goods, equipment, and inventory.
It is crucial to optimize warehouse space utilization to maximize revenue and overall productivity. Several key factors and strategies contribute to warehouse space utilization:
Warehouse layout and design

Pallet racking and shelving systems

Inventory management

Slotting optimization

Material handling equipment

Warehouse Management Systems (WMS)
Warehouse Layout Design
Quality warehouse layout design plays a critical role in space utilization and efficiency. A warehouse's layout should make the best use of available space, considering the size and shape of the facility, rack style, aisle design, and the flow of goods. 
Our design group professionals are well-versed in warehouse design, CAD engineering software, and safety codes. Always contact a warehouse designer to help optimize your warehouse space utilization. 
Pallet Racking and Shelving Systems
Appropriate racking, shelving, and mezzanine systems help maximize vertical storage space for efficient organization and retrieval of goods. Common warehouse storage systems include selective racking, drive-in racking, push-back racking, automated systems, steel shelving, and more.
AK offers many storage and shelving systems for your convenience. We can help you choose the right racking or shelving for your storage needs!
Inventory Management
Follow effective inventory management practices to utilize your warehouse space best. Regular inventory counts, demand forecasting, and stock rotation help prevent overstocking or understocking.
Tools like barcode scanners and warehouse management system (WMS) software can help track and manage inventory, simplifying product locating and packing processes.
Slotting Optimization
Slotting refers to the strategic placement of products within the warehouse based on characteristics like demand, size, and weight. Proper slotting ensures that frequently picked items are easy to access, reducing unnecessary travel time within the warehouse.
Common examples of product slotting include:
Size-based slotting

Weight-based slotting

Temperature-sensitive slotting

Complementary product slotting

Alphabetical slotting

Seasonal slotting
Material Handling Equipment
Efficient warehouse space utilization often requires material handling equipment like forklifts, pallet jacks, conveyors, and automated systems. Proper use of these tools enables more efficient movement and storage of goods.
Warehouse robotics and AI are material handling solutions that reduce strenuous labor positions in the warehouse and optimize flow.
Warehouse Management Systems (WMS)
A Warehouse Management System (WMS) is a computerized order tracking system that streamlines order processing and fulfillment. WMS software creates a shared warehouse plan and network with optimization in mind.
Implementing WMS software helps companies streamline business operations through optimized space allocation and real-time inventory level and location visibility. The result is better planning and decision-making regarding space utilization. 
How to Calculate Warehouse Space Utilization
Warehouse space utilization is a warehouse KPI (Key Performance Indicator). The warehouse space utilization KPI allows business owners to understand overall efficiency and recognize room for growth. 
Other examples of warehouse KPIs include:
Inventory-to-sales ratio

Inventory turnover rate

Receiving efficiency

Put-away cycle time

Picking efficiency

Total order cycle time

Accidents per year
To calculate warehouse space utilization, calculate the total warehouse size, your inventory cube size (including racking areas), and your storage cube size (total storage capacity of your warehouse). Dividing your inventory cube by your storage cube will determine how well your available storage space is being utilized.
Optimize Your Warehouse Space Utilization
By implementing space utilization strategies and continuously monitoring and optimizing warehouse operations, businesses can grow and flourish. Warehouses that follow these practices can increase storage capacity, reduce operating costs, improve order fulfillment speed, and enhance overall customer satisfaction.
Are you looking to analyze and maximize warehouse space utilization? Our warehouse designers can help plan and implement a compliant, space-optimized storage system in your facility. Call 800-722-5908 or fill out our online quote request form to get started!
Let's Talk
Ready to get started? Or have questions about any of our products or services? Fill out the form and a representative will contact you promptly.
Let's Talk
Ready to get started? Or have questions about any of our products or services? Fill out the form and a representative will contact you promptly.