How Does Gravity Flow Pallet Rack Work?
Although every warehouse is different from the next, the goal of every warehouse operation is to be as productive as possible and move its products as quickly and efficiently as it can. There are many ways to achieve this goal, but having the right kind of pallet rack systems in place can make a huge difference in your warehouse's productivity. There are actually two types of flow rack systems — carton flow rack and pallet flow rack. Carton flow typically stores smaller cartons or boxes while pallet flow is specific to products on pallets. A good gravity flow system is one of the best ways to make your operation flow smoothly.
Pallet Rack Flow System
There are many different kinds of pallet flow rack systems to choose from. One of the best is a gravity flow system. Gravity flow pallet rack obviously takes advantage of gravity, as its name implies. However, let's take a closer look at the specifics of a gravity system and how it works.
How Pallet Flow Racking Works
The basic idea of a gravity flow system, which is a first-in-first-out solution, works like a conveyor belt. Pallets are placed in the back end of the rack aisle and gently flow down to the front of the aisle on the opposite end. Each time a pallet is removed from the front of the aisle the subsequent pallets move forward to take their place. Watch a pallet flow system in action here.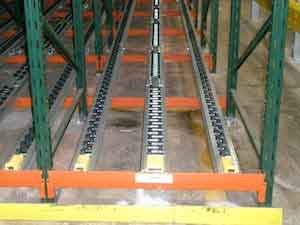 Benefits of a Gravity Flow Pallet Storage System
Gravity flow pallet rack systems provide many benefits to warehouses. Some of those benefits include:
Allow for easy sorting and distribution of commonly used SKUs
Excellent for large volume SKU movement
Help employees avoid injuries by keeping them further away from the forklifts that are operating on the input side of the aisle.
Quick and easy access to the outgoing products, as well as quick and easy replacement of outgoing products.
There are obviously several benefits to using a gravity flow pallet rack storage system in your warehouse, and at AK Material Handling Systems we can help you select the perfect system for your warehouse. We can ship the products to you or come to your warehouse and install them. Just contact us at 800-722-5908.
Pallet Flow Budgetary Pricing…
Are you planning a warehouse move and need budgetary pricing? AK can offer detailed budgetary pricing for your warehouse move or expansion. Contact us today to begin your warehouse layout process.
Let's Talk
Ready to get started? Or have questions about any of our products or services? Fill out the form and a representative will contact you promptly.