Pallet Rack Maintenance & Inspection: WHY?
Although pallet rack systems are engineered and manufactured for extreme heavy-duty applications, at any time there could be a problem within your rack system that could be compromising the safety of your entire facility. No matter what type of business or warehouse that you have, it is crucial to set up and maintain a maintenance or rack inspection plan for your warehouse pallet rack system. This is done not only for the safety of your employees but also for equipping your warehouse to meet all of the RMI pallet rack requirements, and OSHA regulations. It is extremely important to have your pallet racking inspected on a regular basis, documenting these safety checks holding your team accountable, making sure any damage or unsafe issues are handled properly.
The purpose of this document is to provide owners/operators a simple resource to aid in their timely identification of the most common types of pallet rack damage. AK Material Handling Systems assumes no responsibility or liability of any kind as a result of the use of this guide. (Always have a professional structural engineer approve all repairs and changes to your storage system)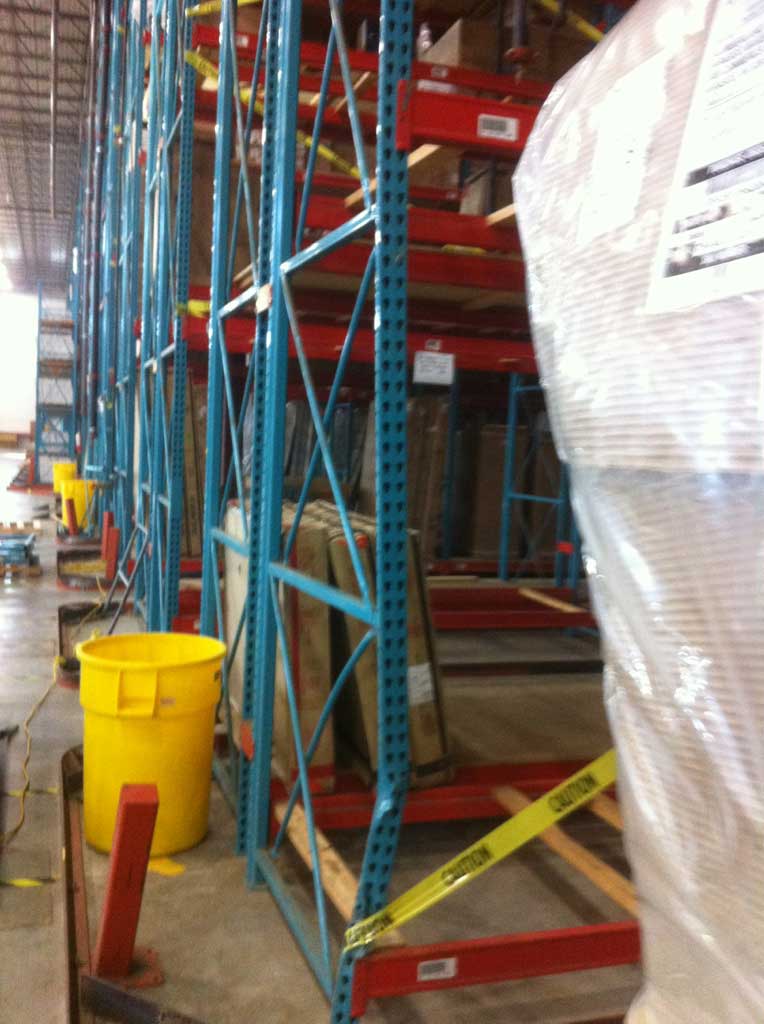 Pallet Rack Maintenance Frame Inspection
Columns
Check the front and rear column of each upright for any damage due to pallet loading or forklifts
Review for any twisting of the frame column
Bracing – Horizontals & Diagonals
Inspect for any bent or missing horizontals and diagonals
Check for broken welds
Inspect that anchors are secured to the baseplate (typically one anchor per upright baseplate is recommended)
Inspect for missing or loose sheared anchors
Pallet Rack Cross Beam Inspection
Check all beam to frame connections for missing safety clips or bolts
Inspect for frontal damage or any downward impact
Inspect for any bowing, bending, bent, or twisted cross beams
Pallet Rack Wire Deck Safety Inspection
Review each beam level for uniformly distributed pallet loads
Inspect for any breaks in the welds on the mesh decking
Inspect for any bowing or bending in the mesh
Pallet Rack Accessory Inspection
Inspect that anchors are secured to the baseplate
Inspect for any breaks in the welds
Pallet Rack Systems Maintenance
Broken down into Rails and Horizontal & Vertical Bolted Bracing
Rails: Inspect for any rail deformation, plumbness of rail, any broken welds between arm and rail, and any loose or missing hardware
Horizontal (Rail Diagonal) & Vertical (Back Diagonal) Bolted Bracing: Inspect for any bent or missing bracing, and any loose or missing hardware
Broken down into Push Back Rails and Push Back Carts
Push Back Rails: Inspect the alignment of rails, for any broken welds, for missing or loose hardware, and rails for debris and clean as required
Push Back Carts: Inspect the alignment of carts, the flow carts, wheels to be replaced, for any loose or broken welds, and for any loose or missing hardware.
Pallet Rack Maintenance – Don't Forget…
When you think that your racking needs inspection, these are just tips of what to look for but you always want to hire a rack inspector professional. It is crucial that you don't do this yourself, to ensure that your warehouse is safe and follows standards. Also, during and following inspection you want to assure that your inspector is documenting everything being done so that your records are up to date.
Let's Talk
Ready to get started? Or have questions about any of our products or services? Fill out the form and a representative will contact you promptly.