When it comes to RMI pallet rack requirements there's more than one might think that goes into properly outfitting your space. With varying load types, sizes, and weights there are plenty of rack requirements to take into consideration, not to mention larger issues such as seismic activity. The Rack Manufacturers Institute (RMI) sets industry guidelines for the design, planning, and utilization of pallet racking. Here are several general requirements that you should know when outfitting your storage space.
Pallet Rack Capacity Display (Capacity Labeling)
Multiple capacities must be taken into consideration when installing racking. Capacity for any given level, load, and bay will be vastly different. After installation, these specific racking capacities must be displayed with permanent pallet rack capacity labels.
Pallet rack capacity labels must include:
1. Maximum unit load or maximum uniformly distributed load per level. Simply put, this is the combined weight of the product or products being stored and the apparatus it is being stored on.
2. Average unit load. This calculation is the maximum amount of product on all beam levels in a row, divided by the number of beam levels in that specific row.
3. Maximum total load per bay. A standard pallet rack bay is a solo unit or a single unit in a system. Standard pallet rack bays include a floor level, and two beams, or shelf levels (2 beams, front and back, typically make up a level). The maximum total load per bay is the maximum weight those levels can hold. Sometimes, a third level will be used instead of floor space, which will increase the total bay load number.
4. Indication of storage levels that support stacking of multiple unit loads. Typically seen in larger systems with multiple pallet positions and simply alerts users to the fact that pallets or loads will be stacked. This helps forklift operators, and other users, understand where extra care may need to be taken.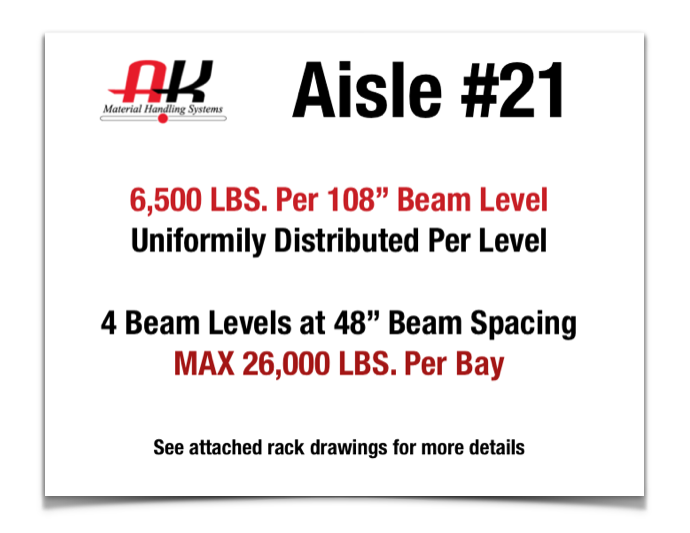 Example of a pallet rack capacity label
Upright Column Requirements
Columns on pallet rack frames are the main vertical supports for the structure. If you look at the bottom of each frame, you should see a flat, square plate with two holes. These are commonly known as baseplates, and the holes are used to anchor the plate, and frame, to the surface. According to RMI pallet rack requirements, all rack columns should be anchored. This will help keep racking stable, and maintain position when there are forces – forklift contact, bumps, or minor collisions – to the bottom of the column.
Shims and Pallet Rack Plumbness
Shims are an extra plate used under the column baseplate to maintain the plumbness of pallet racking. They must be made of a material that meets or exceeds the design bearing strength or allowable bearing strength of the floor. The thickness of the shim or shims under the baseplate must not exceed six times the diameter of the largest anchor bolt used in that base. Shim stacks that have a thickness greater than two, less than or equal to six times the anchor bolt diameter and less than two bolts must be interlocked or welded together.
Pallet Rack Beam Elevation and Configuration Changes
Adjusting beam levels and re-slotting beam levels seem simple enough. However, as we just mentioned, this changes the capacity of the column. Before you make changes, RMI suggests that you talk to a professional engineer (PE) to review your new configurations and if they will work with the new beam heights you want to use. After this is done, your system should undergo a pallet rack maintenance inspection to see if components are damaged or missing (also under the supervision of a PE).
Racking Anchor Requirement
Speaking of anchors, there are guidelines around how to anchor your pallet rack. Like we mentioned you will typically see two holes in baseplates. RMI specifications call for at least one anchor per column, installed perpendicular. Commonly, only one anchor is utilized, with the second anchor in case issues arise in drilling.
Pallet Rack Safety Clips
Safety clips secure the pallet rack beam's connection to the column to resist movement and dislodgment from forces such as a forklift. Clips are a standard inclusion from the original manufacturer and should be fastened when installed. The standard for clips is beams that utilize machine loading should resist an upward force of 1,000 pounds per connection. Over time, it is common for these clips to be damaged or lost. It is the best practice that clips are replaced during rack inspections to maintain the safety and security of the system. These are some of the basic pallet rack requirements for safety and compliance. In our next blog post, we will look at some unique racking layouts and installations, and what specific steps you need to take to make sure your racking will hold up in these uncommon situations. As always, the professionals at AKMHS are ready to guide you through these tricky processes. Contact us at (800) 722-5908 or fill out a quote form.
Let's Talk
Ready to get started? Or have questions about any of our products or services? Fill out the form and a representative will contact you promptly.