In the world of warehouse storage, safety is king. All considerations regarding efficiency, return on investment, price, space planning, etc. depend on the well-being of personnel. Fortunately, it often happens that when priority is placed on safety, companies benefit financially as well. Accidents that are prevented by stressing the importance of safety might otherwise have cost a company untold amounts in the way of damage repair and lost inventory. Pallet rack that is installed to provide a strong and sturdy storage solution will likely be high quality and durable as well, saving the business money over the long run. At AK Material Handling Systems, we've always bought into the necessity of safety, and we not only provide our customers with recommendations as to how businesses can make their warehouses safer but stock a variety of safety products as well.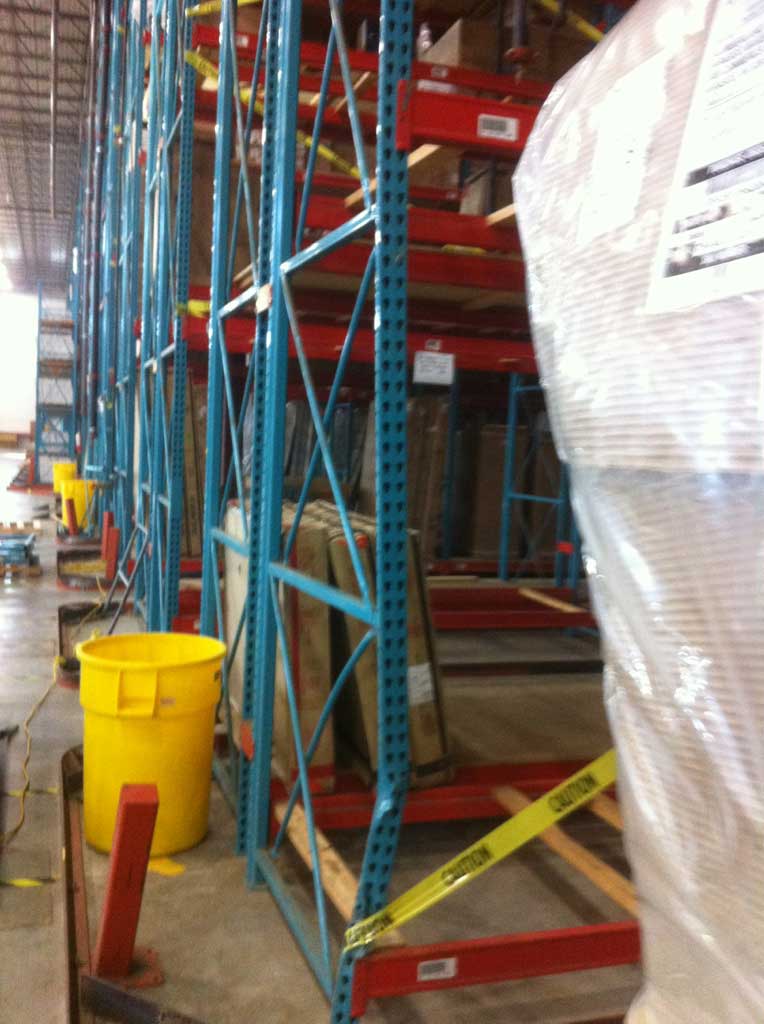 Examples of Safety Hazards and How to Address Them (Pallet Rack Safety Guide)
Problem:
Upright frames are taking damage from forklift collisions, weakening the frames' weight-bearing columns
Solution:
Implementation of column protectors from AK Material Handling Systems. Column protectors effectively protect frame columns from incurring repetitive forklift damage.
Problem:
Accidental pallet rack beam disengagement
Solution:
Pallet rack safety clips. Safety clips connect the ear of the pallet rack beam to the upright frame, preventing beams from becoming dislodged. Beams can become disengaged during loading or unloading, resulting in potentially dangerous inventory spills. Buy Pallet Rack Clips Online
Problem:
Racking that is unstable and subject to movement.
Solution:
Pallet rack anchors. Anchors are used to bolt upright frames to the cement, keeping frames locked in place and preventing tipping. Anchors are usually bolted through the footplate of the upright frame, and range in size depending upon the rack system and application.
Problem:
Pallet rack lacking the capacity needed for the job
Solution:
Contacting a pallet rack specialist prior to purchasing and installing a rack system. The safety of warehouse personnel and inventory depends upon using a rack system that is well-suited to the task
Problem:
Forklift operators having difficult time loading pallets onto beam levels
Solution:
Pallet rack wire decking. Wire decking provides a larger surface area for pallets to sit upon, greatly increasing the margin for error that forklift operators have when loading pallets.
Problem:
Product falling from pallet rack beam levels, threatening the workers below and damaging inventory
Solution: Pallet rack safety nets. Safety netting can be installed on the backside of a rack system to prevent the product from falling or being pushed off the back of the racking.
Problem:
Pallet rack that is in an unsafe condition
Solution:
Regular safety checks. Conducting regular safety checks, which cost nothing and require little time, allows for potential safety hazards to be caught before they cause accidents.
Warehouse Safety Walk -Through
With the help of routine safety checks, regular maintenance and safety products from AK Material Handling Systems, you'll be on your way to helping your warehouse reach its safety potential. Prioritizing safety not only keeps employees out of harm's way but helps businesses avoid costly OSHA fines and damage to inventory. Often times purchasing pallet rack products with safety in mind results in both a safer warehouse and lower costs over the long term. At AK Material Handling Systems, we've got the expertise and products to help you cultivate a safe and efficient environment in your warehouse.
Are you located in or around the Minnesota area? We can help you improve warehouse safety with a Warehouse Safety Walk-Through. To schedule a site visit, simply fill out a Warehouse Walk-Through Form or Call 763-493-5015.
Let's Talk
Ready to get started?
Or have questions about any of our products or services?
Fill out the form and a representative will contact you promptly.