What is Pallet Rack Wire Decking?
Pallet rack wire decking is what's placed on top of pallet rack beams to increase surface area, promote warehouse safety, decrease beam deflection and often help in fire code compliance. The margin of error for lift truck operators is slim without some kind of surface added to pallet rack cross beams, . It also means there's no pallet support between the beams, increasing the likelihood that a pallet will give way. Wire decking solves these problems by sitting atop cross beams and creating a nice, even shelving level.
When loading and unloading pallets from selective racking, the margin for error is minimal unless a surface is added to the beams. The top side of a pallet rack cross beam is often barely over an inch across, and if a forklift operator sets the pallet too close to either edge of the pallet rack beams it can easily result in a pallet crashing to the ground. If wire decking has been installed, this accident would've been avoided; the wire deck would act as a shelf, eliminating the risk associated with not placing the pallet perfectly on the beams. Because of this, most of our customers buy wire decking along with their frames and beams. We often recommend doing so to those who have not already considered it.
Quick Ship Pallet Rack Wire Decking
At AK Material Handling Systems, we carry three industry-leading wire decking manufacturers: J&L Wire Cloth, ITC Manufacturing, and Nashville Wire. Each of these manufacturers produces top quality wire decking that can meet the demands of the harshest warehouse environments, yet is priced in a way that doesn't dent the bottom line.
Much like our network of pallet racking manufacturers, our wire deck manufacturer network allows us to offer our customers a significant freight advantage, regardless of the destination to which the decks are shipping. (Also see our Warehouse Wire Products) With over 10,000 pieces of wire mesh decking in stock, our Minnesota, and Pennsylvania warehouses are ready to handle your next pallet rack wire deck order.
Advantages of Pallet Rack Wire Decking
Stronger and more durable than plywood
More likely to comply with strict

 

fire codes
Available galvanized finish withstands abuse from harsh weather and warehouse conditions
Support channels have the strength to support heavy pallet loads
Variety of sizes means there are decks to fit virtually any beam length
Available in U-channel or flare channel to fit both step and box beams
Allows overhead light to be better dispersed, letting personnel more easily identify SKUs
Provides the option to store either full pallet loads or less-than-pallet loads; without decking, only full pallet loads can be stored
Easy to use — simply set the wire decks on the beams, and they're ready for use
Have the potential to lower insurance rates as a result of better compliance with fire codes
Improves air circulation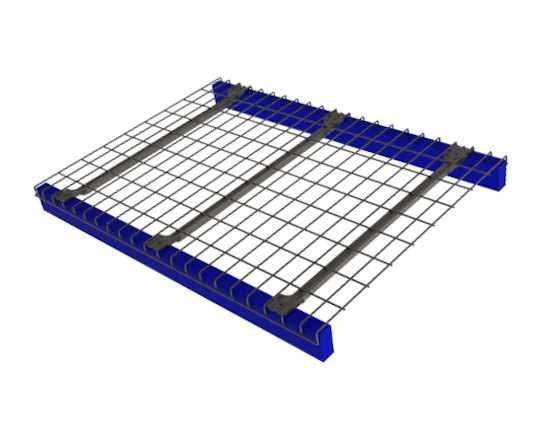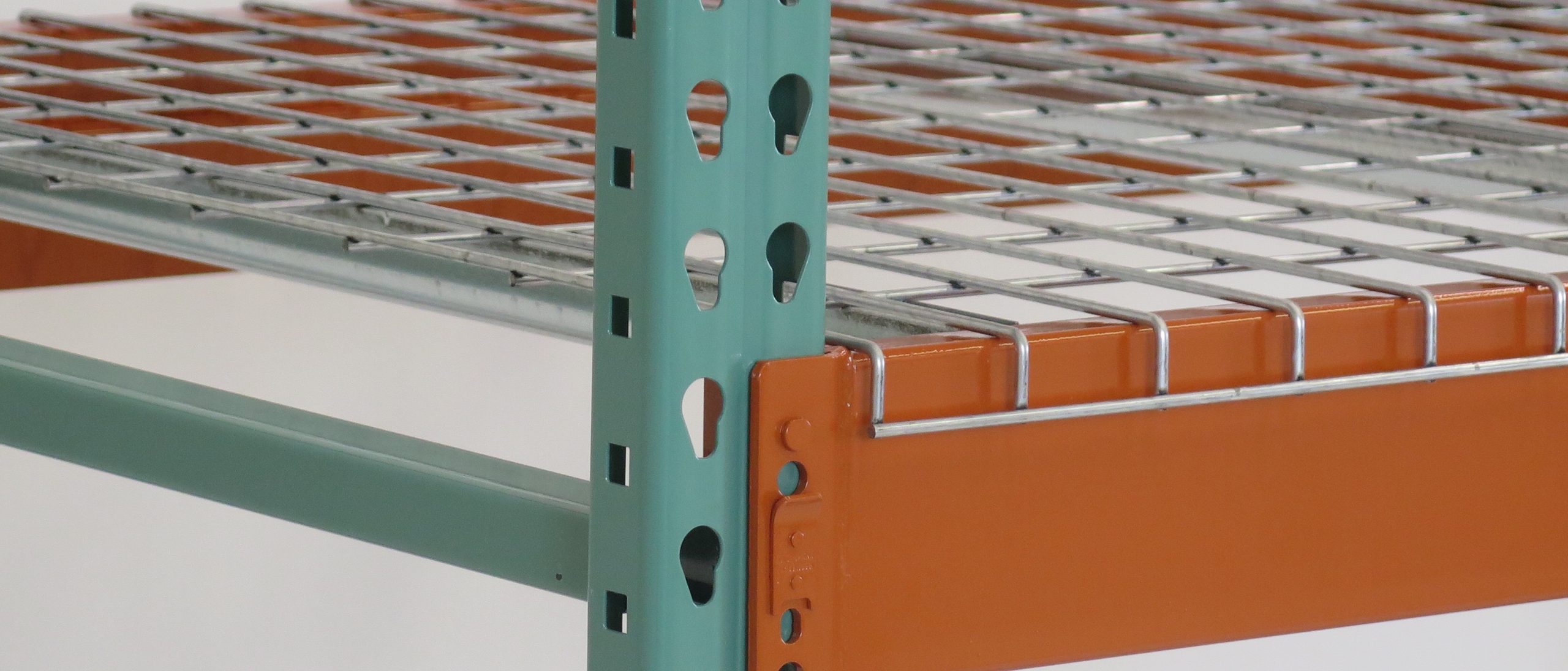 Wire Deck Locations
Our Main Stocking Locations:
Maple Grove, MN 55369
East Stroudsburg, PA 18301
Other Quick Ship Locations:
Columbus, OH 43207

Elizabeth, NJ 07201

Frankfort, KY 40601

Grapevine, TX 76051

La Mirada, CA 90638

Nashville, TN 37218

New Salem, PA 15468

Phoenix, AZ 85009

Springfield, TN 37172

St. Paul, MN 55107
Pallet Rack Wire Decking – Minnesota Distributor
J&L Wire – Major Stocking Distributor
Founded in 1980 and headquartered in St. Paul, Minnesota, J&L Wire Cloth is our hometown wire deck connection. Our J&L Wire decking has a galvanized finish that makes it more resistant to corrosion and allows it to keep its shine. We work closely with J&L Wire to ensure we have a large stock of U-channel and flare channel wire decks in various sizes on hand and ready to ship nation wide.  Buy our J&L Wire decking in standard waterfall, universal flange, or inside waterfall configurations. Shop J&L Wire Decking Online
ITC Manufacturing – Major Stocking Distributor
Based in Phoenix, Arizona with a second location in Columbus, Ohio, ITC Manufacturing provides much of the wire decking we quick ship to the Southwest and Northeast United States. We offer our customers a wide range of wire decking weight capacities from ITC, including custom decking for ultra heavy-duty applications.  With decks available in standard/step, inverted flange, flush flat and flush waterfall configuration, ITC wire decks from AK Material Handling Systems can accommodate virtually any cross beam.
Nashville Wire – Major Stocking Distributor
As the name suggests, Nashville Wire is based in Nashville, Tennessee. The Nashville Wire decks we carry are available in a wide variety of colors, finishes, sizes and capacities, giving you the opportunity to customize your decking to fit the vision you have for your warehouse. Nashville Wire's manufacturing capabilities provide us with an opportunity to fine tune your wire decking so it meshes perfectly with your needs, both in terms of functionality and looks.  With Nashville Wire decking from AK, you can choose from 2 gauge, 4 gauge or 6 gauge wire and an array of reinforcement channel options. Shop Nashville Wire Decking Online