Pallet rack is one of the most effective ways to maximize your warehouse space. However, selecting the right size for your products can be confusing. If you currently have a pallet rack system and are determining whether or not to add on, an evaluation of your current system is a must. Products change over time, and your shelving systems must also accommodate that change. Other variables such as lift trucks, product flow, and space limitations may also require changes in your rack system sizes.
When determining your pallet rack size, we suggest you follow these tips for measuring pallet rack.
How do I find the correct pallet rack upright frame?
Upright frames generally have three main dimensions: height, depth, and column size.
Upright Height:
Your pallet rack upright height should be determined by these variables: forklift maximum reach height, ceiling height, and local building code violations.
Upright Depth:
Your pallet rack upright depth depends on the design and size of the pallets you intend on storing. The front and back of the pallet should overhang the cross beams approximately three inches.
Example: A 48-inch deep pallet requires a 42-inch deep frame (a three-inch overhang for both the front and back).
Column Size:
Your pallet rack column size is determined by the beam spacing and the amount of weight you plan to store on the system. Each manufacturer can provide a capacity table to help you select the correct frame column for the application. The three most common sizes are:
3 inches x 3 inches
3 inches x 2-1/4 inches
3 inches x 1-5/8 inches
How do I find the correct pallet rack cross beam?
Beam lengths are calculated by using the distance between two uprights (or frames) in each rack bay and are classified by using the actual shelf space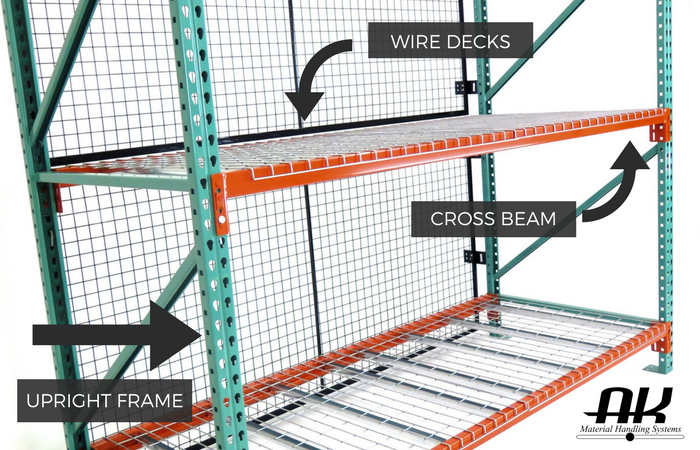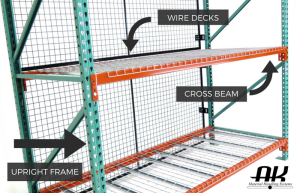 as the size. A common mistake to avoid is including the cross beam ear connectors in the measurement.
Your required beam length can be determined by adding the width of pallet loads, 6 inches of clearance between the pallets, and 5 inches of clearance between loads and each upright or frame.
Example:
Standard pallets are 40 inches wide, so if you plan to store two of them per beam, the correct beam size would be 96 inches.
(40 inches + 40 inches for pallet width, 5 inches + 5 inches for clearance between uprights, 6 inches of clearance between pallets)


How do I find the correct wire mesh decking for my pallet rack?
To determine the correct wire deck size for your pallet rack system, you will need to know all of the following information: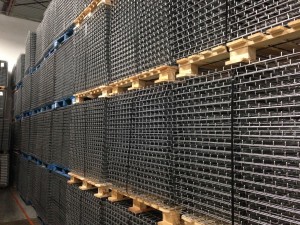 Frame Depth

Beam Length

Beam Capacity

Beam Step Depth
Wire mesh decking is the last item of the racking system to be fitted because the size of the decking is based on the upright frames and cross beams you choose for your system.
I have my sizes; now what?
These steps are a great start in putting your pallet rack system together. There are other factors you should consider, including seismic requirements and city, county, and state codes that need to be adhered to.
The most efficient way to move your project forward is to have an AK Material Handling rack specialist evaluate your facility and products to ensure you fully utilize your space and choose the right system for your application.
Let us help you envision, execute, and excel with your Material Handling needs!
Contact: 800-722-5908
Get pricing information on:
New Pallet Rack / Used Pallet Rack / Rack Systems / Wire Decking