Randomly survey 1000 warehouse managers on their feelings about warehouse efficiency, and 999 of them will probably respond that they'd like to see their warehouse be more efficient in some way (there's always one guy who's already got it made). The ease and speed with which people and product move through the warehouse is a tangible factor that can influence companies' bottom lines, so it makes sense that members of virtually any organization with a warehouse would be inclined to make it work more fluidly. But, how?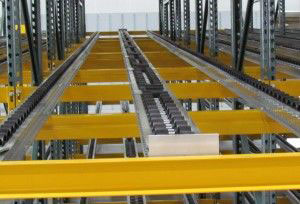 Asking how to make a warehouse more efficient is like asking someone, "How long is a piece of string?" — more information is needed in order to provide the context required to answer the question. Factors like product volume, product turnover, available warehouse space, budgetary restrictions, warehouse layout and design, and a myriad of other factors should be taken into consideration in order to know how to best increase warehouse efficiency. If, once these factors are assessed, maintaining product flow with a large volume of product is of primary concern, pallet flow rack may be considered as a means of improvement. Below, we've listed five basic ways to increase warehouse efficiency with pallet flow rack.
Five Ways to Increase Warehouse Efficiency with Pallet Flow Rack
Pallet flow rack means high-density storage. Storage density isn't always synonymous with storage efficiency. Drive-in pallet rack, for example, provides exceptional storage density, but is only considered efficient under particular circumstances. However, when high-density storage is combined with a first-in, first-out dynamic inventory retrieval system like pallet flow rack, it presents the possibility to move large quantities of product while making the best use of your available vertical and floor space.
Pallet flow rack systems provide immediate access to every product. Because each lane in a pallet flow rack system is dedicated to a particular SKU, pallet flow racking offers order pickers immediate access to every product. Considering the importance of selectivity in many warehouse storage operations, immediate access to product offers a major advantage in terms of efficiency.
Pallet flow rack turns a static warehouse into a dynamic, "flowing" warehouse. When pallets are loaded into one side of a pallet flow rack system, they glide, or "flow" along roller tracks towards the other side of the rack system until they're stopped by the pallet in front of them or the break system at the pick face. This turns what was once a static storage warehouse into a dynamic warehouse with product that moves from the load point to the pick face with no human effort involved.
Pallet flow rack is time saving. Pallet flow rack saves time, and saving time means greater efficiency. With only one input and one output side on every pallet flow system, flow rack reduces the overall time spent handling product, meaning warehouse personnel are able to accomplish more in a given window of time. In other words, by handling the product storage and movement, once the pallet is loaded, pallet flow rack frees the warehouse team up to tackle other tasks.
Pallet flow rack requires minimal maintenance. While it's always recommended to engage in regular pallet rack safety inspections, pallet flow rack requires very little in the way of maintenance. Once wheel beds or roller tracks have been checked out for proper function, pallet flow rack can be left to do what it does best. The less time that needs to be allocated for maintenance, the more time is left to pursue more productive projects.
Pallet Flow Rack Solutions
It goes without saying that this list is not the be-all-end-all of pallet flow information; the above are just a few of the ways pallet flow rack can make for a more efficient warehouse. You might find that it provides other benefits, or you may find that pallet flow is not the right system for your warehouse. If you're doing serious research into pallet rack systems and warehouse layout, we recommend you check out our Warehouse "Where to Start?" Key, "Warehouse Space Planning" article, and "Warehouse Design Questions" series.
Of course, you can always call one of us to chat as well. We'd love to hear from you!
Thanks for reading, check back again soon.
Let's Talk
Ready to get started? Or have questions about any of our products or services? Fill out the form and a representative will contact you promptly.
Let's Talk
Ready to get started? Or have questions about any of our products or services? Fill out the form and a representative will contact you promptly.